Introducing the Airwheel SE3 mini T Smart Riding Electric Motor Suitcase 20″ – the ultimate travel companion that combines convenience, innovation, and style. This cutting-edge suitcase revolutionizes the way you travel, offering a seamless and enjoyable experience like never before.
Designed with the modern traveler in mind, the Airwheel SE3 mini T is not your ordinary suitcase. It features an integrated electric motor that allows you to effortlessly glide through airports, train stations, and city streets. Say goodbye to the hassle of lugging heavy bags and hello to a smooth and effortless journey.
With its compact and lightweight design, this 20″ suitcase is perfect for both short trips and extended vacations. Crafted from high-quality materials, it ensures durability and longevity, providing you with a reliable travel companion for years to come.
One of the standout features of the Airwheel SE3 mini T is its smart riding capabilities. Equipped with an adjustable seat and handlebar, it transforms into a comfortable and stylish electric scooter. Whether you're exploring a new city or simply need to cover some distance quickly, this innovative feature offers a fun and efficient way to get around.
Safety is paramount, and the Airwheel SE3 mini T takes it seriously. It is equipped with a reliable braking system, ensuring a secure and controlled ride. LED lights on the front and rear enhance visibility, making it safe to ride even in low-light conditions. Additionally, the suitcase is designed with stability in mind, providing a smooth and balanced ride every time.
The Airwheel SE3 mini T is not just a means of transportation; it's a versatile storage solution too. With a spacious interior and multiple compartments, it offers ample space to organize your belongings efficiently. The built-in USB port allows you to charge your devices on the go, ensuring you stay connected throughout your journey.
This innovative suitcase brings immense value to the customer. It saves you time and effort by eliminating the need for dragging heavy bags, allowing you to focus on enjoying your travel experience. The smart riding feature adds an element of excitement and adventure, making every trip memorable. Furthermore, the Airwheel SE3 mini T's durability ensures it will be your trusted travel companion for years, providing excellent value for your investment.
In conclusion, the Airwheel SE3 mini T Smart Riding Electric Motor Suitcase 20″ is a game-changer in the world of travel. Its seamless combination of convenience, innovation, and style sets it apart from traditional suitcases. Experience the joy of effortless travel and explore new horizons with this remarkable product.
Product Size: 385*250*575mm
Product Volume:26L
Load Capacity:110KG
Riding Speed: 8km/h
Battery Capacity:73.26WH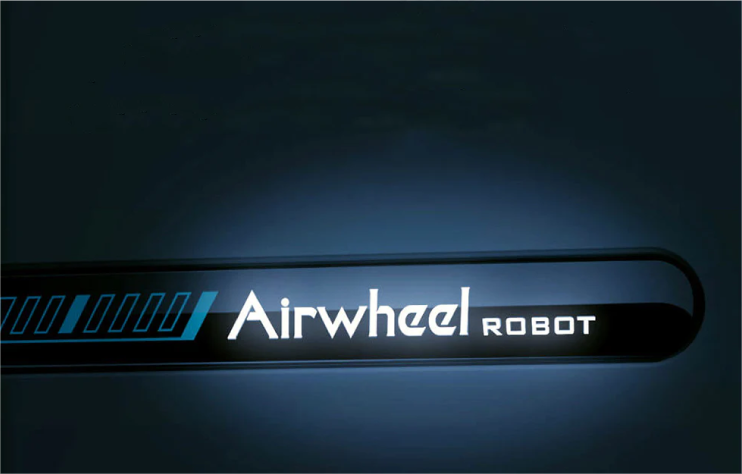 Support Intelligent App Control
1. Intelligent sensor LED
Not only is the SE3 mini T's intelligent Sensor LED very cool, but it also helps you quickly and easily recognize it in the chaos of all luggage without having to struggle to find it.
2. Intelligent search mode
It supports opening the search mode to prevent the luggage from being lost through smart reminders.
3. Remote control mode
Constant speed can be set through APP3.0 to realize stable riding, avoiding hand control fatigue for a long time and better experience.
4 . Intelligent interconnection
APP can be intelligently interconnected with the luggage, real-time monitoring luggage speed, mileage, remaining battery, and other data, convenient to use.
External Dual USB Ports
The SE3 mini T features dual efficient external USB charging ports for mobile charging on the go.
Whether you're at the airport, on the go, or on a business trip, you can easily charge your device to keep it fully charged and ready to go.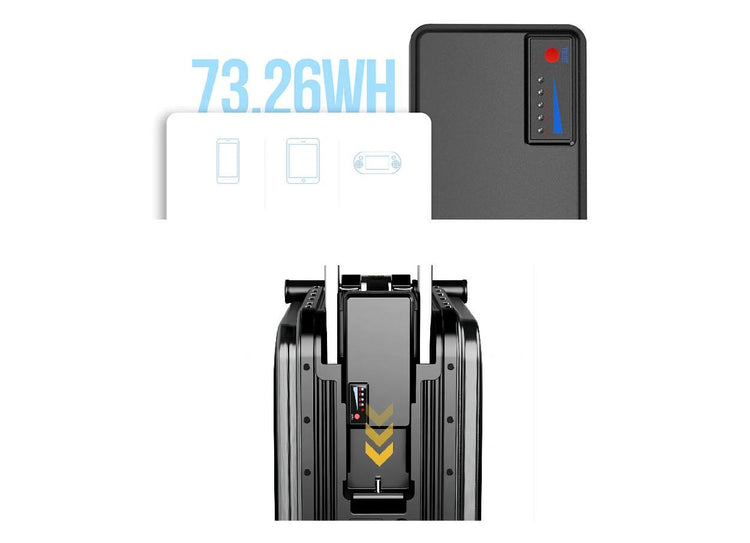 Detachable Large-capacity Battery
With a high capacity of 73.26Wh, the SE3 mini T can ride at speeds of up to 8km/h. In addition, it can also charge your electric devices such as phones, pads, game consoles, and more.
And the battery supports detachment, so you can carry on it or replace it yourself. And you can also press the red button to check the battery capacity while LED lights come on.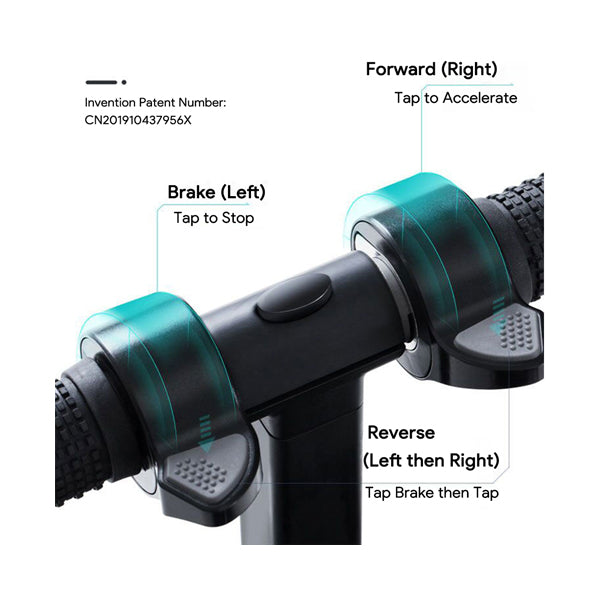 Patent Handlebar
The handlebars of the SE3 mini T are self-designed. Rubber-covered surface for a comfortable feel.
Intelligent handlebar design integrates acceleration, braking, and reversing, with a one-touch retractable hidden patented steering buckle, so delicate that you can't see a single wire.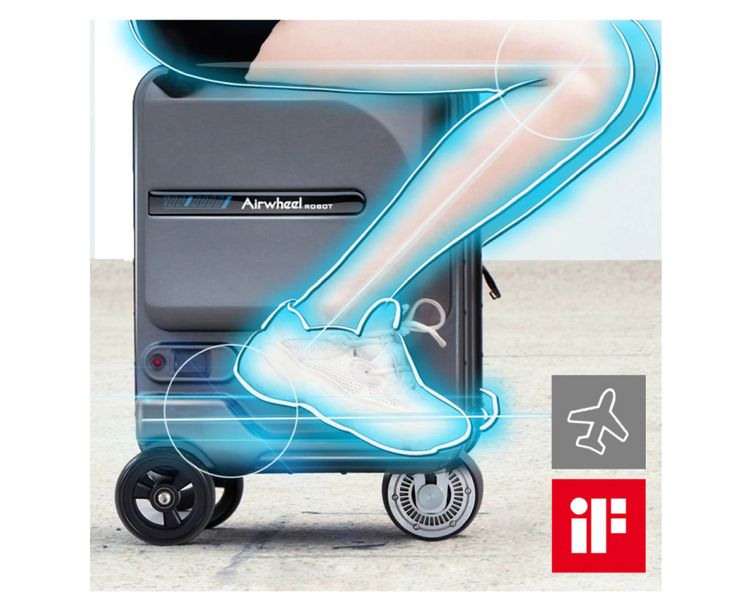 Ergonomic Riding Design
SE3 Mini T has a 'Z' shaped design by international IF award winners, which is in line with mechanics and ergonomics.
The case and pedals are integrated for a comfortable and impact-resistant ride.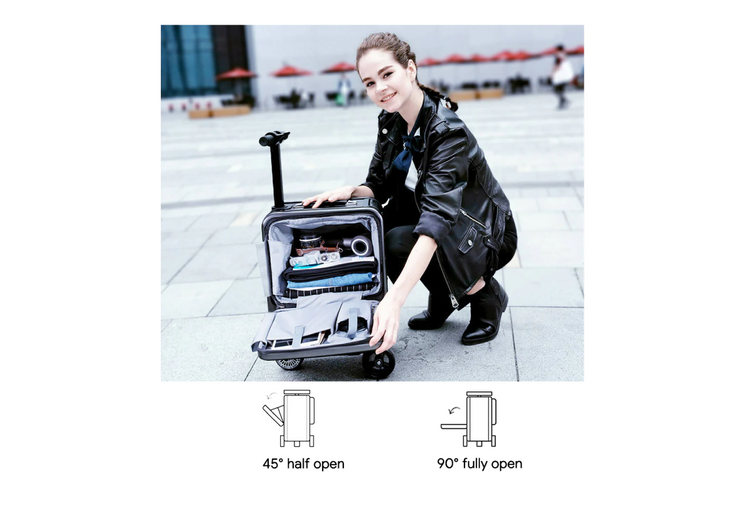 Large Capacity Reasonable Storage
SE3 mini T features a 45°/90° closed design with side flaps that adjust the opening and closing angle to protect your privacy via Velcro and organ pleats.
And its 26L luggage capacity can store your travel essentials, fully lined for isolation, with breathability, easy access, and reasonable distinction at a glance.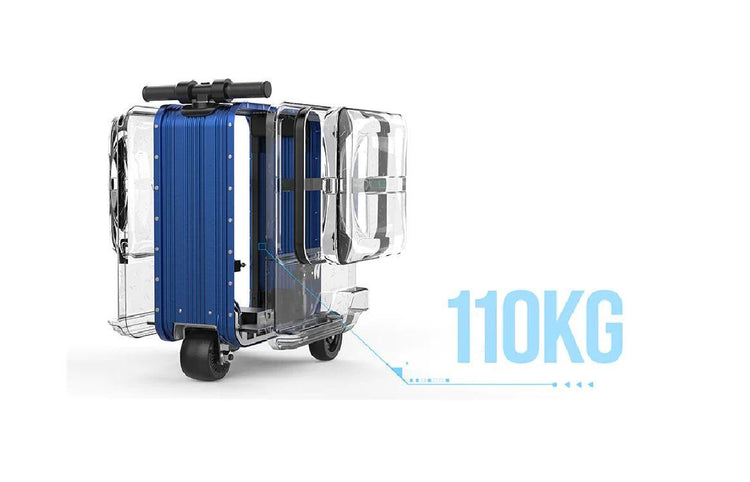 Strong Load-Bearing
SE3 mini T adopts an ABS+PC material cabinet and aviation-grade aluminum alloy frame, supporting a 110kg load.
6 series high-grade aluminum alloy one-piece frame, supporting the structural strength, 52 high-strength riveted reinforcement, to ensure that the case shell is stable and not deformed.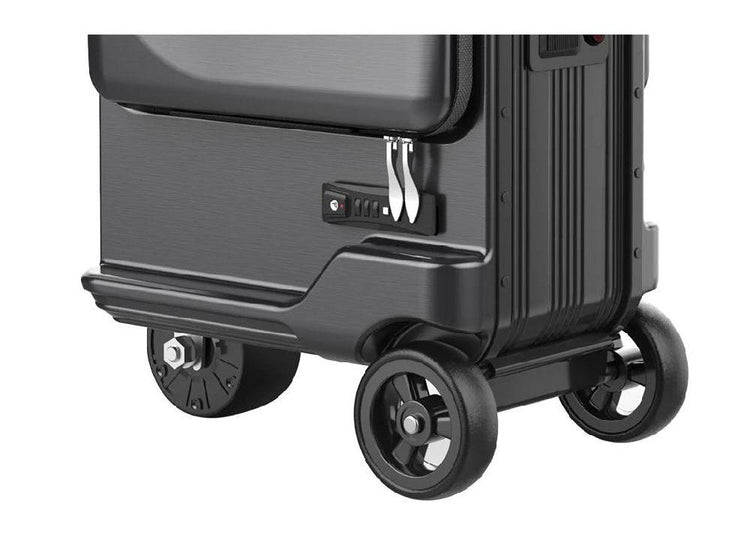 TSA Code Lock & Antiskid Wheels
1. International TSA Lock
The SE3 mini T is equipped with an internationally certified TSA combination lock, which secures the contents of the suitcase and prevents it from being violently damaged while being checked.
2. Antiskid Wheels
SE3 mini T is equipped with antiskid wheels, which are made of high-quality, abrasion- and puncture-resistant 5.5-inch TPU solid plus tires with anti-skid shock-absorbing function to ensure a smoother, smoother, and safer ride.
NOTE:
Since the battery is considered sensitive shipping good, we have to use special logistic channels to ship it. Therefore, your order was split into two packages, one for the luggage and the other for the battery.