Introducing the Aqara Smart Pet Feeder C1 – the ultimate solution for pet owners seeking convenience, peace of mind, and a happy, well-fed furry friend. This innovative device is designed to revolutionize the way you care for your pets, ensuring they are nourished and content even when you're away.
With its sleek and modern design, the Aqara Smart Pet Feeder C1 seamlessly blends into any home decor. But it's not just about looks – this smart feeder is packed with cutting-edge features that make it a game-changer for pet owners.
One of the standout features of the Aqara Smart Pet Feeder C1 is its intelligent feeding system. Equipped with advanced sensors, it accurately measures and dispenses the perfect portion of food for your pet, eliminating the guesswork and ensuring they receive the right amount of nutrition every time. Say goodbye to overfeeding or underfeeding – this feeder takes care of it all.
But that's not all – the Aqara Smart Pet Feeder C1 goes above and beyond to cater to your pet's unique needs. With its customizable feeding schedule, you can easily set specific meal times and portion sizes tailored to your pet's dietary requirements. Whether you have a small dog, a cat, or even a rabbit, this feeder can be personalized to suit their needs perfectly.
Worried about power outages or internet connectivity issues? Don't be. The Aqara Smart Pet Feeder C1 features a built-in backup battery, ensuring that your pet will never miss a meal, even during unforeseen circumstances. Additionally, it can be seamlessly integrated with your smartphone via the Aqara app, allowing you to monitor and control feeding sessions from anywhere, at any time. You can even receive real-time notifications when your pet has been fed, providing you with peace of mind and reassurance.
Cleaning up after feeding time is a breeze with the Aqara Smart Pet Feeder C1. Its detachable food storage container and dishwasher-safe feeding tray make maintenance effortless, saving you time and effort.
Investing in the Aqara Smart Pet Feeder C1 means investing in your pet's well-being and your own peace of mind. With its intelligent features, customizable settings, and seamless connectivity, this smart feeder offers unparalleled convenience and care for your furry companion. Say goodbye to worrying about your pet's meals and hello to a happier, healthier pet.
Upgrade your pet's feeding routine with the Aqara Smart Pet Feeder C1 – because your pet deserves the best.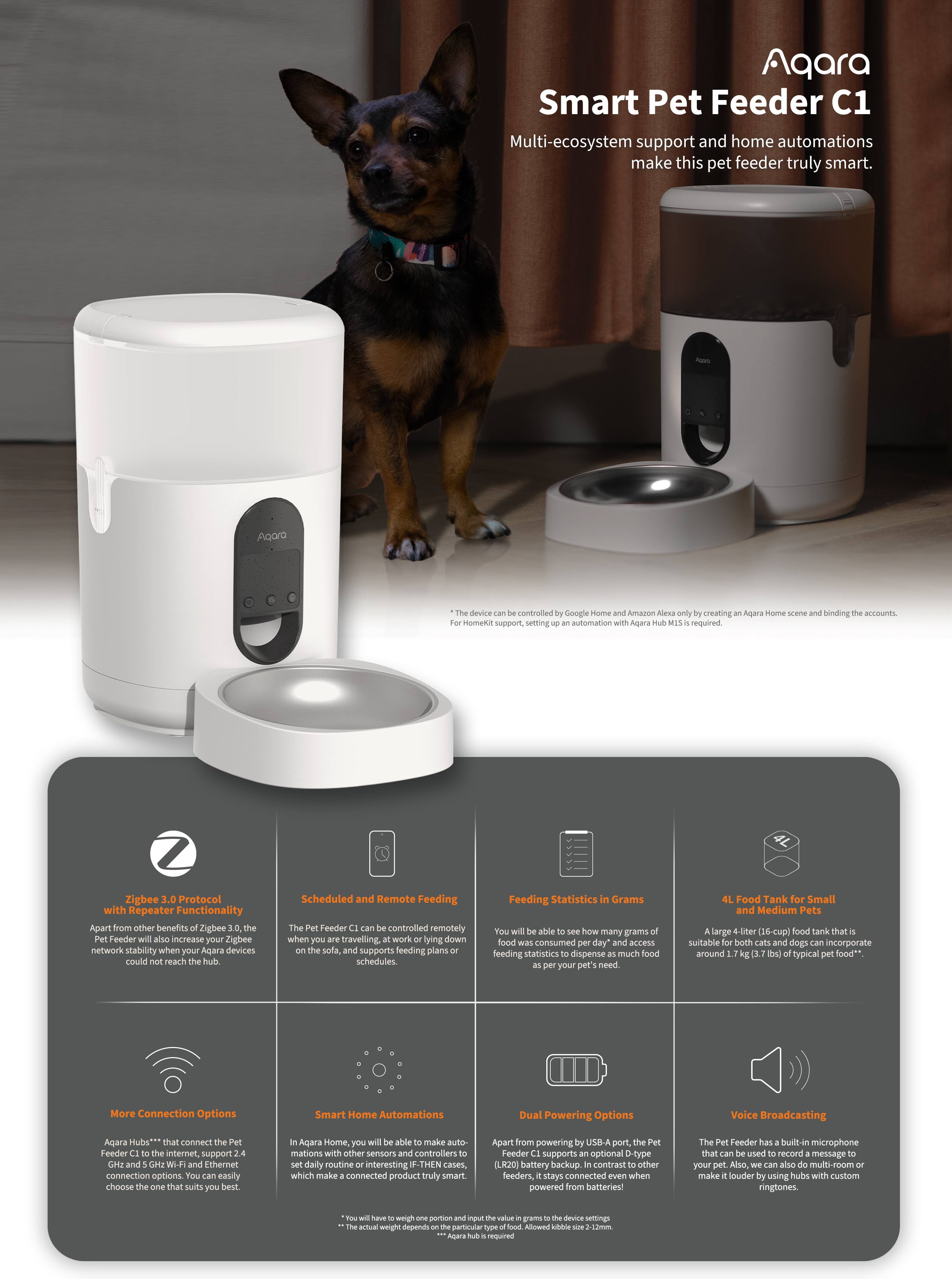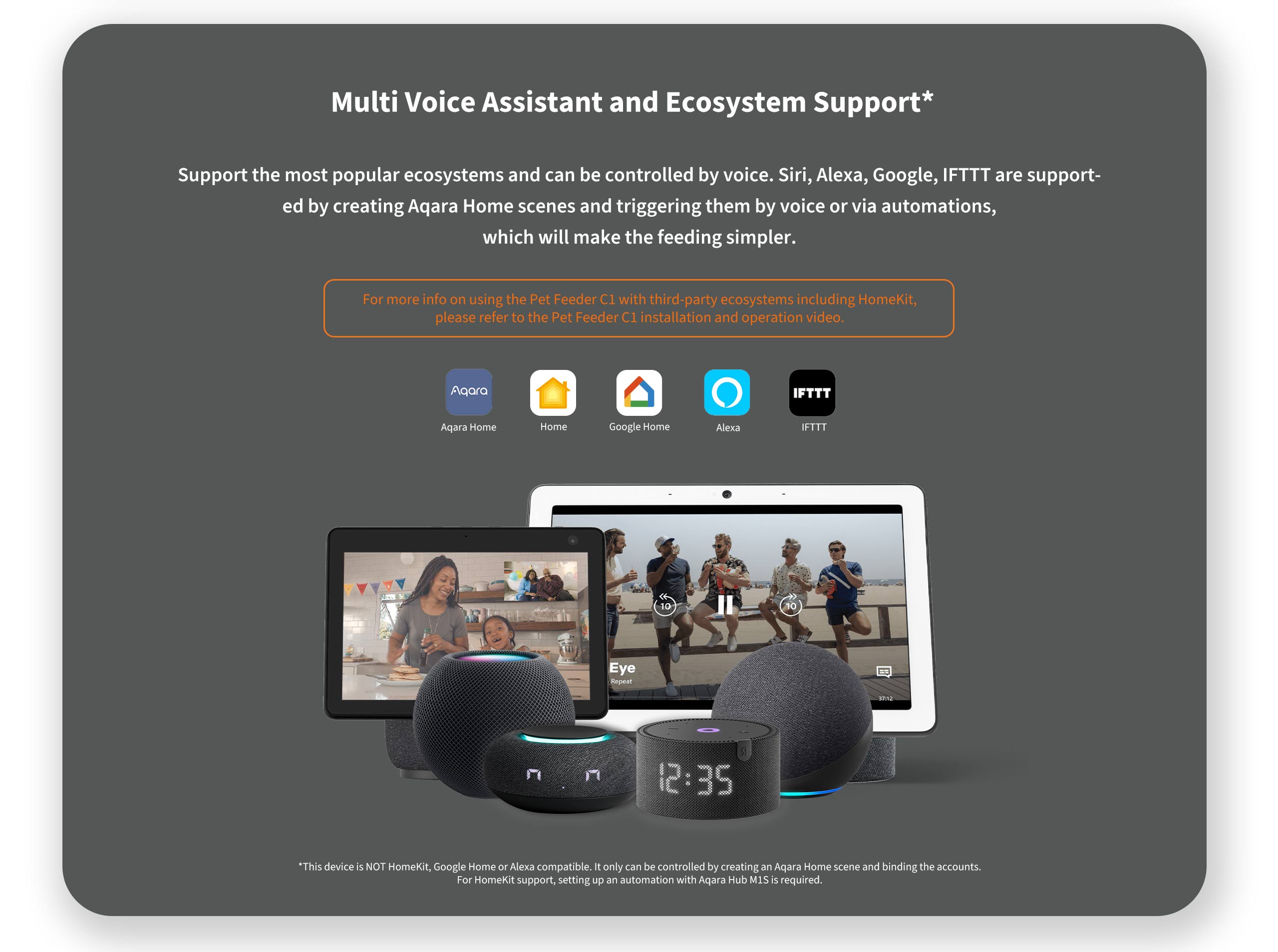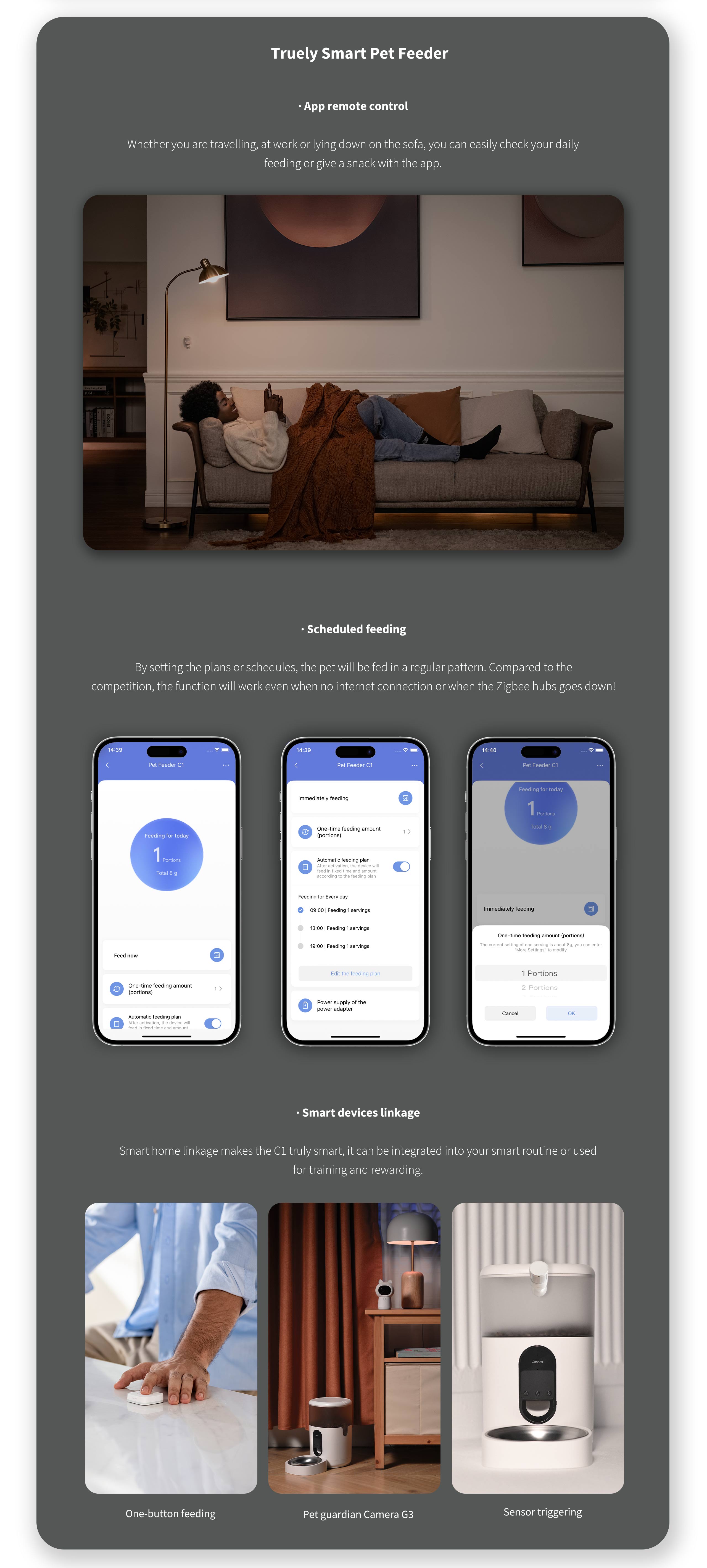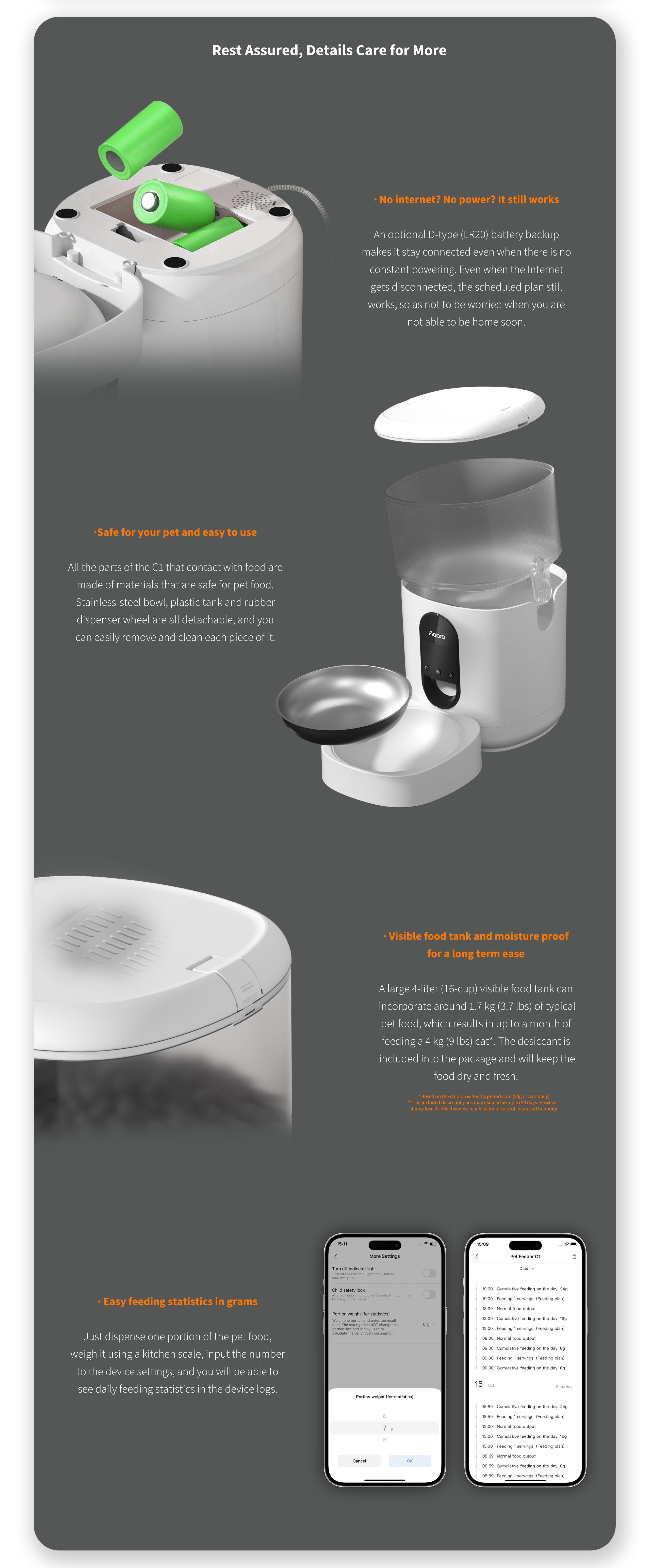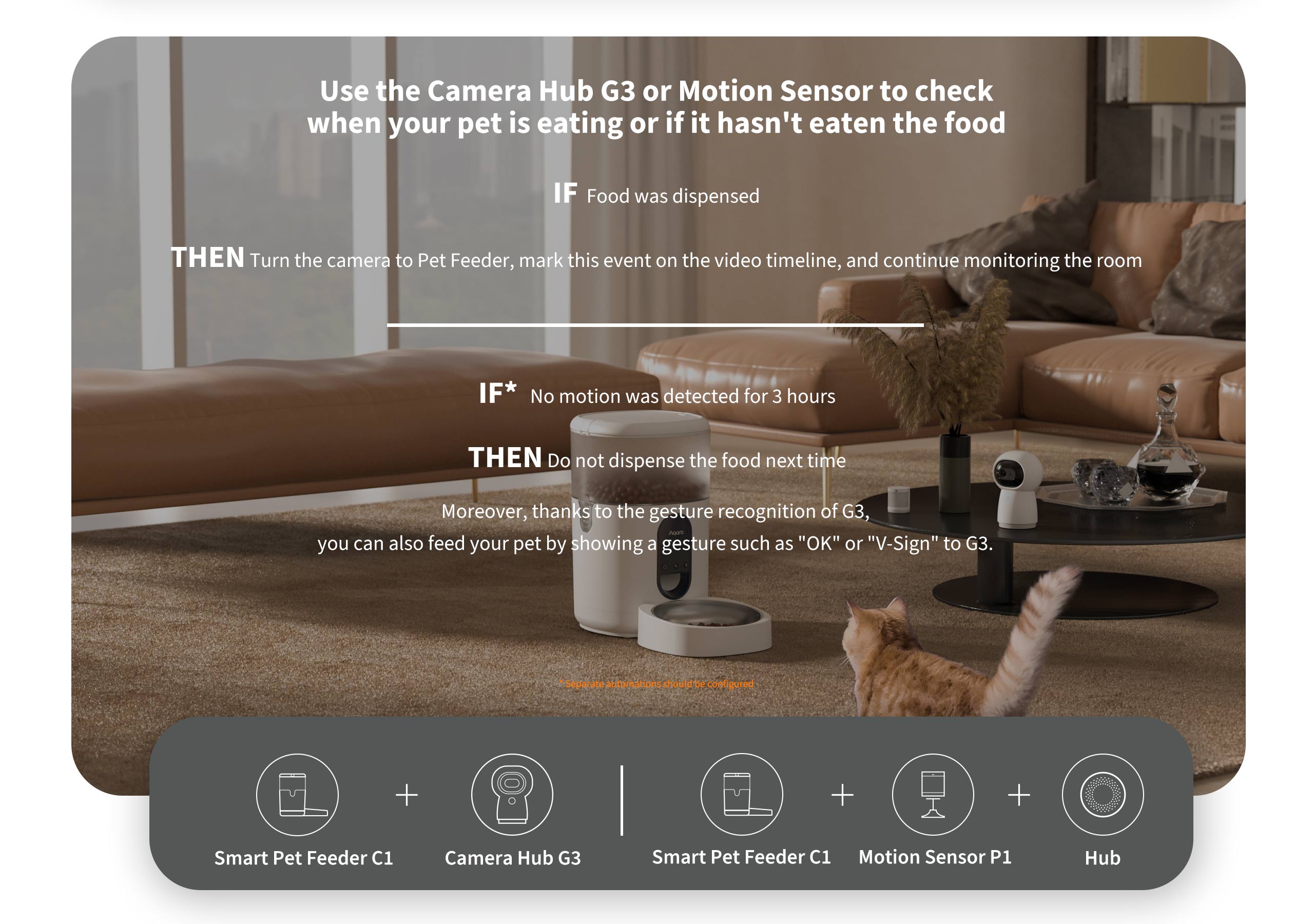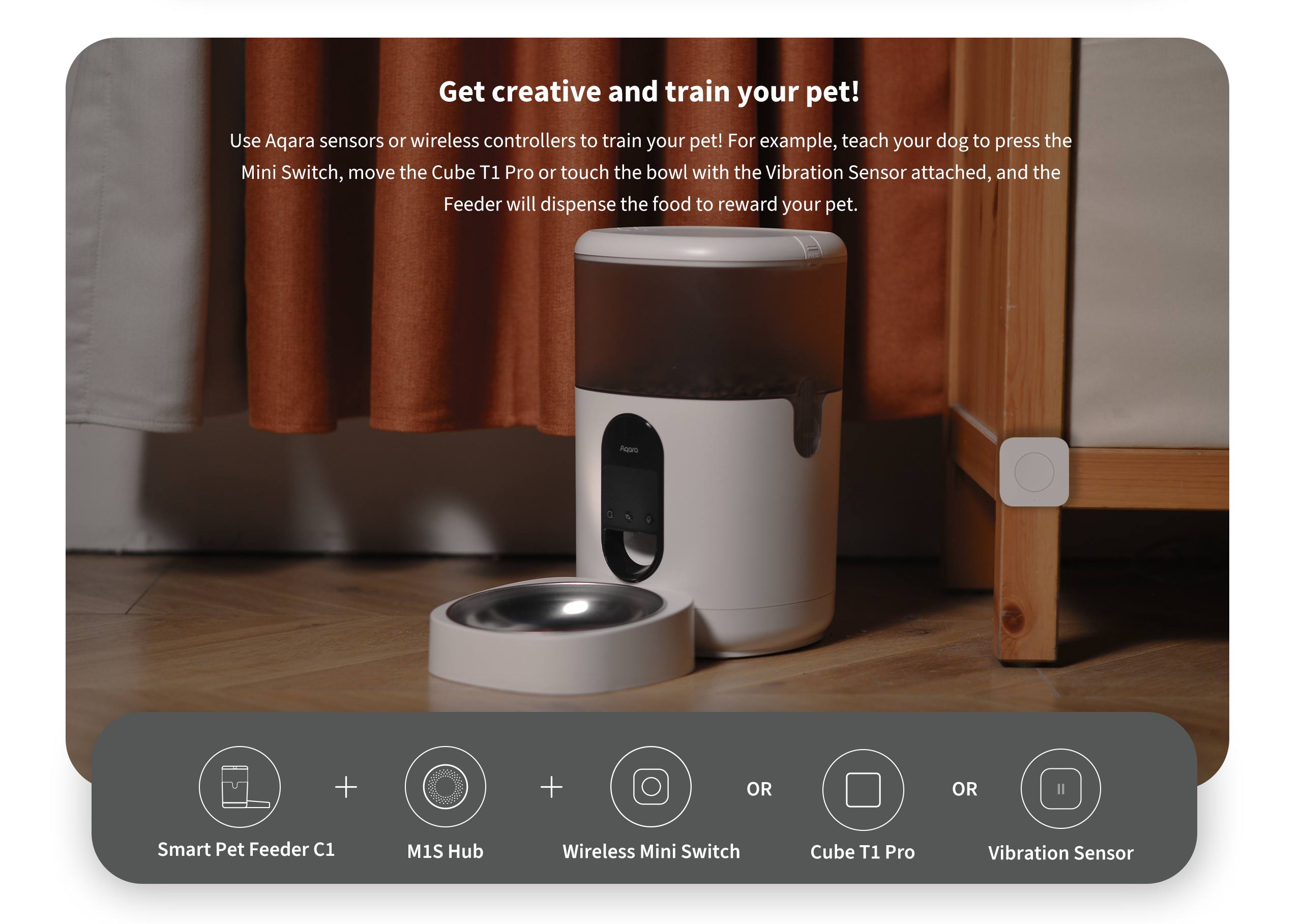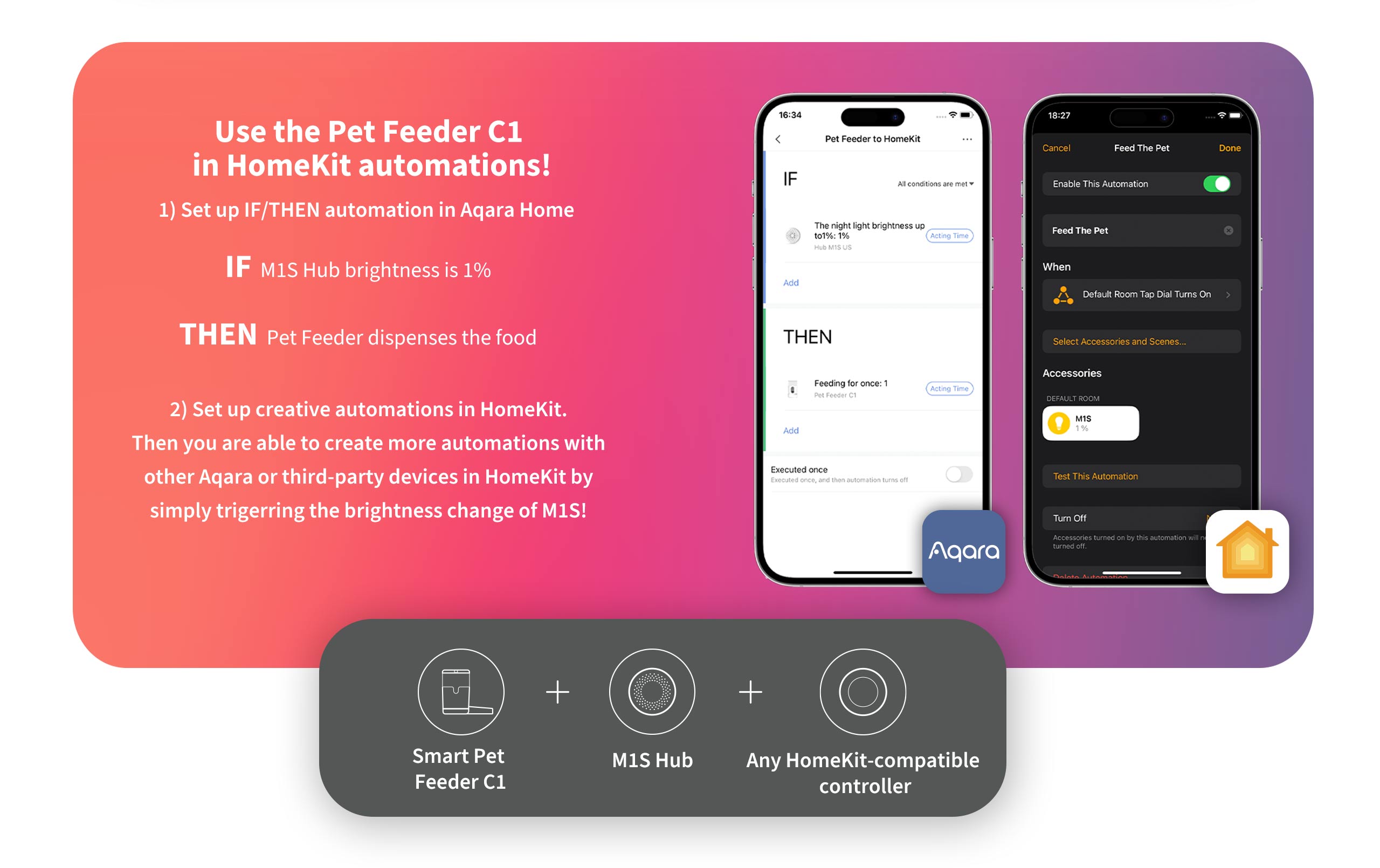 Dimensions
193×193×312 mm
Operating Temperature
-10~45℃ (14°F ~ 113°F)
Operating Humidity
0-95% RH, without condensation
Wireless Protocol
Zigbee IEEE 802.15.4 (acts as a router/repeater)
What's in the box
Smart Pet Feeder C1 × 1, USB-A Power Cord × 1, User Manual × 1, Stainless Steel Bowl × 1, Dessicant × 1