COLOLIGHT RGB Triangle Light Extension 3PCS
RM339.00
Ultra-Thin Panels
Group Control
Voice Control
Music Sync
Original 1 Year Malaysia Warranty
Product Info
COLOLIGHT RGB Triangle Light Extension 3PCS |Ultra-Thin Panels| Group & Voice Control | Music Sync App
Product highlights:
1) Dynamic Lighting Effects
Automatically present lighting effects that sync, rhyme and dance with your music and game audio. It is time to get rid of your boring Incandescent lamp and start to explore a piece of whole new music, game and movie experience with auto-dynamic lighting effects.
2) Music visualiser from your sound card
Using headphones but still want to see your panels react to music? Use a 3.5 mm audio cable and splitter to connect the controller to an audio source.
3) Group Control with Cololight Devices
It can be group controlled with other Cololight devices via an app.
4) 6 Connection Ports
Panels can be connected side-to-side, side-to-corner, corner-to-corner
5) Super thin design and wall mounted
Super thin panels can be wall-mounted, stickers included.
Specifications:  
Model Number: LS165E3
Operating Temperature: -10~45°C
Operating Humidity: 0~85%
Power Supply: DC 24A
Power Consumption: Triangle: Max 12W, |Triangle Extension: Max 6W
Interface: T4-pin
Control Mode: Button | APP | Voice | Music Sync | Stream Deck
Extension Ability: Each controller can support up to 170 meters of strip
Radio: Wi-Fi 2.4GHz
Color: White
Dimension:
Panel: 176*153*8mm
Package: LS165E3:290*240*250mm
Gross Weight: LS165E3: 455g
Casing: ABS+PC
Color Rendering Index : ≥80
Lifetime: 30,000 hours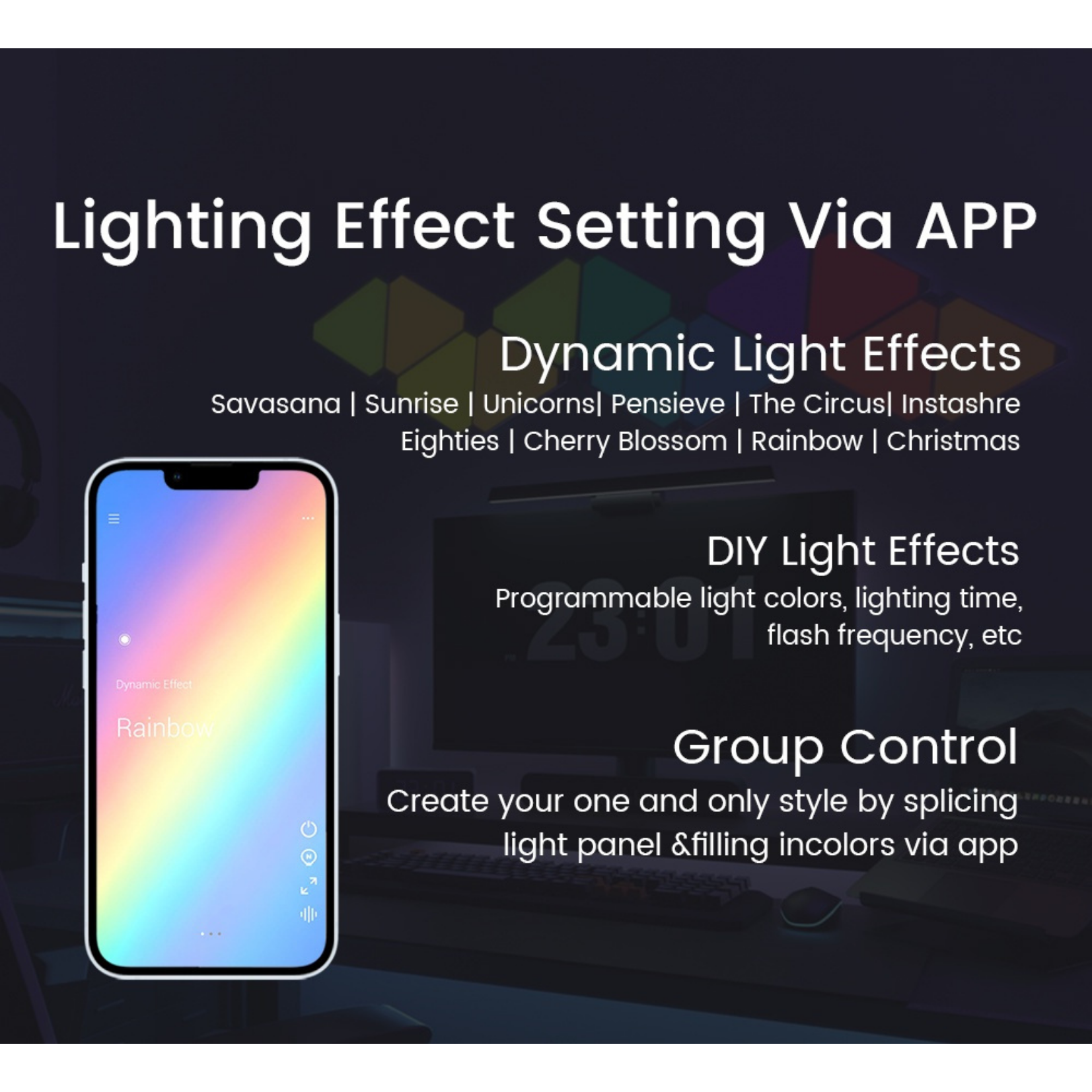 Brand
Cololight
Additional Information
| | |
| --- | --- |
| Weight | 2 kg |
| Dimensions | 40 × 40 × 35 cm |
| Model | RGB Triangle Light Extension 3PCS |
Only logged in customers who have purchased this product may leave a review.