- 50%
Ecovas Deebot T9
3000pa Suction Power
Dual side brush
Ozmo Pro 2.0 mopping system
Original 1 Year Malaysia Warranty
[Box Content]
📌 Deebot T9 Robot Vacuum x1
📌 Docking Station x1
📌 Instrution Manual x1
📌 Side Brushes x1
📌 Ozmo Pro 2.0 x1
📌 Microfiber Disposable Mopping Pad*10
📌 Air Freshener x1
📌 Air Freshener Capsule*1
Product Info
Ecovas Deebot T9
[Product Description]
Features
– 3000pa Suction Power
– Dual side brush
– Ozmo Pro 2.0 mopping system
– Truely 3D 2.0 detection, autopilot technology enhance obstacle avoidance.
– Air refreshener technology
– Disposable Mopping Pad (Replaceable ACC)
– *Compatible Auto Empty Station (ADD On ACC)
DEEBOT T9 – The Best Just Got Better | Your Ultimate 9-in-1 Robotic Cleaning
DEEBOT T9 is The first smart obstacle avoiding robotic vacuum cleaner with powerful dual vacuum, mopping functions, mobile air freshener.
📌 Optimal solutions for precision cleaning and protection
📌 Advanced app upgrade for optimal cleaning route
📌 A luxurious cleaning experience with Air Freshener
📌 High Performance And Effective Cleaning With Ozmo Pro 2.0 Oscillating Mopping System
◾️ TrueDetect 3D 2.0 ◾️
Equipped with an upgraded 3D detection and obstacle avoidance technology, your DEEBOT T9 knows every corner of your home. It detects objects with high-precision resolution in real time to strategically avoid obstacles and ensure no collision, entanglements or disruptions.
◾️ TrueMapping 2.0 ◾️
Your DEEBOT T9 is able to adapt to a wide variety of complex environments. It navigates smoothly not just in daylight but also in bright light as well as total darkness to get your home thoroughly cleaned effortlessly anytime.
◾️ Advanced app upgrade ◾️
Control and customise your clean from anywhere on the newly designed ECOVACS Home App. Enjoy a smarter and more personalised experience with the three-dimensional map that captures a real-life view of your home. Switch seamlessly between two- and three-dimensional house map views of your house for the best cleaning route possible.
Air Freshener With an industry-first built-in Air Freshener, DEEBOT T9 can now infuse your home with a delicate, luxurious fragrance so you can enjoy the best at-home experience.
🔴 Spreading fragrance: The Air Freshener module has an interchangeable capsule design and comes with a choice of three fragrances. One capsule should last for up to 60 days.
🔴 Locking fragrance: The fan at the bottom of the Air Freshener can be activated to effectively spread fragrances. You can switch. This function ON/OFF using the ECOVACS Home App to make the best use of the Air Freshener capsule.
🔴 Odor removal: Air Freshener is designed to spread fragrance and effectively remove musty smells and pet odor.
🔴 Full house coverage: Combined with TrueMapping 2.0 navigation to quickly freshen air in the whole house and in areas users select on the ECOVACS Home App.
◾️ OZMO™ Pro 2.0 ◾️
The DEEBOT T9 is capable of taking on any manner floor surfaces without you breaking into a sweat. With its advanced OZMO™ Pro feature, it simultaneously sweeps, vacuums and mops your floor to effectively remove stubborn stains off of any floor surfaces. The new OZMO™ Pro Oscillating Mopping Kit is now also quieter than ever.
◾️ Ultra-High Suction Power ◾️
The suction power of the DEEBOT T9 is doubled. What's more, the DEEBOT T9 adopts high-strength fiberglass to maintain steady suction power for a longer lasting clean, and effectively vacuums dust off of both hard floors and carpets.
◾️ Disposable Mopping Pad ◾️
The disposable design of the mopping pad is convenient – simply attach, mop and throw it away immediately after use. The microfiber cloth efficiency capture dust, locks away stains and avoids leaving residue.
◾️ Auto-Empty Station (Sold as separate accessories) ◾️
No longer worry about emptying your dustbin every day. With the auto-empty station, the DEEBOT T9 empties itself into a sealed disposable dust bag that holds up to 30 days of debris without leakage.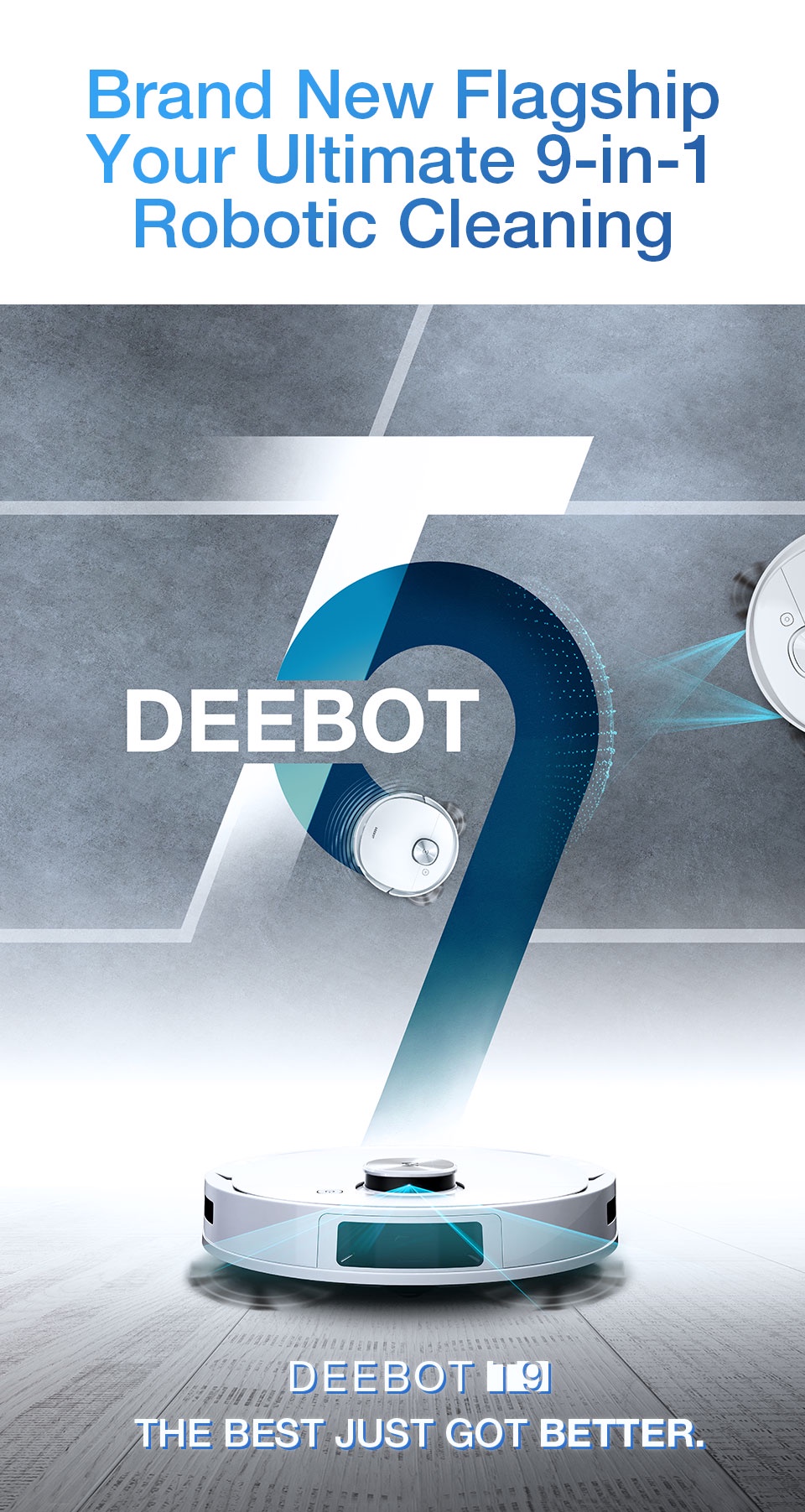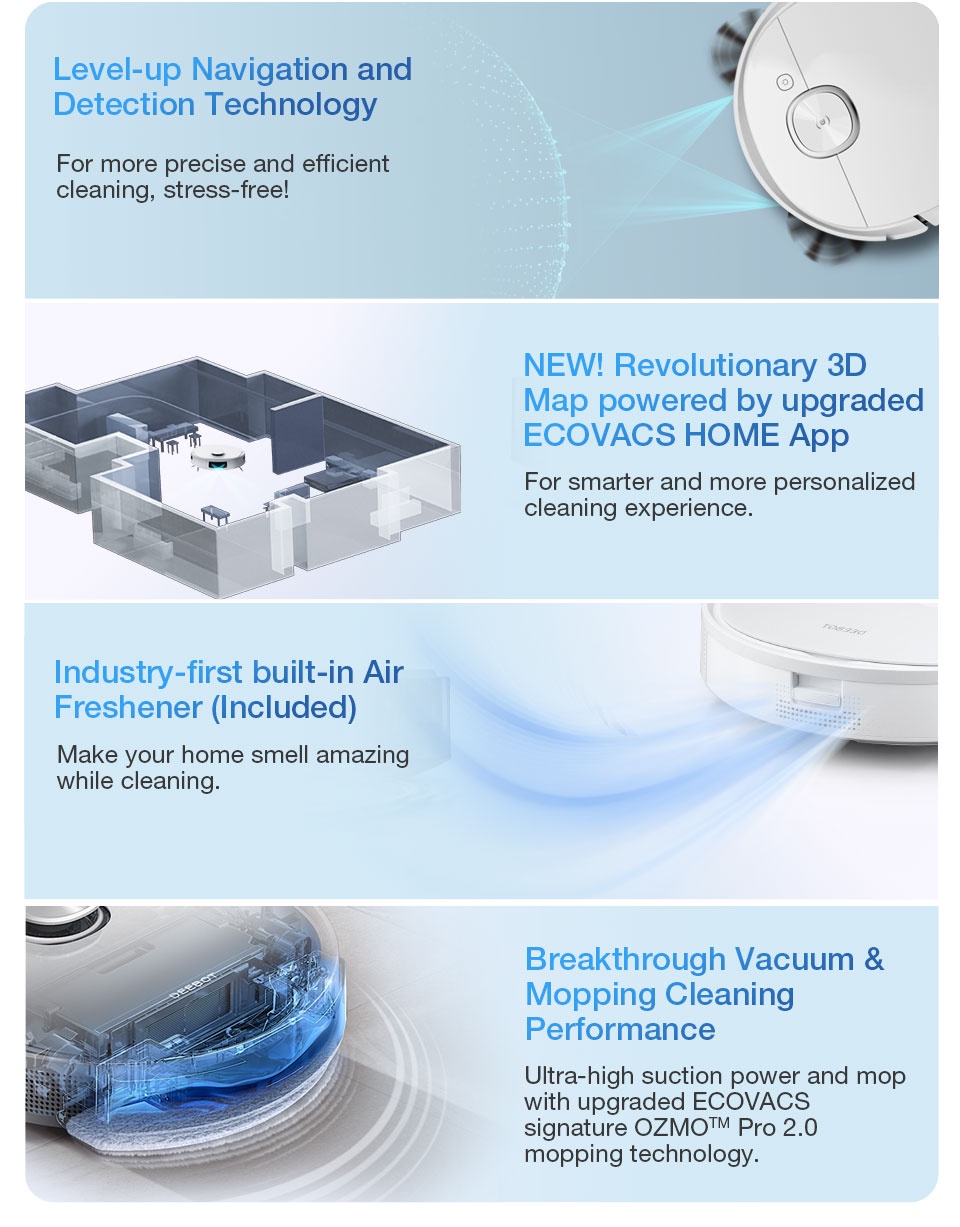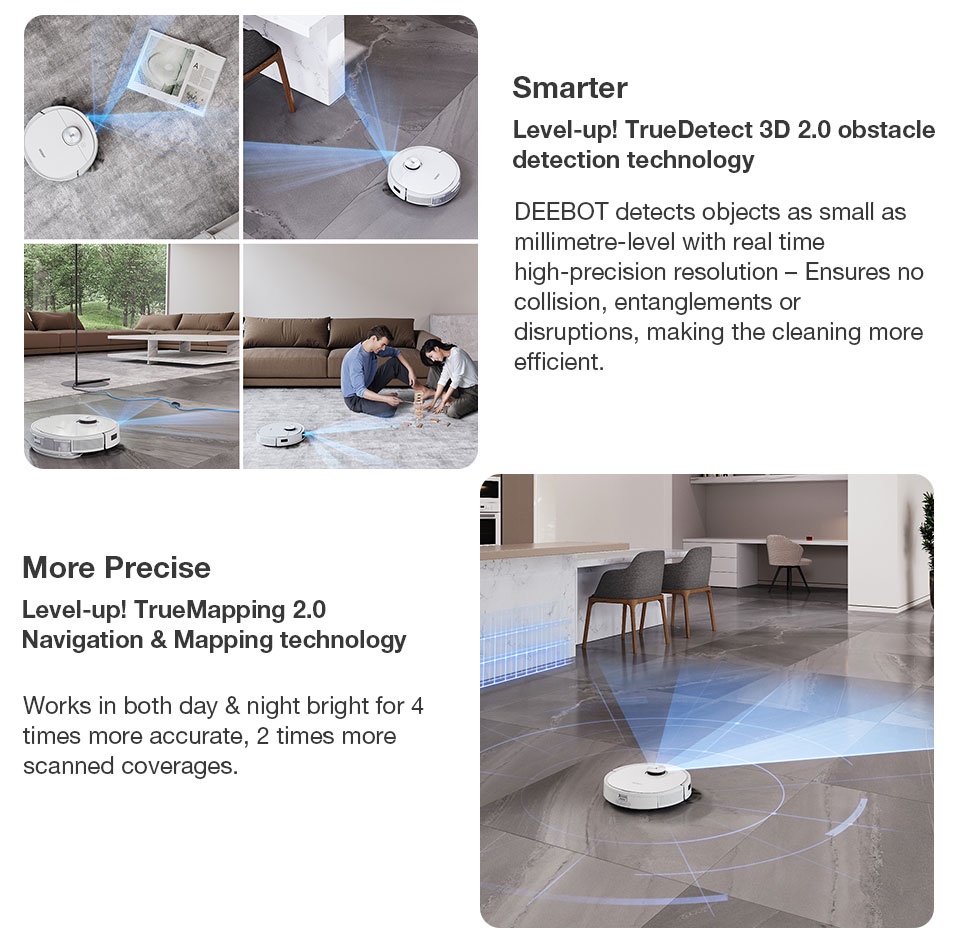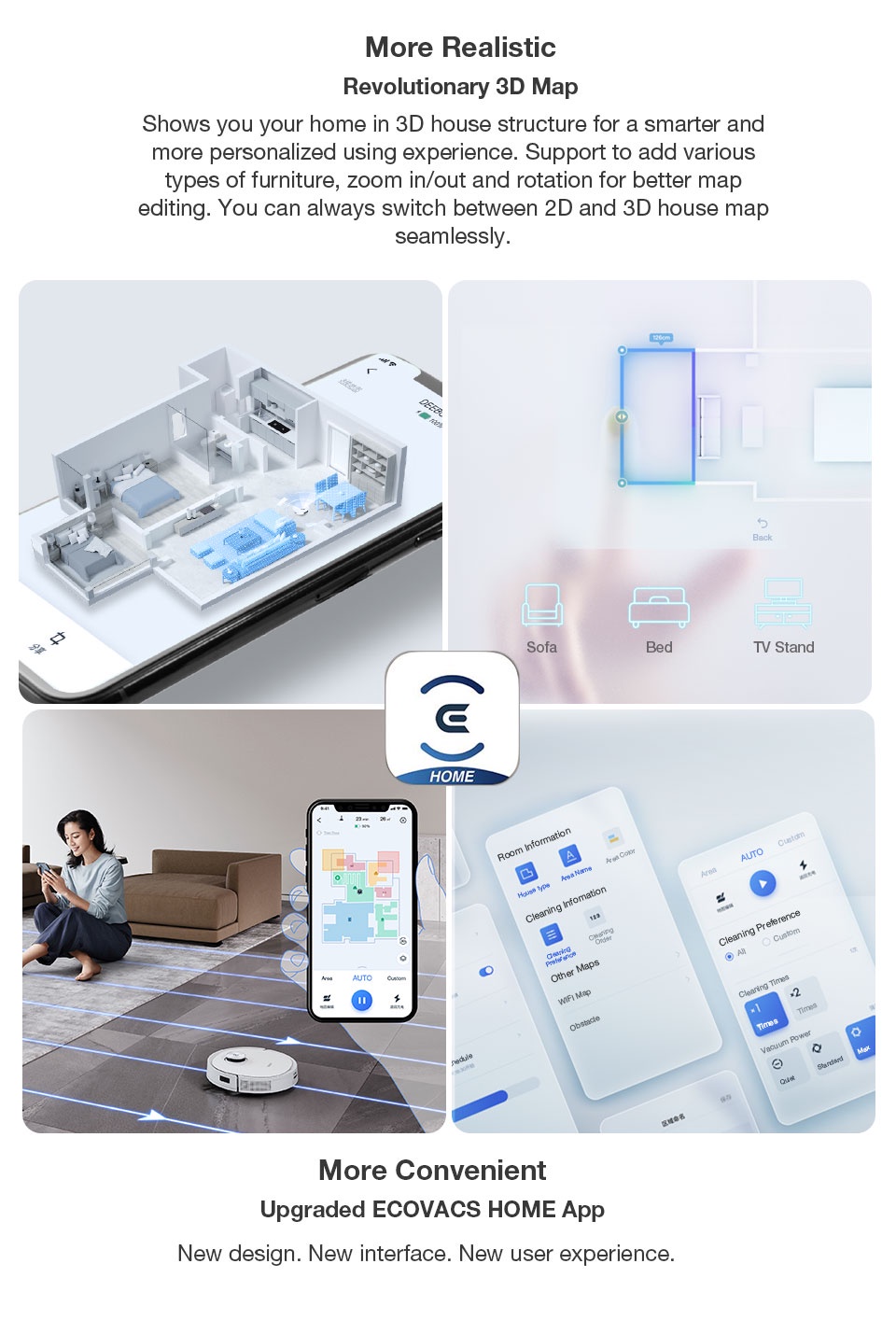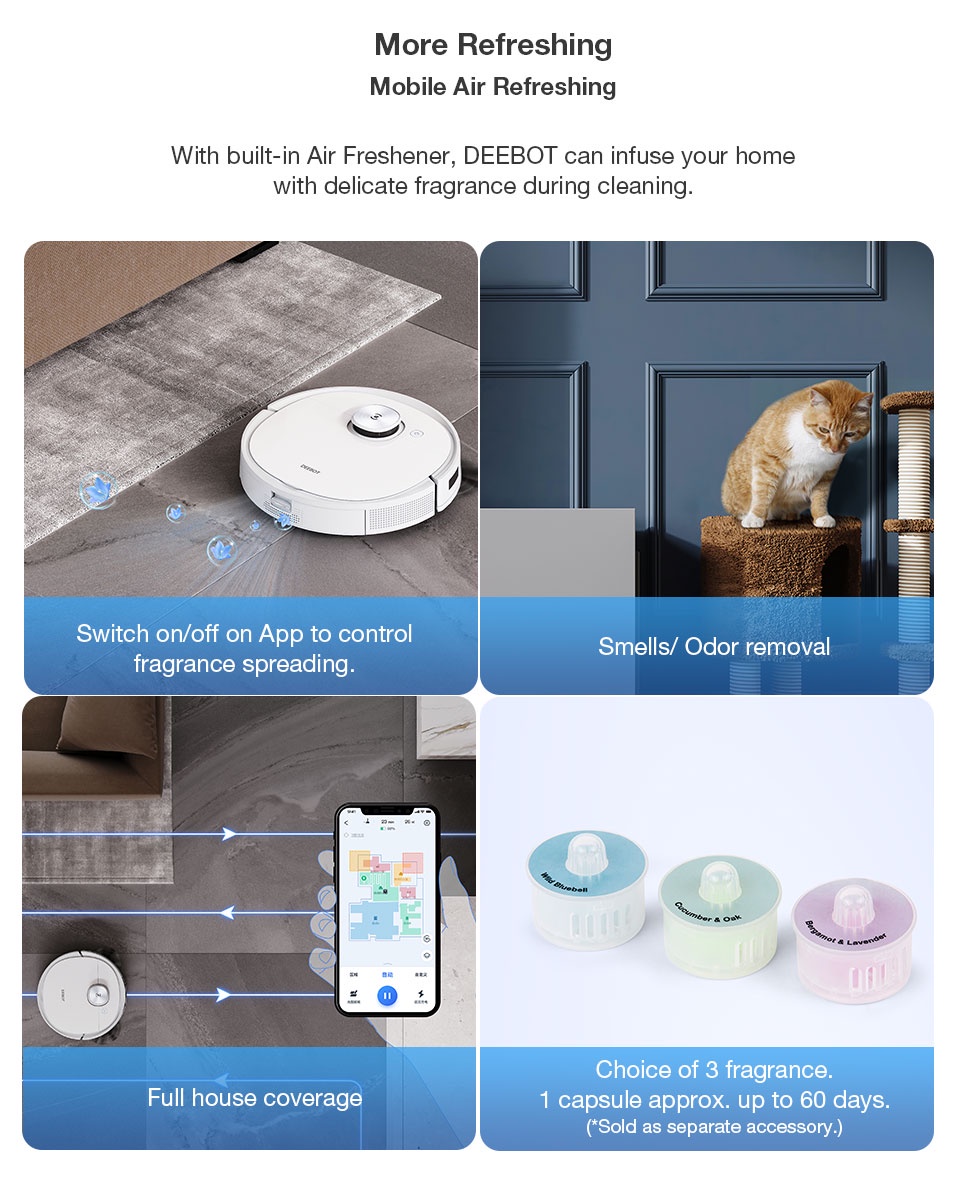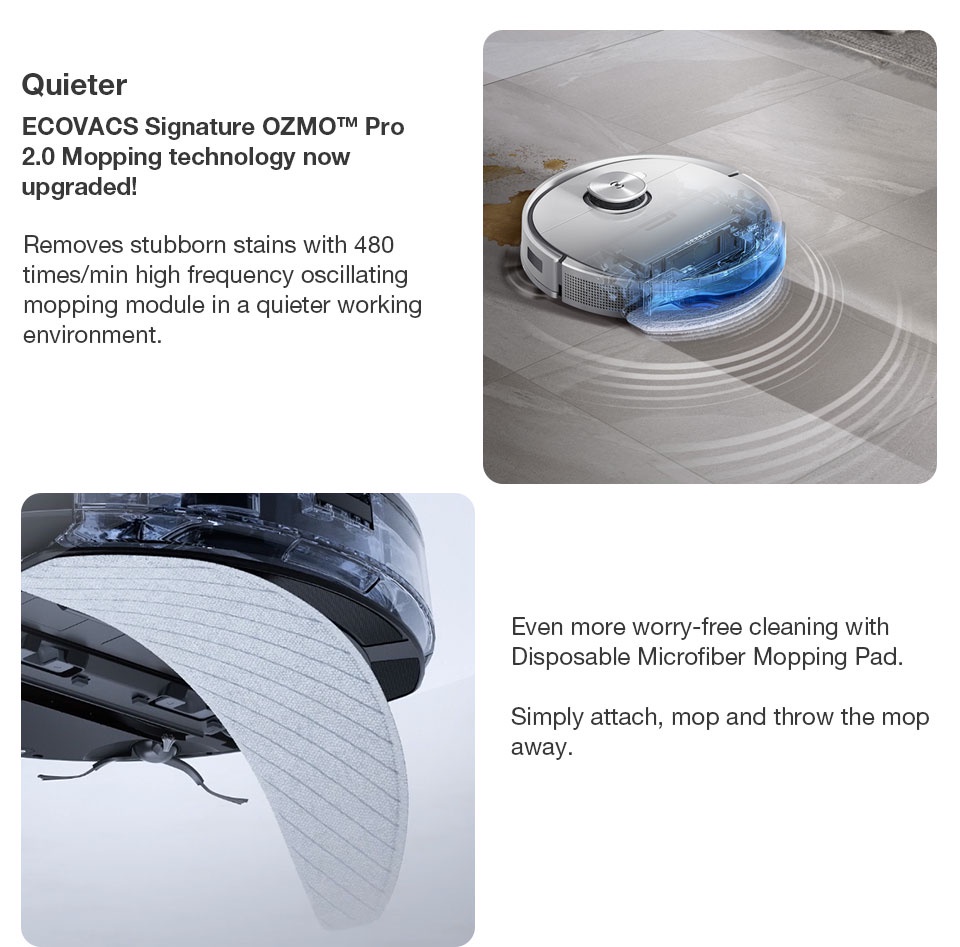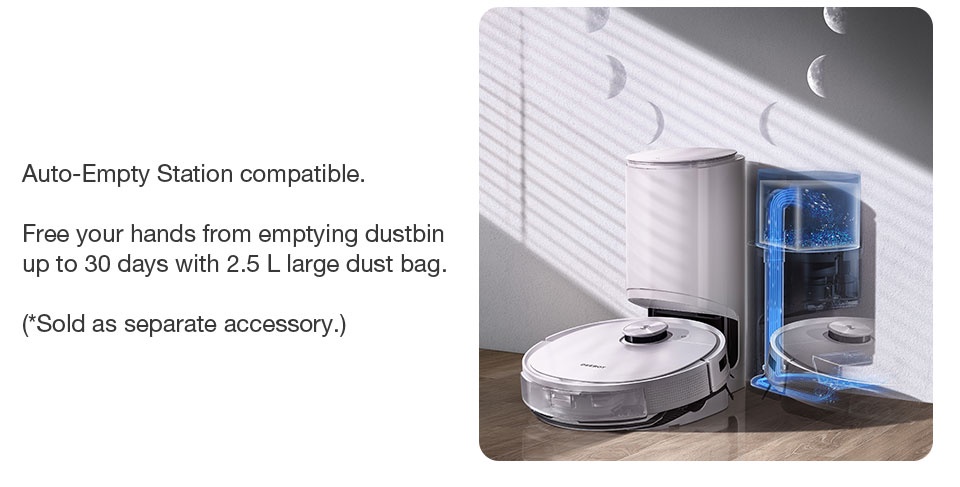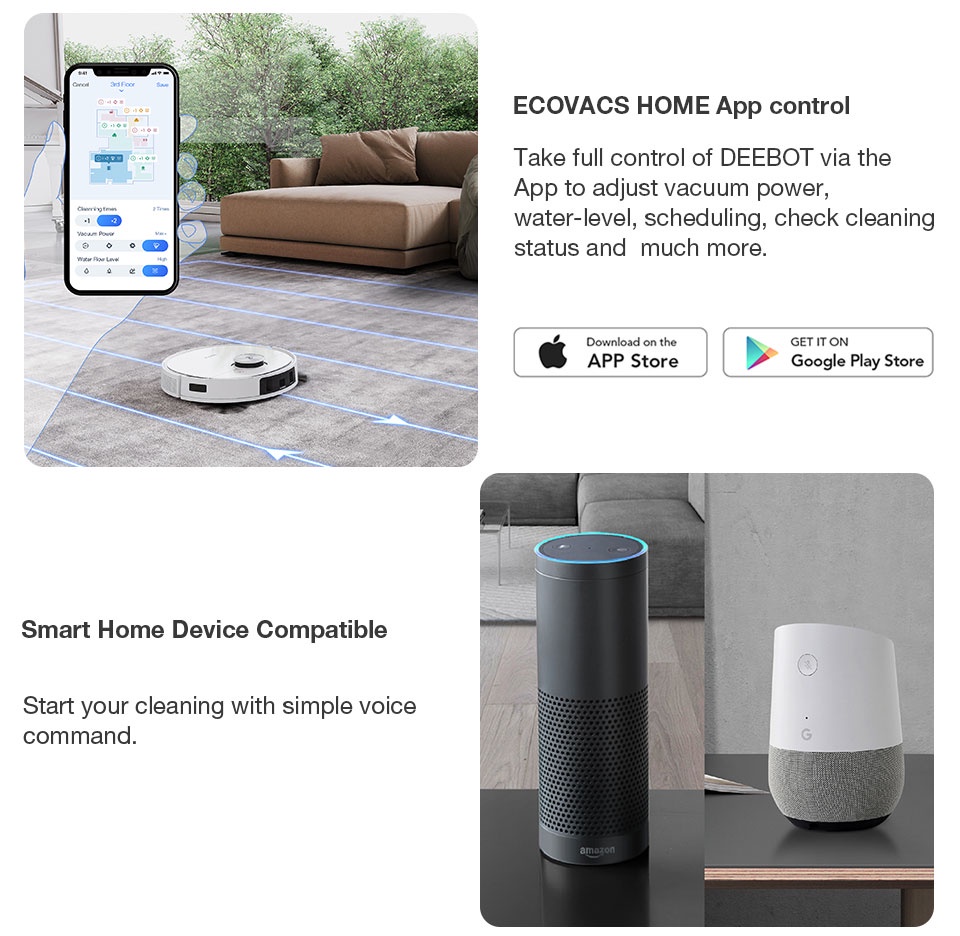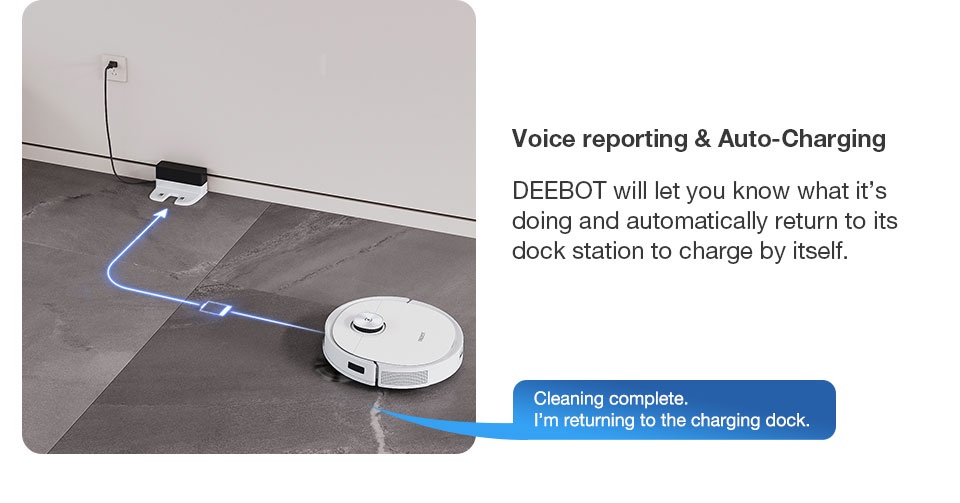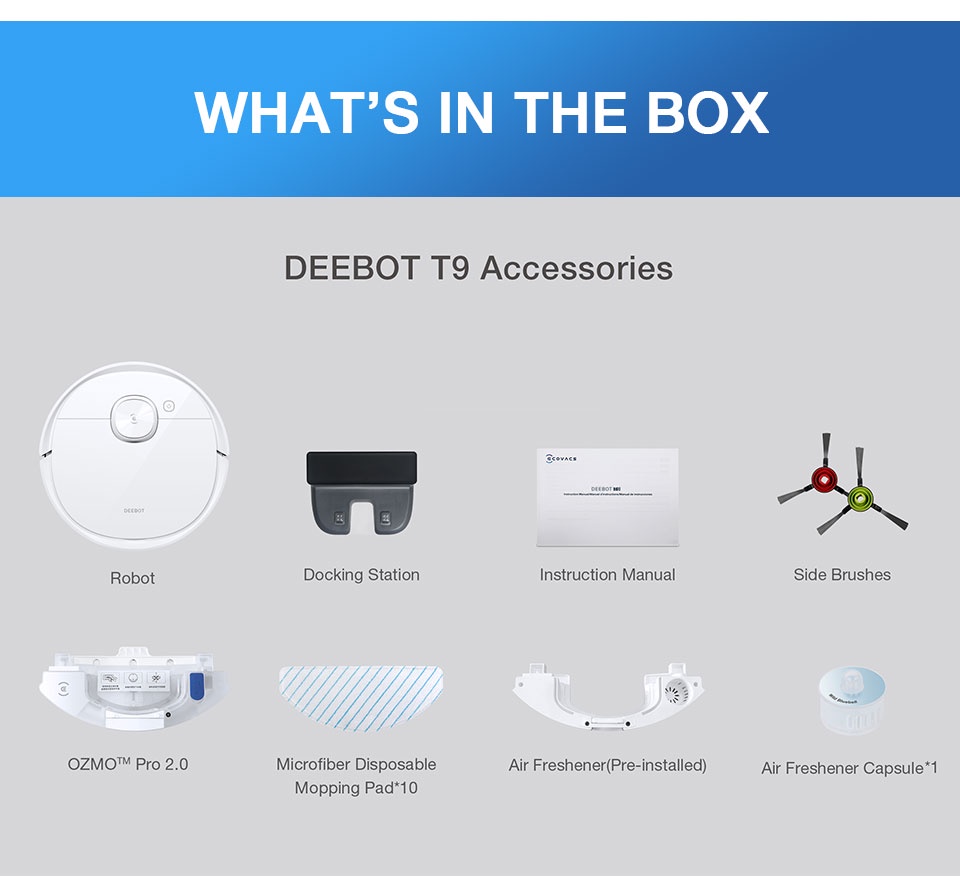 Additional Information
| | |
| --- | --- |
| Weight | 4.60 kg |
| Dimensions | 46.80 × 23.20 × 55.70 cm |
| Color | White |
Only logged in customers who have purchased this product may leave a review.