The Garmin Descent™ Mk2 is a cutting-edge dive computer and smartwatch designed to cater to the needs of both professional divers and outdoor enthusiasts. This versatile device offers unparalleled functionality with its myriad of features, making it an essential companion for anyone seeking adventure beneath the waves.
Equipped with a crisp color display, the Garmin Descent™ Mk2 provides at-a-glance information during dives, eliminating the need for cumbersome gauges. The vivid screen ensures excellent readability in various lighting conditions, allowing divers to stay focused on their surroundings. With a 1.4-inch diameter, the display provides ample space to showcase important data such as depth, dive time, and temperature, ensuring divers have all the necessary information readily available.
Built with robust durability in mind, the Garmin Descent™ Mk2 boasts a rugged construction that can withstand the rigors of underwater exploration. Its premium materials and water-resistant design ensure the watch remains fully functional even in challenging diving conditions. The stainless steel bezel and scratch-resistant sapphire crystal lens protect the watch from accidental bumps and scrapes, providing peace of mind knowing that this reliable companion will endure the test of time.
Not only does the Garmin Descent™ Mk2 excel as a dive computer, but it also seamlessly transitions into a stylish smartwatch. With advanced smart features such as GPS navigation, activity tracking, and heart rate monitoring, this device becomes an everyday accessory for the active individual. The GPS capability allows adventurers to track their routes, mark dive entry and exit points, and effortlessly find their way back to the surface. Additionally, the integrated wrist-based heart rate monitor accurately measures heart rate variability, enabling users to monitor their fitness levels and recovery.
Connecting to the Garmin Connect™ app, the Garmin Descent™ Mk2 allows users to analyze and share their dive logs and activities with a larger community of like-minded individuals. The app offers comprehensive data analysis, performance tracking, and personalized coaching, enhancing the overall diving experience. Furthermore, the watch is compatible with various other Garmin devices, ensuring seamless integration into an existing Garmin ecosystem.
Safety is a paramount concern for any diver, and the Garmin Descent™ Mk2 addresses this with its array of essential features. The watch includes multiple dive modes, including single and multiple gas options, as well as gauge and apnea modes, catering to divers of all levels. Its innovative underwater 3-axis compass provides accurate headings even in challenging conditions, helping divers navigate and explore with confidence.
For the tech-savvy diver, the Garmin Descent™ Mk2 offers advanced connectivity options. With built-in Wi-Fi and Bluetooth capabilities, users can easily sync their device with compatible smartphones, receive notifications, and download software updates directly from the Garmin Connect™ app. This ensures that the watch remains up to date with the latest features and enhancements, guaranteeing a future-proof investment.
In conclusion, the Garmin Descent™ Mk2 is the ultimate dive computer and smartwatch that encapsulates the spirit of adventure. Its durable construction, comprehensive feature set, and seamless integration with the Garmin ecosystem make it a must-have companion for professional divers and outdoor enthusiasts alike. Whether exploring the depths of the ocean or conquering new land-based expeditions, the Garmin Descent™ Mk2 will be there every step of the way, offering unparalleled functionality, safety, and style.
THE DIVE COMPUTER FOR BOTH YOUR WORLDS
Monitor your gas and depth1 with the advanced, watch-style dive computer that comes with multisport training and smart features.
Air-integrated dive computer for you and your dive buddies.
Choose from multiple dive modes for your underwater adventure.
Measure your performance and track your stats above water.
This smart dive computer features music and notifications.
Share and review dives in the Garmin Dive app.
The battery in your Garmin device is simply unmatched by other smartwatches.
QUALITY BY DESIGN
The advanced, watch-style dive computer with a rugged yet sophisticated design that features a large sunlight readable 1.4" color display.
PREMIUM MATERIALS
Fit the look to your lifestyle with a stylish titanium bezel.
Plunge to a whole new depth of capability.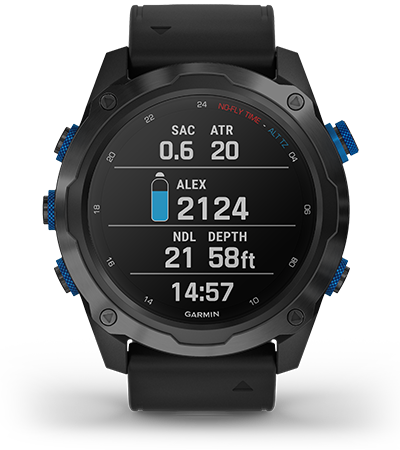 AIR INTEGRATION
Pair with Descent T1 transmitter for integrated pressure monitoring on up to 5 tanks via SubWave sonar data network1.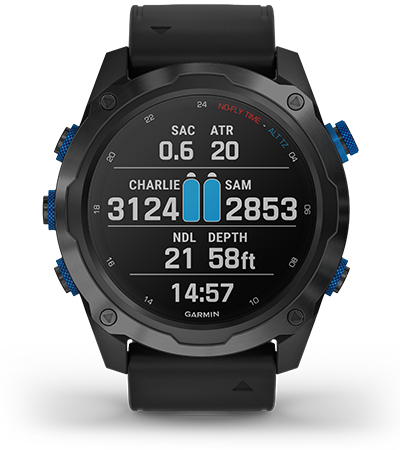 SUBWAVE SONAR
Transmit data — such as remaining air time, air consumption rate and more — for you and other divers within a range of 10 meters1.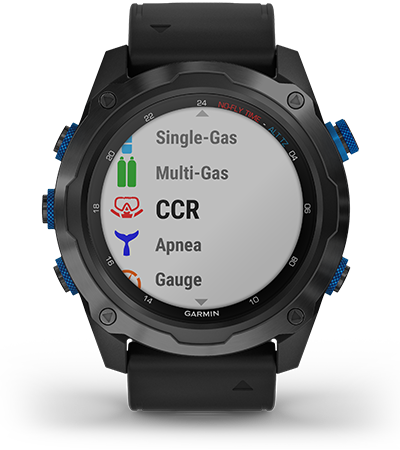 DIVE MODES
Get multiple dive modes for single and multiple gas dives (including nitrox and trimix), gauge, apnea, apnea hunt and closed circuit rebreather.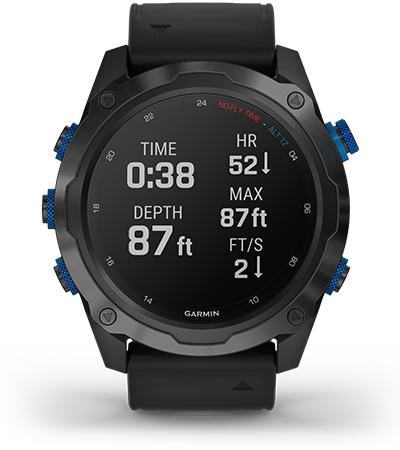 CUSTOMIZABLE DIVE MODES
Add additional screens for each dive mode that features the fields you want to see.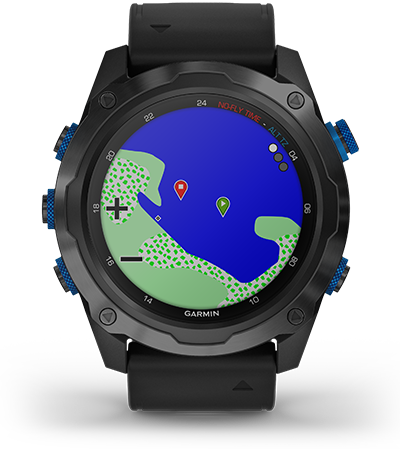 SURFACE MULTI-GNSS
Track your entry and exit2 points with advanced satellite connectivity.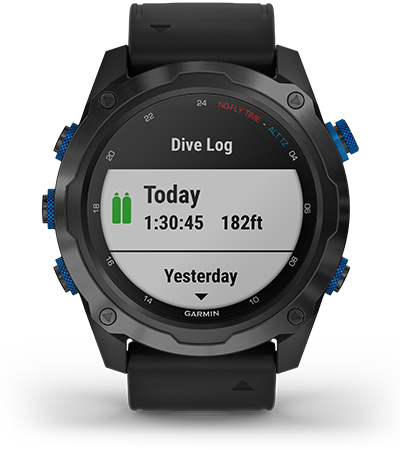 DIVE LOG
Store and review data for up to 200 dives — and share via the Garmin Dive app.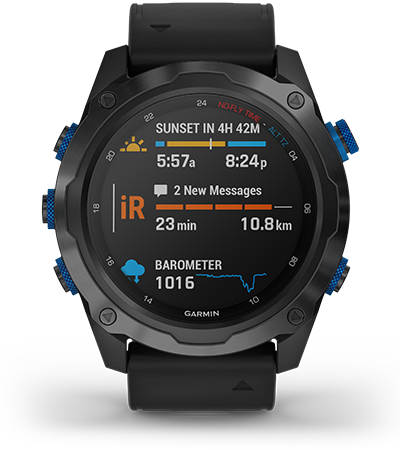 INREACH® COMPATIBLE
Pair with inReach satellite communicators3 and the inReach dive case.
Push performance to a whole new level.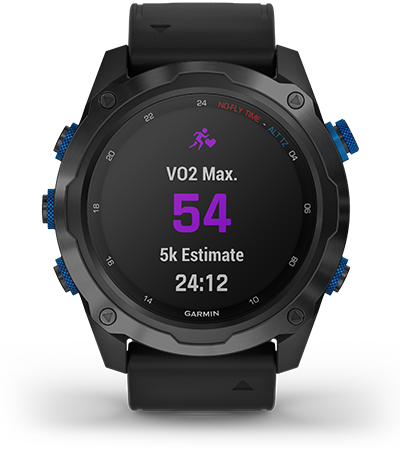 PERFORMANCE METRICS
View advanced training metrics that include running dynamics, heat- and altitude-adjusted VO2 max, recovery advisor and more4.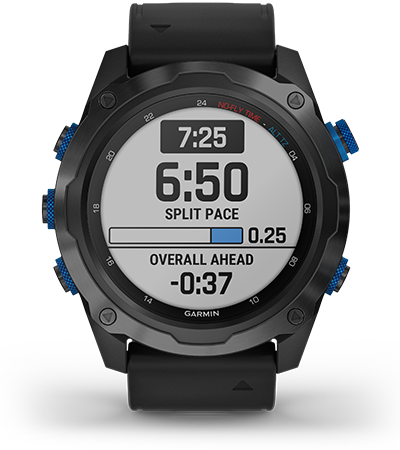 PACEPRO TECHNOLOGY
A first-of-its-kind feature that helps keep you on pace with grade-adjusted guidance as you run a course.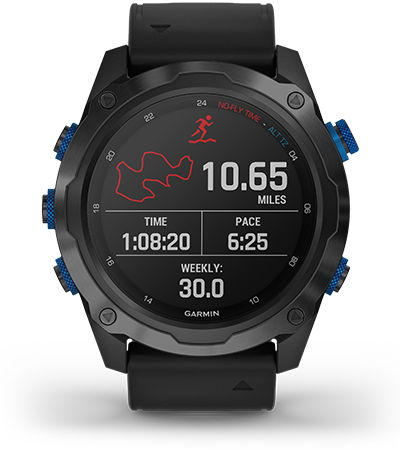 SPORTS APPS
Use preloaded activity profiles for trail running, swimming, running, biking, hiking, rowing, skiing, golfing and more.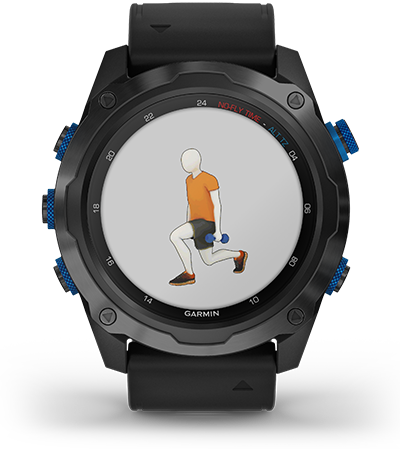 ANIMATED WORKOUTS
Easily follow animated workouts for cardio, strength, yoga and Pilates. View workouts right on your watch screen.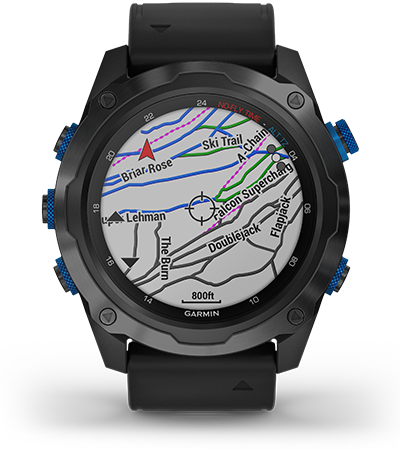 TOPO AND SKI MAPS
Use topographical maps to navigate your adventures and view run names and difficulty ratings for 2,200+ worldwide ski resorts.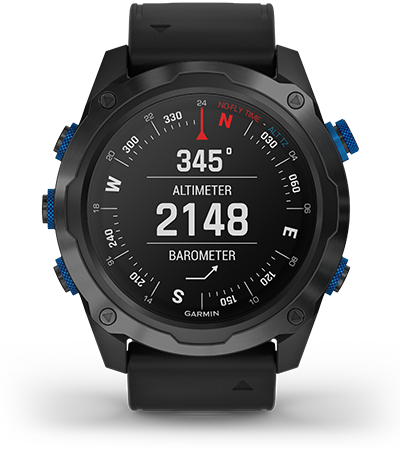 ABC SURFACE SENSORS
Navigate your next trail with ABC sensors, including an altimeter for elevation data, barometer to monitor weather and 3-axis compass.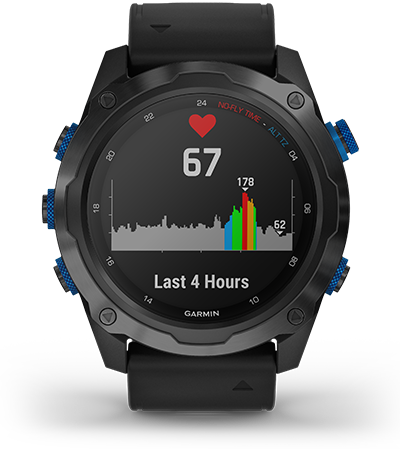 WRIST-BASED HEART RATE
Optical heart rate5 technology gauges activity intensity as well as heart rate variability to calculate your stress level. It also tracks underwater without a heart rate strap.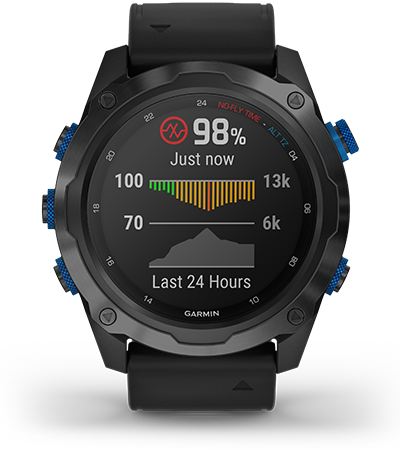 PULSE OX SENSOR
For altitude acclimation, sleep monitoring or between Apnea/Apnea Hunt activities on the surface, a Pulse Ox4 sensor uses light beams at your wrist to gauge how well your body is absorbing oxygen.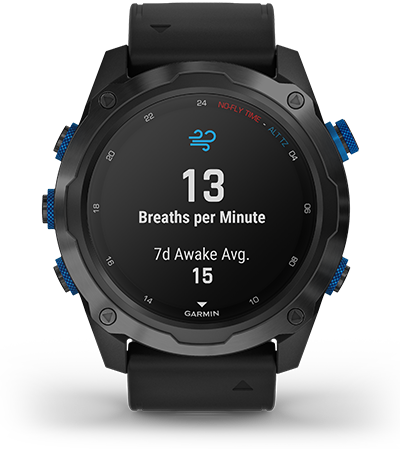 ALL DAY RESPIRATION
Track how you're breathing throughout the day, during sleep and during breathwork and activities such as yoga.
TURN-BY-TURN NAVIGATION
Follow a route or course with help from turn-by-turn directions, which let you know ahead of time when the next turn is coming.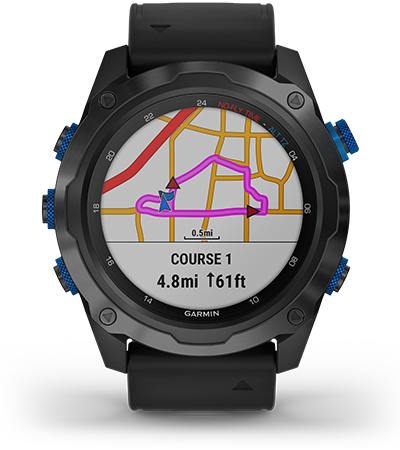 ROUND-TRIP ROUTING
Enter a distance you want to travel, and get suggested routes that will bring you back to your starting point. Trendline popularity routing helps you find the best local paths.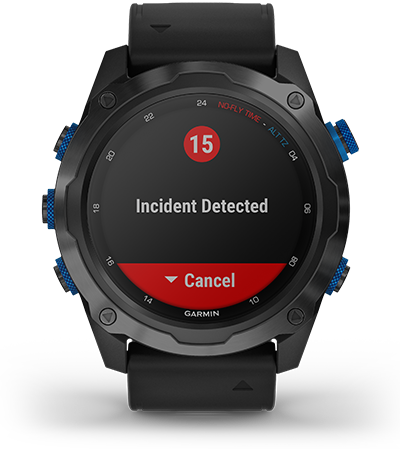 SAFETY AND TRACKING FEATURES
If you feel unsafe or if your watch senses an incident, assistance and incident detection features6 send your location to emergency services. Feature not available while in dive mode.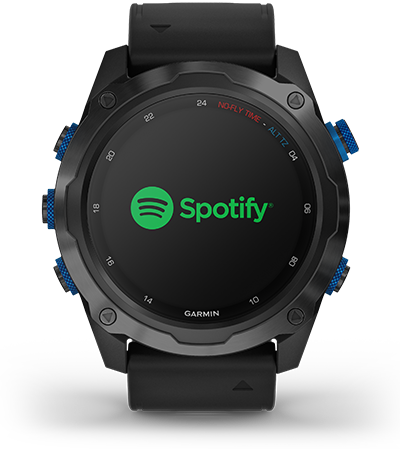 MUSIC
Store up to 2,000 songs, or access streaming music apps from your compatible services7, including Spotify®, Deezer and Amazon Music.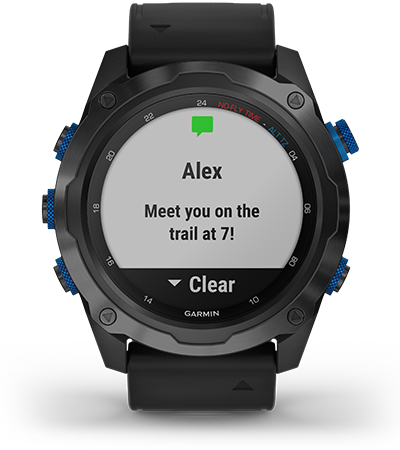 SMART NOTIFICATIONS
Receive emails, texts and alerts right on your wrist when paired with a compatible device.
CONNECT IQ STORE
Download custom watch faces, add data fields, and get apps and widgets from the Connect IQ Store.
QuickFit accessory bands let you match your style with no tools required.
Customize your Garmin device using the Connect IQ Store
The Garmin Dive app lets you log, track and share your dives
1 Additional equipment (sold separately) and device pairing required
2 GPS tracking does not work underwater
3 Sold separately; active satellite subscription required
4 
This is not a medical device and is not intended for use in the diagnosis or monitoring of any medical condition; see 
Garmin.com.my/ataccuracy
. Pulse Ox not available in all countries.
7 May require premium subscription from a third-party music provider
SPOTIFY and the Spotify logo are among the registered trademarks of Spotify AB. Amazon Music and all related logos are trademarks of Amazon.com, Inc. or its affiliates.