The Garmin Forerunner 245 Music GPS Running Smartwatch is the ultimate companion for fitness enthusiasts who want to take their running experience to the next level. Designed with precision and packed with advanced features, this smartwatch is the perfect tool to help you achieve your fitness goals.
Featuring built-in GPS, the Forerunner 245 Music accurately tracks your distance, pace, and routes, allowing you to explore new trails or stick to your favorite running paths with confidence. With its music storage capacity of up to 500 songs, this smartwatch lets you leave your phone behind and enjoy your favorite tunes on the go. Simply connect your Bluetooth headphones and get lost in the rhythm of your workout.
Thanks to its advanced running dynamics, the Forerunner 245 Music provides valuable insights into your running technique. It measures crucial metrics such as cadence, stride length, ground contact time, and vertical oscillation, helping you analyze and improve your performance over time. Additionally, this smartwatch offers personalized training plans and real-time coaching, tailored to your fitness level and goals, keeping you motivated and on track.
Not only does the Garmin Forerunner 245 Music excel in running features, but it also serves as a comprehensive activity tracker. It counts your steps, monitors your heart rate, and tracks your sleep patterns, providing a holistic overview of your daily health. With its smart notifications, you can stay connected while on the move, receiving calls, texts, and app notifications directly on your wrist.
Crafted with a sleek and durable design, the Forerunner 245 Music is built to withstand even the most intense workouts. Its vibrant color display is easy to read in any lighting conditions, ensuring that you never miss a beat. With up to 7 days of battery life in smartwatch mode and up to 6 hours in GPS with music mode, you can rely on this smartwatch to keep up with your active lifestyle.
The Garmin Forerunner 245 Music GPS Running Smartwatch is not just a timepiece; it's a comprehensive fitness companion that empowers you to push your limits and reach new heights. Whether you're a seasoned athlete or just starting your fitness journey, this smartwatch will revolutionize the way you train, track, and conquer your goals. Upgrade your running experience today with the Garmin Forerunner 245 Music GPS Running Smartwatch and unleash your full potential.
GPS Running Smartwatch with Music and Advanced Training Features
Sync with music streaming services, such as Spotify®, to easily store and play your favorite songs right from your watch
Evaluates your current training status to indicate if you're undertraining or overdoing it; offers additional performance monitoring features
Get free adaptive training plans from Garmin Coach, or create your own custom workouts on our Garmin Connect online fitness community
Provides advanced running dynamics², including ground contact time balance, stride length, vertical ratio and more
Safety and tracking features³, such as built-in incident detection, make it easy to share your location
Battery life: up to 7 days in smartwatch mode; up to 6 hours in GPS mode with music
You do the running. Forerunner 245 Music does the thinking. It even gets to know you, mile after mile and song after song. This GPS smartwatch has storage for your favorite tunes, so you can keep moving to the music without having to lug your phone along. It also tracks your stats, crunches the numbers and gets to know all about your performance, your running form, your training history and even your goals. All you need to focus on is putting one foot in front of the other.
Let the Music Play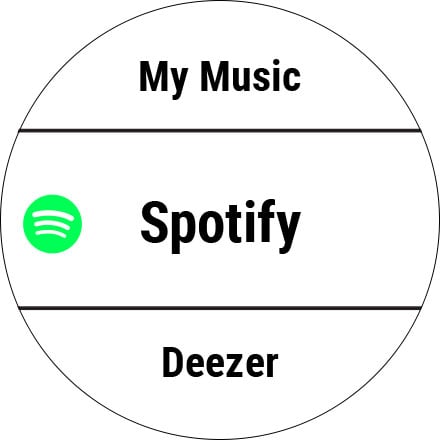 If you can't run without the perfect playlist, you won't be able to run without Forerunner 245 Music. Sync your carefully crafted playlists from select music streaming services¹ — such as Deezer and Spotify — to your watch for ad-free listening. You can even store up to 500 songs right on your watch. It's easy to transfer music from your computer and then queue up your favorite playlist for easy listening through headphones enabled with BLUETOOTH®technology.
Advanced Performance Analytics
What amount of training is right for you? Forerunner 245 Music offers personalized training and recovery insight for smarter training decisions, helping you prepare for your next race. It keeps tabs on your VO2 max and understands how heat and altitude impact your performance. And the higher your VO2 max, the higher you can expect to perform, which is exactly what is shown by the performance condition metric. Training status evaluates your recent exercise history and performance indicators to let you know if you're training productively, peaking or overreaching. See how your workouts influence the development of endurance, speed and power with aerobic and anaerobic training effect feedback. Recovery time helps you maximize the benefit of your efforts by predicting when you will be ready for your next tough challenge. You can even view your overall training load, which measures your exercise volume from the last 7 days and compares it to the optimal range for your fitness and recent training history.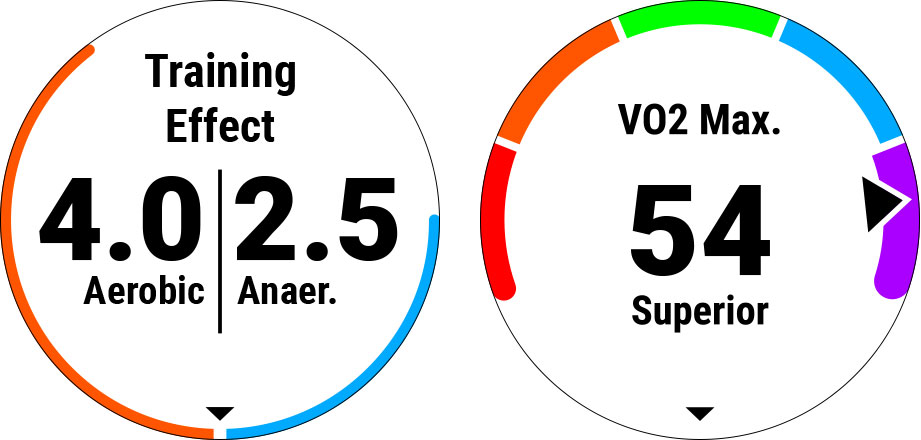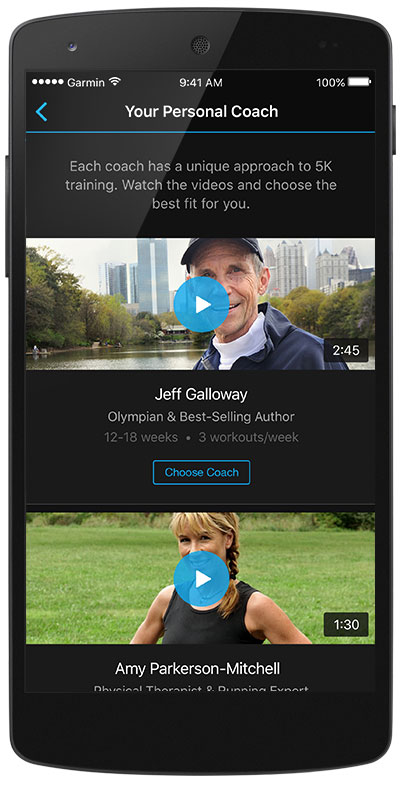 More Ways to Work Out
Running is what you do, so train smarter with the tools available from our Garmin Connect online fitness community. Create your own custom workouts, or download free ones that sync right to your watch. Or, if you've got a specific goal in mind for your next 5K, check out Garmin Coach. Featuring guidance from expert coaches and free training plans that adapt to you and your goals, it's a foolproof way to get to the finish line. As part of your training plan, it can even help you predict your race time. What about when you want to switch it up? Forerunner 245 Music also has activity profiles for cycling, pool swimming, indoor rowing and even for using the elliptical or stair-stepper.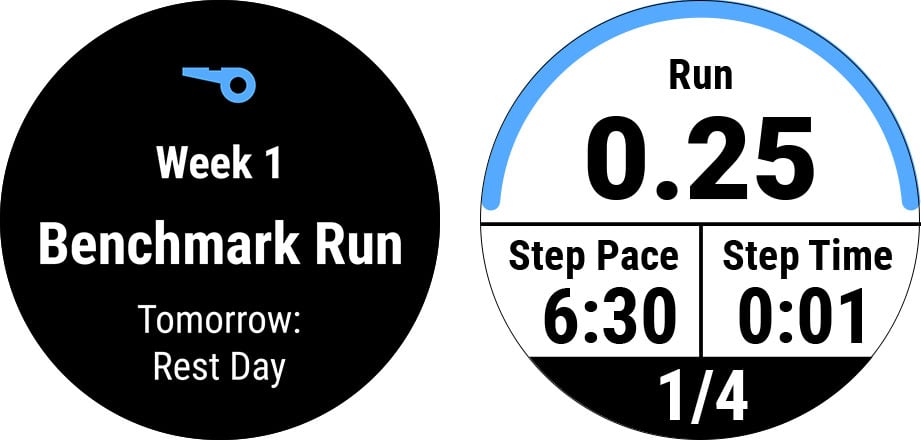 Analyze Your Running Form
The Forerunner 245 Music GPS smartwatch also has the tools you need to improve your running form. The watch measures crucial running metrics² such as cadence, stride length, ground contact time and balance, vertical oscillationand vertical ratio. These measurements are the key to understanding your form, so you can bring your best on every run and at every race. Your Forerunner 245 Music can start tracking these metrics with the addition of a compatible heart rate strap or the compact Running Dynamics Pod, which clips right onto your waistband.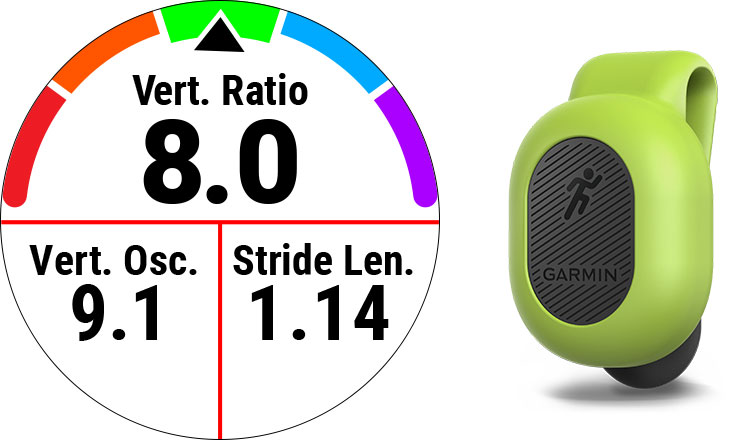 More Ways to Customize
Check out our Connect IQ store, where you can add personality to Forerunner 245 Music by downloading apps, widgets, watch faces and more. It's easy and — even better — it's free. New apps are added every day, so you can keep tabs on when your  Uber  will arrive, turn on your lights at home with the  SmartThings app, and even use the AccuWeather MinuteCast app to find out when the rain will start.
Stay Connected on the Run
Forerunner 245 Music makes it easy to run without leaving important smart features behind. Once paired with your compatible smartphone, you'll be able to receive text messages and see social media updates, emails and more right on your wrist. And new safety and tracking features make it easy to share your location with chosen contacts in case you need assistance — manually, or automatically with built-in incident detection, if needed. So, lace up your shoes, and head out with a little extra peace of mind.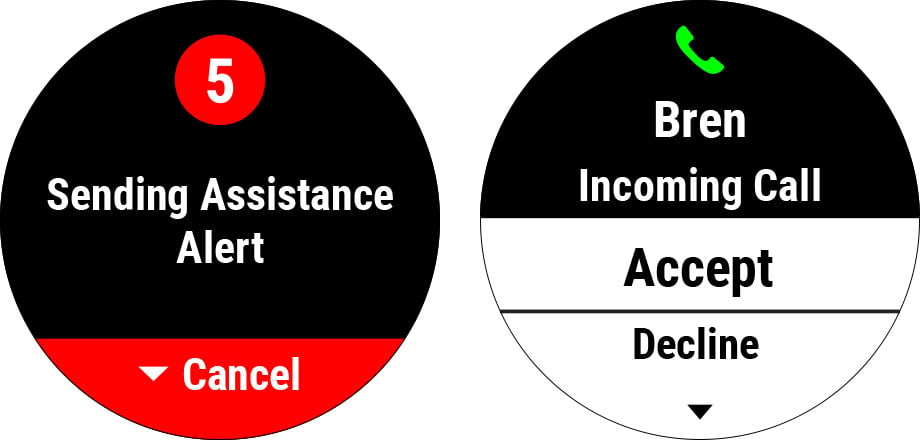 Share and Compete
Syncing your activities to Garmin Connect is for more than just storing your data. Garmin Connect is a thriving online community where people on the go can connect and compete by joining challenges, encourage each other's successes and even share their triumphs via social media. Garmin Connect is free and available on the web or on your smartphone.
Wellness and Advanced Sleep Monitoring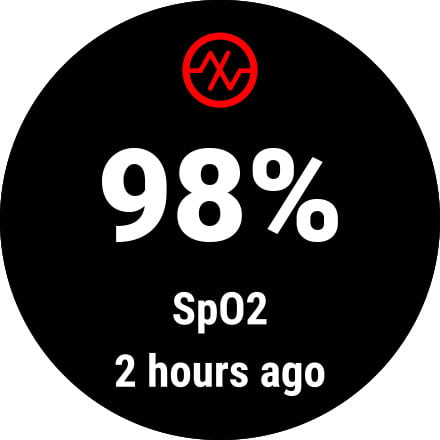 The Forerunner 245 Music smartwatch has tools to help keep tabs on your overall well-being and the sleep4 you're getting at night. These tools provide crucial insight you can use to maximize your training. For example, it's our first running watch to include a Pulse Ox sensor5. This wrist-based sensor estimates your body's blood oxygen saturation, which can help gauge how your body is absorbing oxygen — especially while you sleep. And to give you an idea of how you're sleeping, Forerunner 245 Music tracks your light, deep and REM stages of sleep, along with movement throughout the night. It also features all-day stress monitoring for wellness tracking during the day. If your stress level starts to climb, use the relaxation breathing timer for a few minutes of guided breathing, which can help calm your mind and body. And to help you optimize your body's energy, Body Battery energy monitoring uses collected data to gauge your energy reserves at any moment, so you can plan your day to optimize times for activity and rest.

1Requires premium subscription with a third-party music provider
2When used with Running Dynamics Pod or HRM-Run or HRM-Tri monitors (sold separately)
3When paired with a compatible smartphone.See safety and tracking features requirements and limitations
4Activity tracking accuracy
5This is not a medical device and is not intended for use in the diagnosis or monitoring of any medical condition; see Garmin.com/ataccuracy. Pulse Ox not available in all countries.
The Bluetooth word mark and logos are registered trademarks owned by Bluetooth SIG, Inc. and any use of such marks by Garmin is under license. SPOTIFY and the Spotify logo are among the registered trademarks of Spotify AB.