Introducing the Hipee Smart Health Elf S1 Medical Urine Test Stick – your ultimate companion for monitoring your health effortlessly and accurately. This innovative device revolutionizes the way you track your well-being, providing you with valuable insights into your body's condition in just a few simple steps.
Designed with cutting-edge technology, the Hipee Smart Health Elf S1 is a compact and user-friendly urine test stick that empowers you to take control of your health from the comfort of your own home. With its sleek and portable design, it easily fits into your daily routine, ensuring you never miss a beat when it comes to your well-being.
Equipped with advanced sensors, this smart test stick analyzes your urine sample with remarkable precision, detecting a wide range of health indicators. From monitoring hydration levels to assessing kidney function, liver health, and even detecting potential urinary tract infections, the Hipee Smart Health Elf S1 provides you with comprehensive insights into your body's overall condition.
One of the standout features of the Hipee Smart Health Elf S1 is its seamless integration with a dedicated mobile app. By simply connecting the test stick to your smartphone via Bluetooth, you unlock a world of personalized health data at your fingertips. The app not only displays your test results in an easy-to-understand format but also tracks your progress over time, allowing you to identify trends and make informed decisions about your health.
With the Hipee Smart Health Elf S1, you can bid farewell to inconvenient and time-consuming visits to the doctor's office for routine tests. This innovative device saves you both time and money, offering a cost-effective solution for monitoring your health from the comfort of your own home. By empowering you with real-time data, it enables you to take proactive steps towards a healthier lifestyle and catch potential health issues before they escalate.
The Hipee Smart Health Elf S1 is not just a medical device; it's a game-changer in the world of personal health monitoring. Its sleek design, accurate results, and seamless integration with the mobile app make it a must-have for anyone who values their well-being. Take charge of your health today with the Hipee Smart Health Elf S1 – the ultimate companion on your journey to a healthier and happier life.
**This Product is CN Version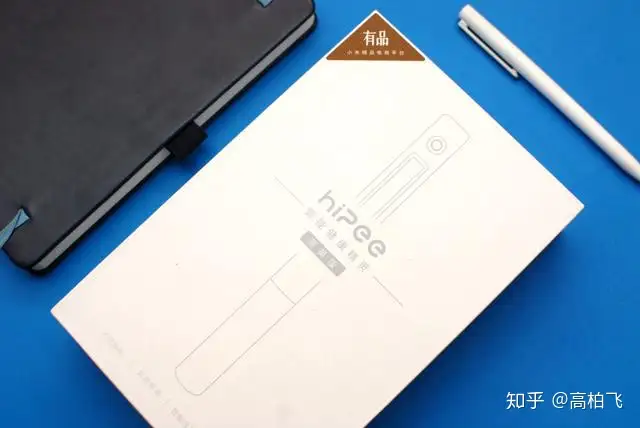 Hipee S1智能健康精灵官方定义为菁英版,而小米有品上另外还有一款健康精灵套装销售,而这款套装相比菁英版检测的项目会更多一些,具体讯息可以到有品官网上查询。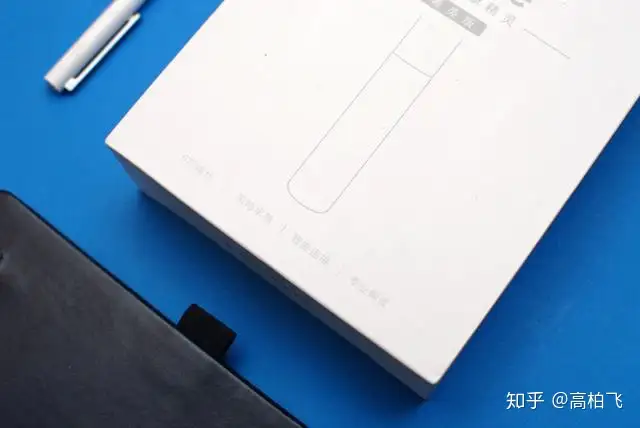 Hipee S1智能健康精灵的几项特点,六项指标检测、风险早筛、智能连接、专业解读,大家去医院做检测都知道,仪器分析出来的结果,都是各种我们看不懂的数据指标,而这款检测仪最大的优点是将复杂的数据简单化,让每个人都能"读"懂自已的身体情况,而不是面对一大堆的数据看得一头雾水。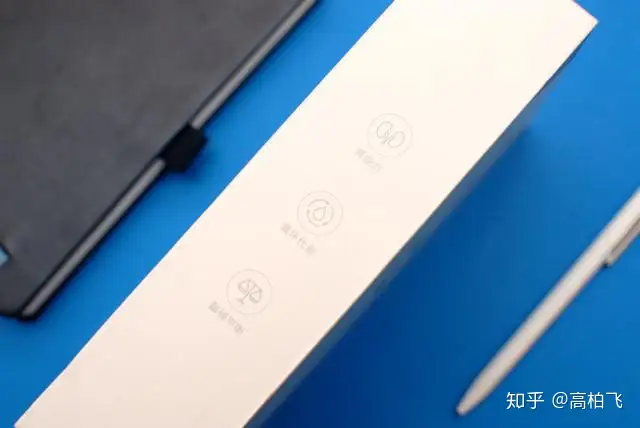 包装的侧面还有主打的功能肾能力、循环代谢以及酸碱平衡。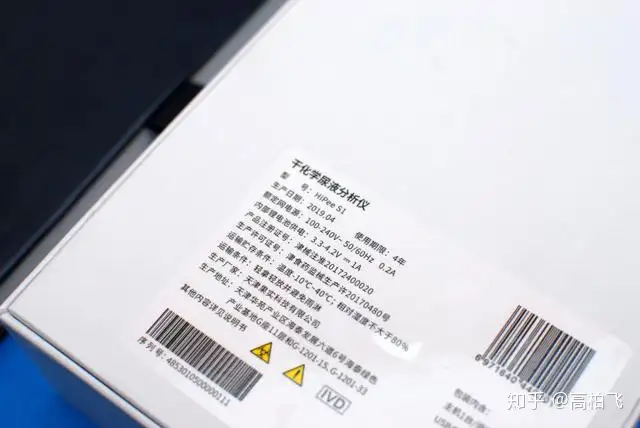 众所周知肾脏排出的是尿液,而尿常规分析是一种非侵入性测试,被许多人视为筛选工具,其可以帮助诊断一些常见的病症,例如尿路感染、肾脏、肝脏疾病、怀孕或诊断某些疾病的指标。所以Hipee S1智能健康精灵所检测的样本也就是来自我们的尿液,当然并不是一天时间里所有的尿液都为合格的样本,按官方说明指导尿液取样为晨尿最佳,而且是来自中段的部份。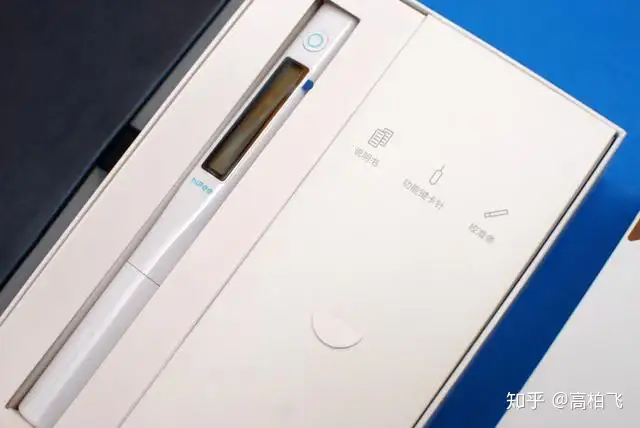 开启包装旁边象支"笔"一样的就是Hipee S1智能健康精灵,而另一边的是说明书、功能键卡针以及校准条。仪器在出厂的时侯已经做过严格的测试与校准,所以我们使用是无需再重复校准,那什么时才需要做一次校准测试呢?一般使用长达半年以上,或者检测结果与实际相差较大的时侯就需要重做校准了。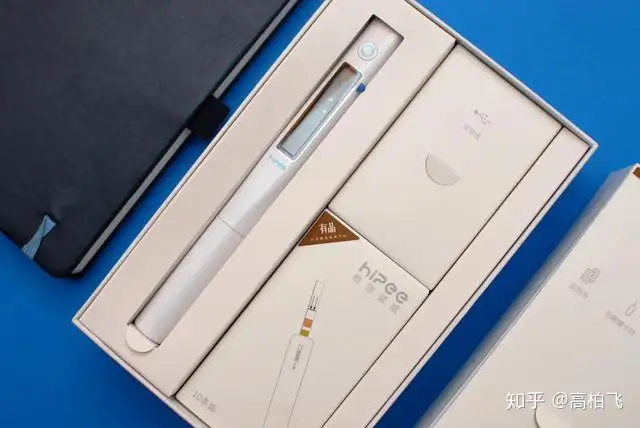 拿开上层盒子,可以看到下层分别有两个独立的包装盒,上面是充电线,下面是10条装的检测试纸,Hipee S1智能健康精灵的独立包装盒挺多,我们一一展开看看都是些什么?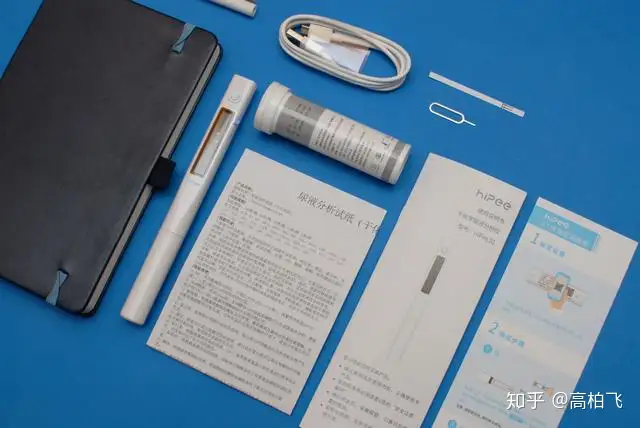 Hipee S1智能健康精灵x1、检测试纸10条装x1、充电线x1、校准条x1、功能键卡针、尿液分析试使用说明书、产品使用说明书以及快速指南。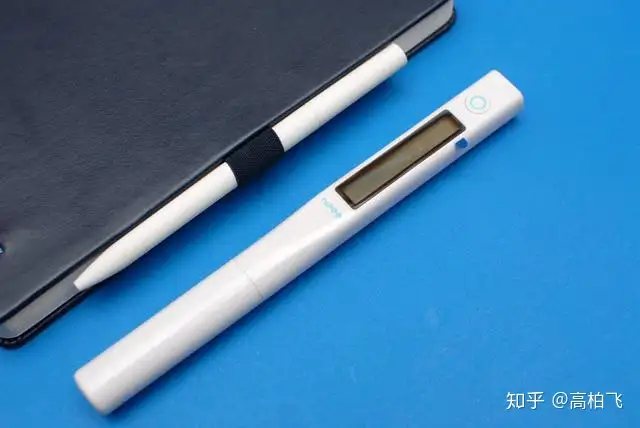 Hipee S1智能健康精灵的正面有一个长长的显示屏,以显示所检测数据,而顶部的蓝色圆形键为开机键长按开启或关闭,若3分钟内没任何操作仪器将自动关机。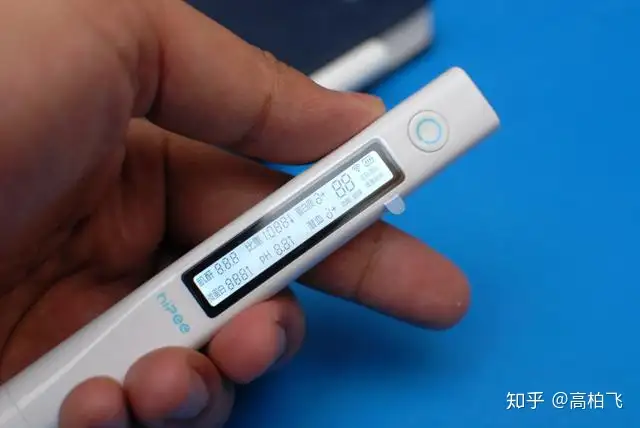 开机的瞬间在六项指标里会以满数值显示,以表示数值位的完整性。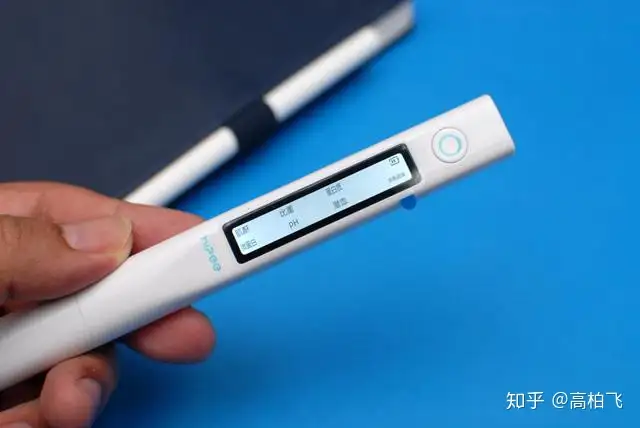 而片刻之后进入等检状态,当测检出数据之后会显示相关的数值,并通过手机端进行智能分析、风险预警、改善建议,让我们第一时音远离健康风险,稍后在体验部份再带来详细点评,先继续来看看产品的展示。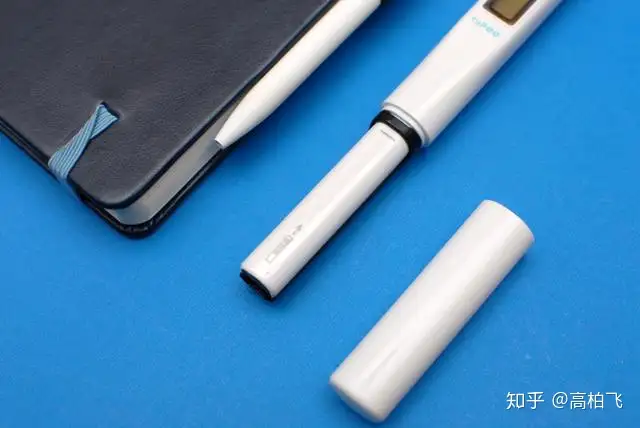 Hipee S1智能健康精灵的前端可以象笔帽一样拔出,拔出后在前端可到检测试纸的插入方向指示,记住试纸有方向性千万别搞反了,不然就没法正确测出数值了。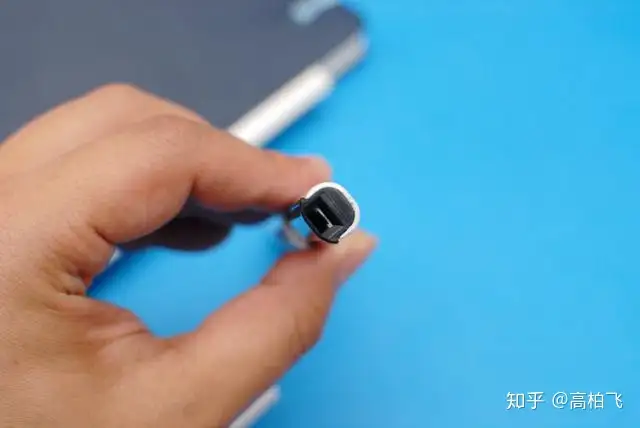 检测试纸插入口,当试纸条标志线与测试端边缘平齐,并伴有"吧嗒"声时,即表示试纸已安装到位。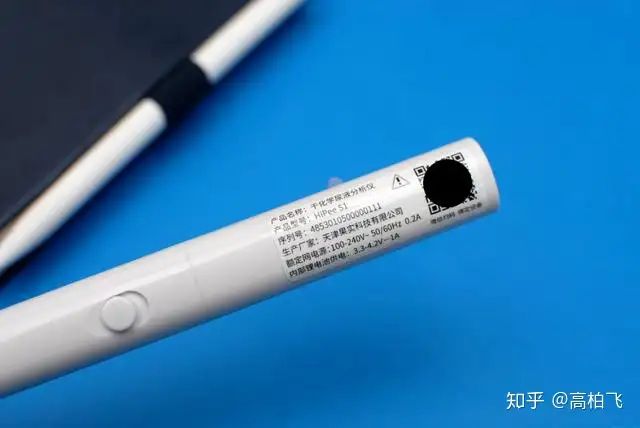 Hipee S1智能健康精灵的背面是试纸弹出键,或许很多人对于检测尿液存在一个误区,就是会接触到尿液样本,其实在使用Hipee S1智能健康精灵的整个检测操作过程里,手指并不会使用触摸到尿液而造成的污染,所以各位看客们无需担心这个问题,另外在Hipee S1智能健康精灵的尾端是设备的二维码,这里为了避免嫌疑已打码,通过这个二维码关联Hipee+的公众号,关联之后绑定仪器就可以获取Hipee S1智能健康精灵所检测的结果。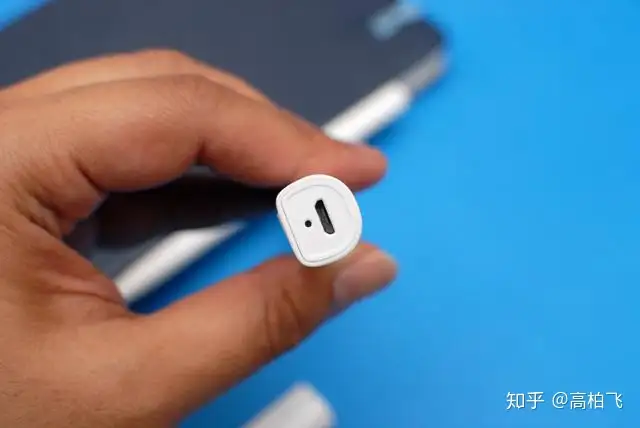 Hipee S1智能健康精灵的顶端,小圆孔为功能键,卡针就是插入这个功能键,通过校准条给仪器进行校准,另外Hipee S1智能健康精灵采用的是Mrico usb的标准充电接口,支持移动电源充电,还是比较方便的。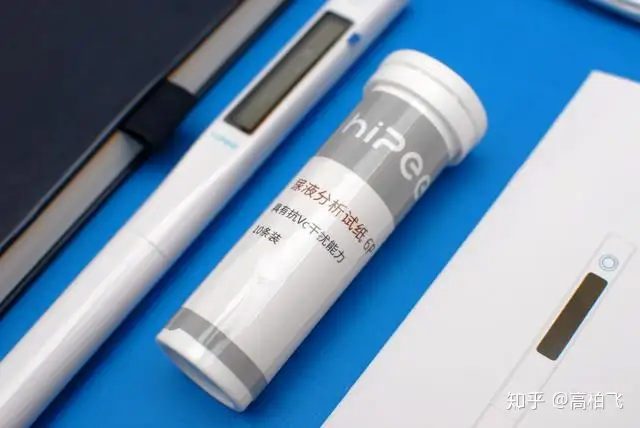 10条装的尿液分析试纸装置在一个密封的瓶子里,从尿液分板试纸说明书里获知,还有更多数量的分装,比如说25条/瓶、50条/瓶、100条/瓶等等,而后面的6P则是型号规格,由于型号规格种类太多这里就不详述了。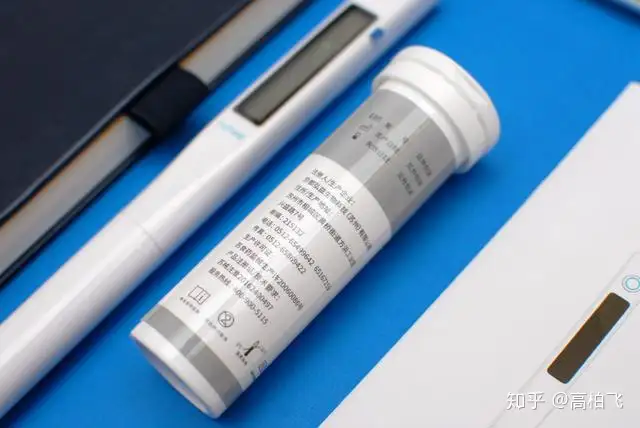 相信很多用户没听说过什么叫做尿干化学分析,也就Hipee S1智能健康精灵所采用的方法,在1956年,美国Alfred Free以葡萄糖氧化酶和过氧化酶为基础检测葡萄糖,发明了分析史上第一条试带Clinistix检测方法,开创了"浸入即读"干化学法新纪元。尿液干化学分析被称为尿试带测定法,由含干化学试剂的模块附着在坚固的塑料条或纸条上构成的。尿液中各种常规化学检查内容与干化学试剂发生反应,使模块颜色发生变化,其颜色的深浅与尿液中相应化学成分的浓度成正比。(以上内容来自百度百科)好了,了解了这么多相信大家都知道了个大概,下面就来看看Hipee S1智能健康精灵所检测的结果到底如何?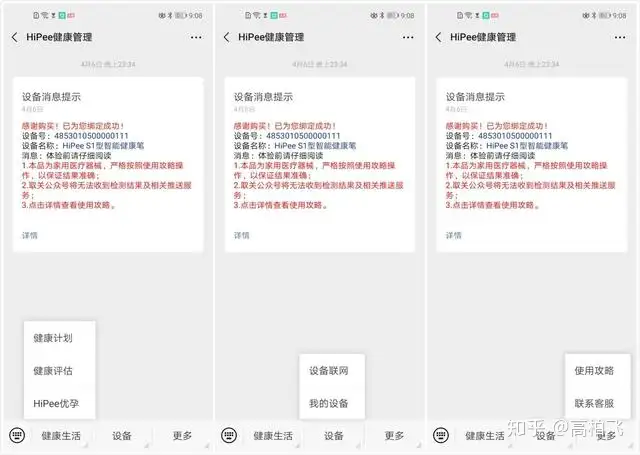 前面通过微信扫描二维码绑定Hipee S1智能健康精灵,然后在设备里将设备联网,才可以获得检测的结果。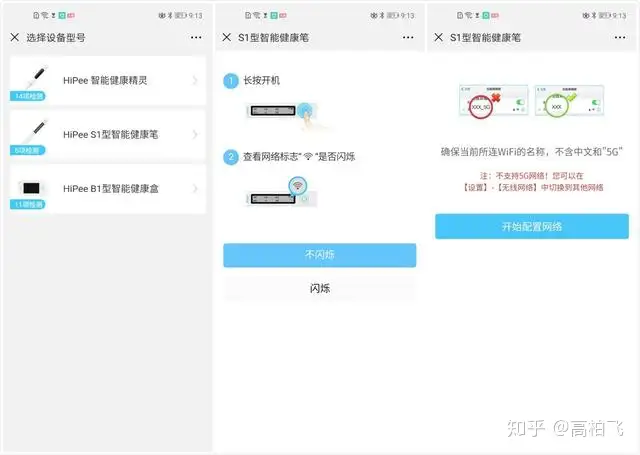 按提示一步一步操作,目前Hipee S1智能健康精灵目前只支持2.4G,所以在选择WIFI时需要注意一下。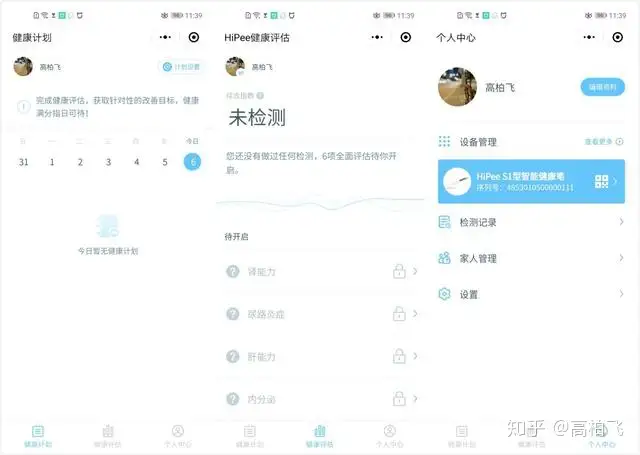 Hipee S1智能健康精灵的小程序界面,一共有三项页面,分别是健康计划、健康评估、个人中心,操作界面并不复杂很容易上手,下面来开始进行测试。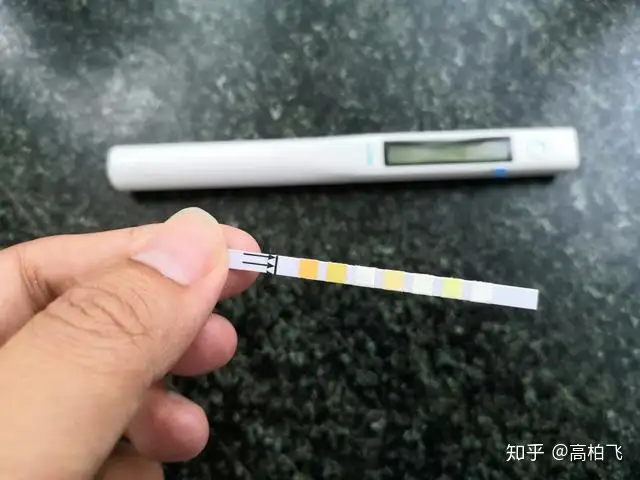 尿液分析试纸。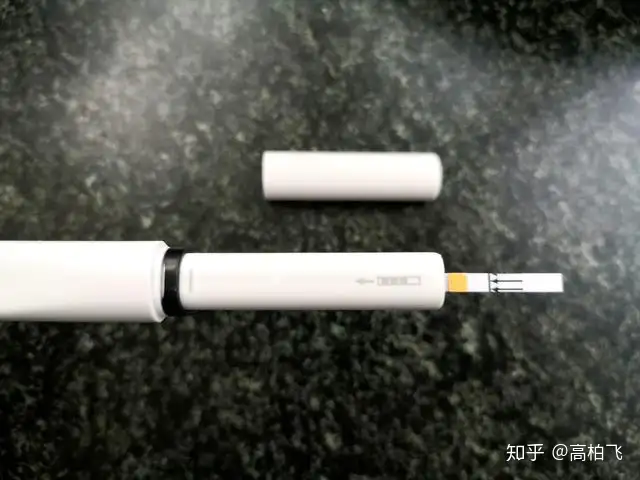 安装尿液分析试纸,并将箭头推到底,直至听到"吧嗒"声,然后。。。。使用中段的尿液淋在淋尿区"—"位置,持续3~5秒,轻轻抖动3下除去多余尿液。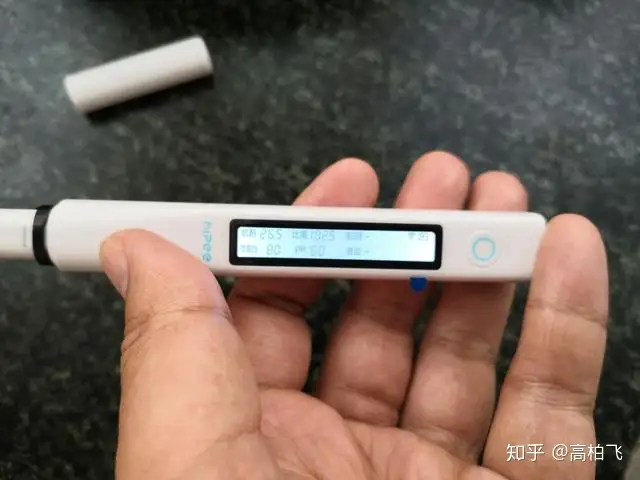 短按开机键等待60秒的倒计时结束后,会显示出相关的数值,看不懂?没关系~我也看不懂,但是小程序会为我们详细的解读,当检测完成之后会在微信端发来分析结果,下面来看看应用方面的评估。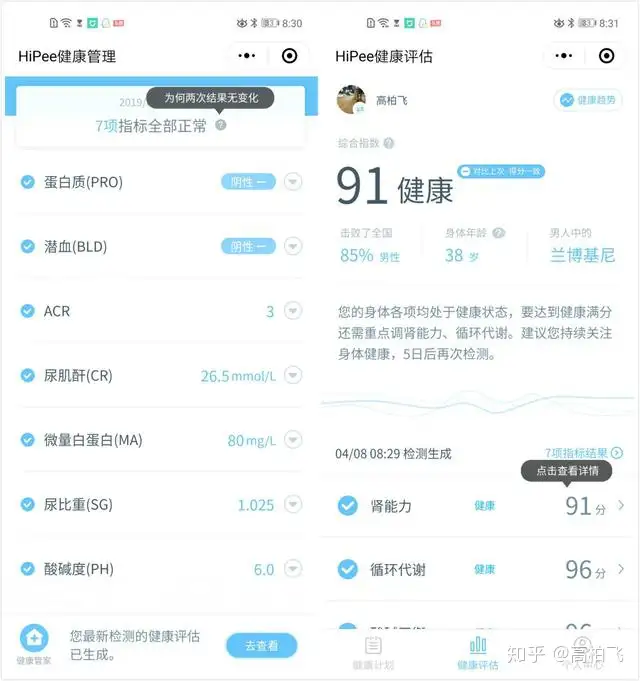 :)还好,还好~7项指标全部正常,而肾能力方面也还算不错,"男人中的兰博基尼"呢~哈哈,不过对于文案工作者来说真的要时刻关注身体的问题,毕竟看不到的亚健康正在不知不觉中"摧残"着我们的身体。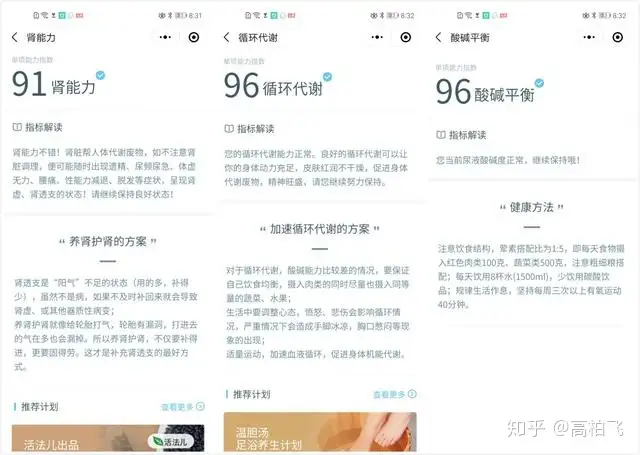 三大项的指标解读,并且提供有相应的解决方案,俗话说得好盲补不可取,科学健康的计划才能有效的改善和提升自身情况,你们觉得对吗?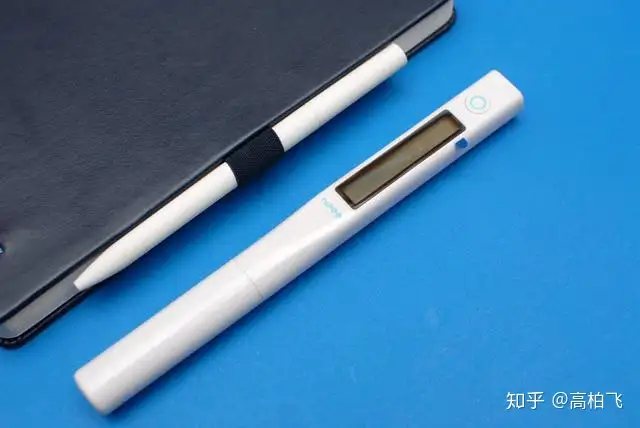 总结:感觉身体被掏空,想把透支的补起来?盲目猜测是没有任何意义的行为,关爱健康必须相信科学,借助专业的仪器帮助检测分析,才使我们做好改善的计划,所以今天你测了吗?(注:以上内容仅为个人使用体验效果,而所得的数据也仅供参考,如需更多的指导需问诊专业的医生,谢谢观看!)