Introducing the iClean YP-03 Flat Spray Mop, the ultimate cleaning companion that revolutionizes your home cleaning routine. Say goodbye to traditional mops and hello to effortless, efficient cleaning with this innovative and versatile tool.
Designed with convenience in mind, the iClean YP-03 Flat Spray Mop is equipped with a built-in spray function, allowing you to easily dispense your preferred cleaning solution directly onto the floor. No more messy buckets or wringing out dirty mop heads – simply spray and glide across your floors for a sparkling clean finish.
This mop features a sleek and lightweight design, making it a breeze to maneuver around your home. Its flat mop head effortlessly reaches into tight corners, under furniture, and along baseboards, ensuring no spot is left untouched. The 360-degree swivel head allows for smooth navigation, effortlessly gliding across various floor surfaces, including hardwood, tile, laminate, and more.
The iClean YP-03 Flat Spray Mop is not only efficient but also highly effective. The microfiber mop pad is crafted from premium materials that effectively trap dirt, dust, and grime, leaving your floors spotless and hygienic. The reusable and machine-washable mop pad ensures long-lasting use, saving you money on disposable alternatives.
With its ergonomic handle and easy-to-use trigger, the iClean YP-03 Flat Spray Mop offers a comfortable grip and effortless control. The adjustable handle length caters to users of all heights, preventing any strain or discomfort during cleaning sessions. The large capacity water tank eliminates the need for frequent refills, allowing you to clean larger areas without interruption.
Investing in the iClean YP-03 Flat Spray Mop means investing in a cleaner, healthier home. By eliminating the need for harsh chemicals and excessive water usage, this eco-friendly mop reduces your environmental footprint while still delivering exceptional cleaning results. It's the perfect choice for those who prioritize sustainability without compromising on cleanliness.
Experience the convenience, efficiency, and effectiveness of the iClean YP-03 Flat Spray Mop. Transform your cleaning routine and enjoy the benefits of a sparkling clean home with minimal effort. Order yours today and discover a new level of cleanliness that will leave you amazed.
Model: YP-03
Manufacturer: ICLEAN
A type: Mop
Weight (g): 728
Colour: White
Dimensions: 1270 x 340 x 120 mm
Material: Plastic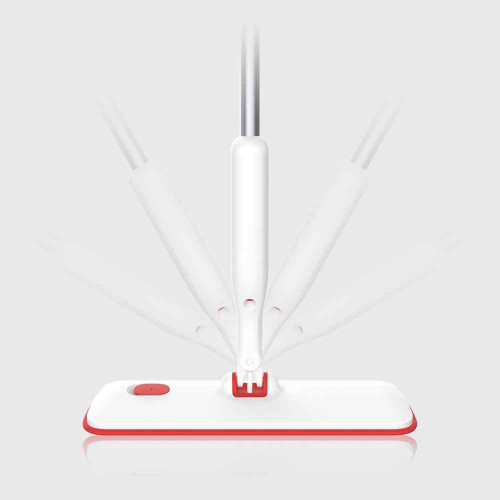 Home assistant
The mop can be rotated 360 ° to remove even hard-to-reach corners. The tool is ideal for wet cleaning – in the upper part of the case there is a mechanism responsible for supplying water. The model functions without the need for a network connection. Water is poured into a tank with a capacity of 350 ml. You can add detergent if desired. The handle is made of stainless steel, the washing base is made of durable ABS plastic, the nozzle is made of moisture-resistant microfiber. The materials are resistant to premature wear, mechanical damage and scratches. You can mop walls, floors and ceilings. The attachment is easy to change and does not leave lint. The tool is designed for cleaning rooms up to 100 m2.