The JBL Partybox 110 Portable Party Speaker is the ultimate companion for any party or gathering, delivering an astounding 160W of powerful and immersive sound. Whether you're hosting a backyard barbecue, a beach bonfire, or simply cranking up the tunes in your living room, this speaker is designed to bring the party to life.
Featuring JBL's signature sound quality, the Partybox 110 ensures that every beat, every note, and every lyric is crystal clear and vibrant. With its built-in woofer and tweeter, this speaker produces deep, punchy bass and crisp highs, creating an audio experience that will leave you and your guests in awe.
But the Partybox 110 doesn't stop at just incredible sound — it also boasts a stunning built-in light display that synchronizes with the music, adding a visually captivating element to your party. The dazzling LED lights dance and pulse to the rhythm, transforming any space into a vibrant and energetic dance floor. Get ready to create an unforgettable atmosphere that will keep everyone on their feet and grooving all night long.
Not only does this party speaker excel in audio and visual appeal, but it is also designed to withstand the elements. Its rugged and splashproof exterior ensures that unexpected spills or light rain won't dampen the party. So feel free to take the Partybox 110 outdoors or near the pool without worry – the music will keep playing, rain or shine.
This portable speaker offers convenient features that make it easy to bring the party wherever you go. With its built-in rechargeable battery, you can enjoy up to 12 hours of continuous playtime, allowing you to keep the music going all night long. You can also connect wirelessly via Bluetooth to stream your favorite tracks from your smartphone or tablet seamlessly. And if you prefer a wired connection, the Partybox 110 offers an aux input and USB port for versatile connectivity options.
In addition to its impressive sound and features, the JBL Partybox 110 is also designed with portability in mind. Its compact and lightweight design, along with the built-in handles, make it easy to transport from one party location to another. Whether you're heading to a friend's house, a park, or the beach, this speaker is ready to amplify the fun wherever you take it.
Overall, the JBL Partybox 110 Portable Party Speaker is a powerhouse of sound, light, and durability. With its 160W of powerful sound, built-in lights that synchronize with the music, splashproof design, and easy portability, it is the ultimate party companion that guarantees an electrifying experience. Get ready to create memories and share unforgettable moments with this incredible speaker that will make every gathering an epic celebration.
Features
Powerful JBL Original Pro Sound
Whether you're at home or outdoors, the JBL PartyBox 110 makes your music amazing with two levels of deep, adjustable bass and powerful JBL Original Pro Sound.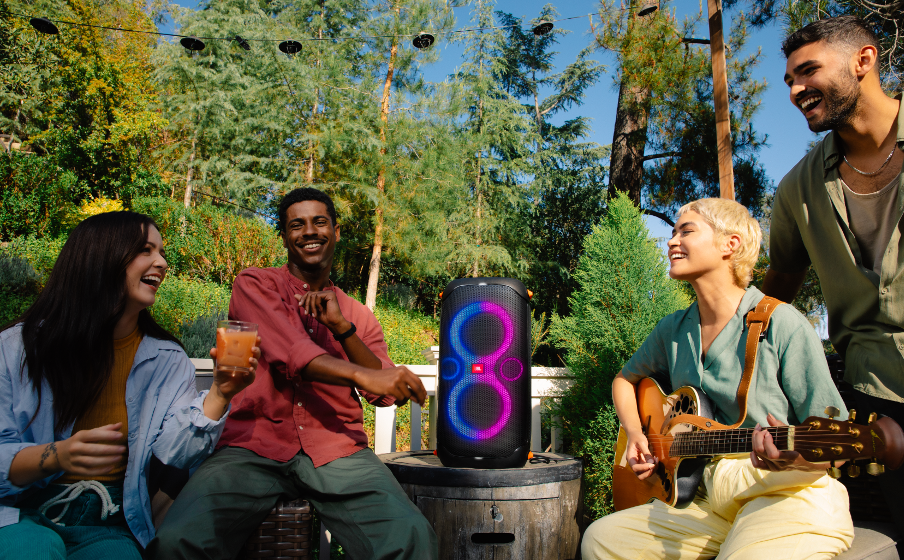 Dynamic light show that syncs to the beat
Every kind of music is better with a dynamic light show! Colors synched to the beat make you want to move your feet, while customizable strobes and patterns dazzle your eyes. It's a unique, immersive audiovisual experience that transforms any party into a work of art.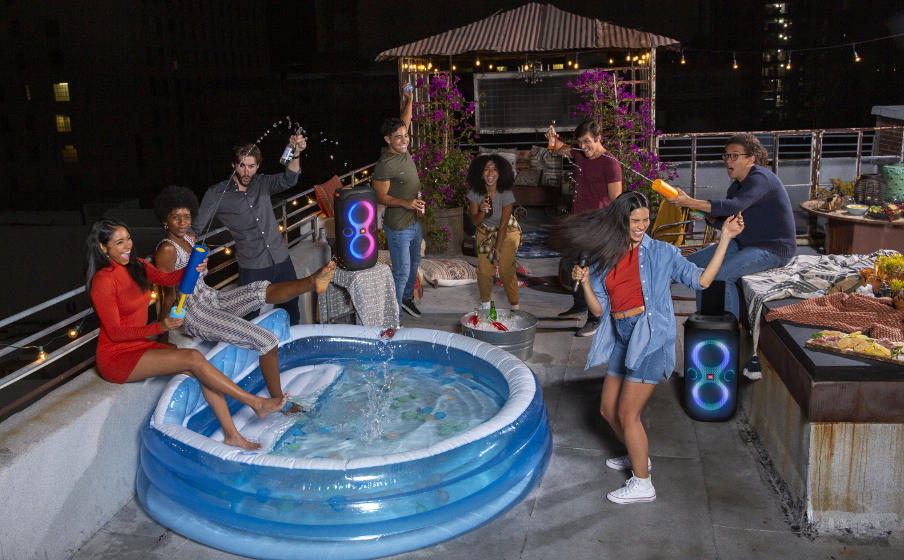 12 hours of playtime
Power the party all day or all night. With 12 hours of playtime and a built-in rechargeable battery, the beat will go on (and on)!