The Xiaomi Smart Band 7 Smart Fitness Tracker Watch is the ultimate companion for your health and fitness journey. This sleek and stylish wearable is packed with advanced features that will help you stay on top of your fitness goals.
With its vibrant and clear OLED touch screen display, you can easily navigate through various functions and monitor your progress with just a swipe of your finger. The watch offers real-time heart rate monitoring, allowing you to track your heart rate during workouts and throughout the day. Whether you're engaging in high-intensity interval training or simply going for a walk, this smart fitness tracker will provide you with accurate heart rate data to help you optimize your workouts and stay within your target heart rate zone.
In addition to heart rate monitoring, the Xiaomi Smart Band 7 offers a variety of other fitness tracking capabilities. It can track your steps, distance traveled, and calories burned, giving you a comprehensive overview of your daily physical activity. You can set goals and receive reminders to keep you motivated and accountable. The watch also features automatic sleep monitoring, so you can analyze your sleep patterns and make adjustments to improve the quality of your rest.
One of the standout features of this smart fitness tracker is its water resistance. With an IP67 rating, it is protected against water immersion up to 1 meter for 30 minutes, making it suitable for swimming and water sports. You can confidently wear it while diving into the pool or going for a jog in the rain, without worrying about damaging the device.
The Xiaomi Smart Band 7 also integrates seamlessly with your smartphone, allowing you to receive notifications for calls, messages, and social media alerts directly on your wrist. You can stay connected without having to constantly reach for your phone. The device is compatible with both iOS and Android systems, ensuring that it can be easily synchronized with your preferred smartphone.
With a battery life of up to 14 days, the Xiaomi Smart Band 7 is designed to keep up with your active lifestyle. You won't have to worry about frequent charging or running out of power during your workouts. Simply charge it when needed and enjoy uninterrupted tracking and monitoring.
Overall, the Xiaomi Smart Band 7 Smart Fitness Tracker Watch is a versatile and reliable companion for anyone who is serious about their health and fitness. Its sleek design, advanced features, and long-lasting battery life make it a top choice in the world of smart fitness trackers. Whether you're a fitness enthusiast, an athlete, or simply looking to improve your overall wellness, this smart watch will help you stay motivated, track your progress, and achieve your goals.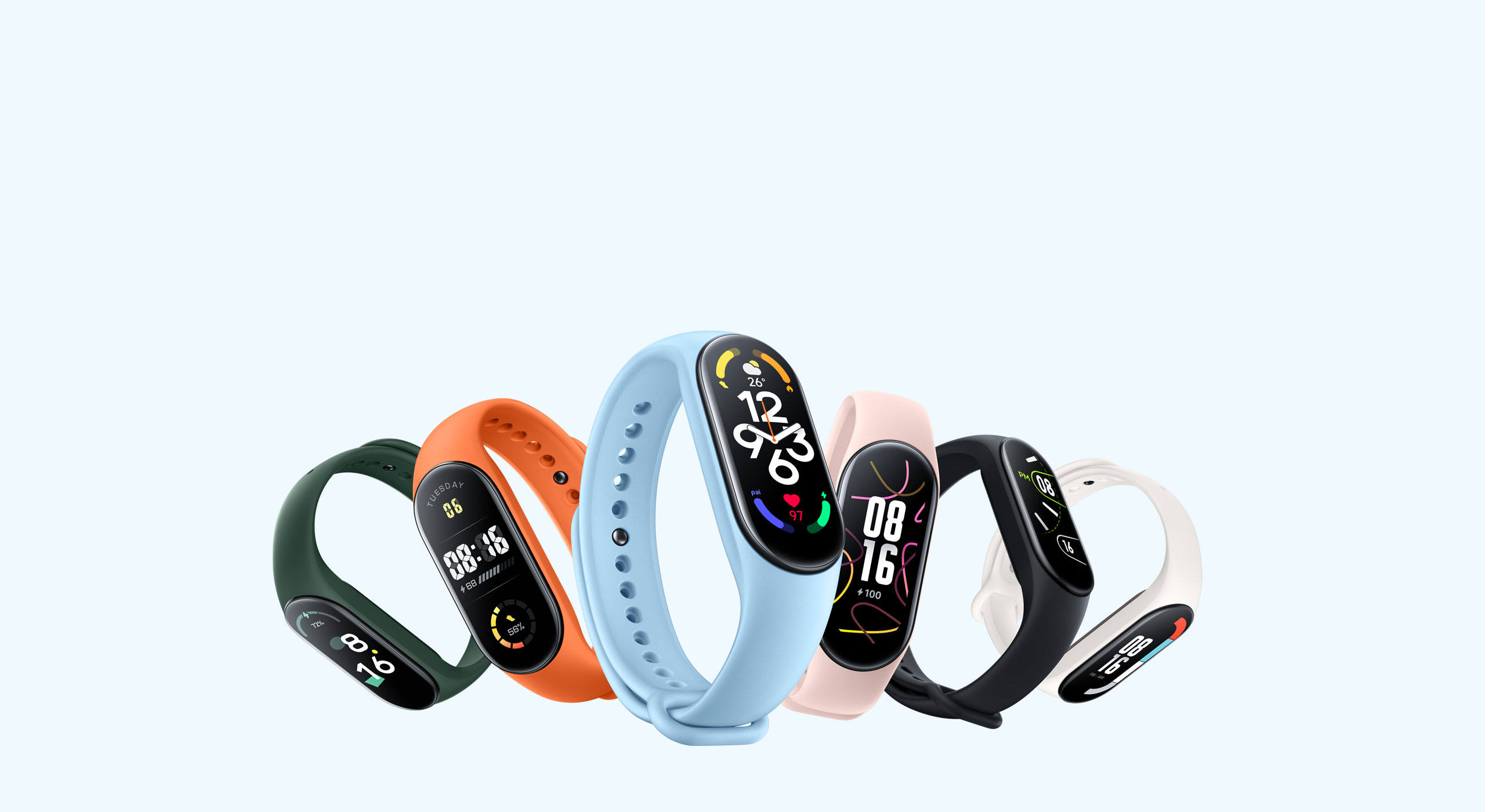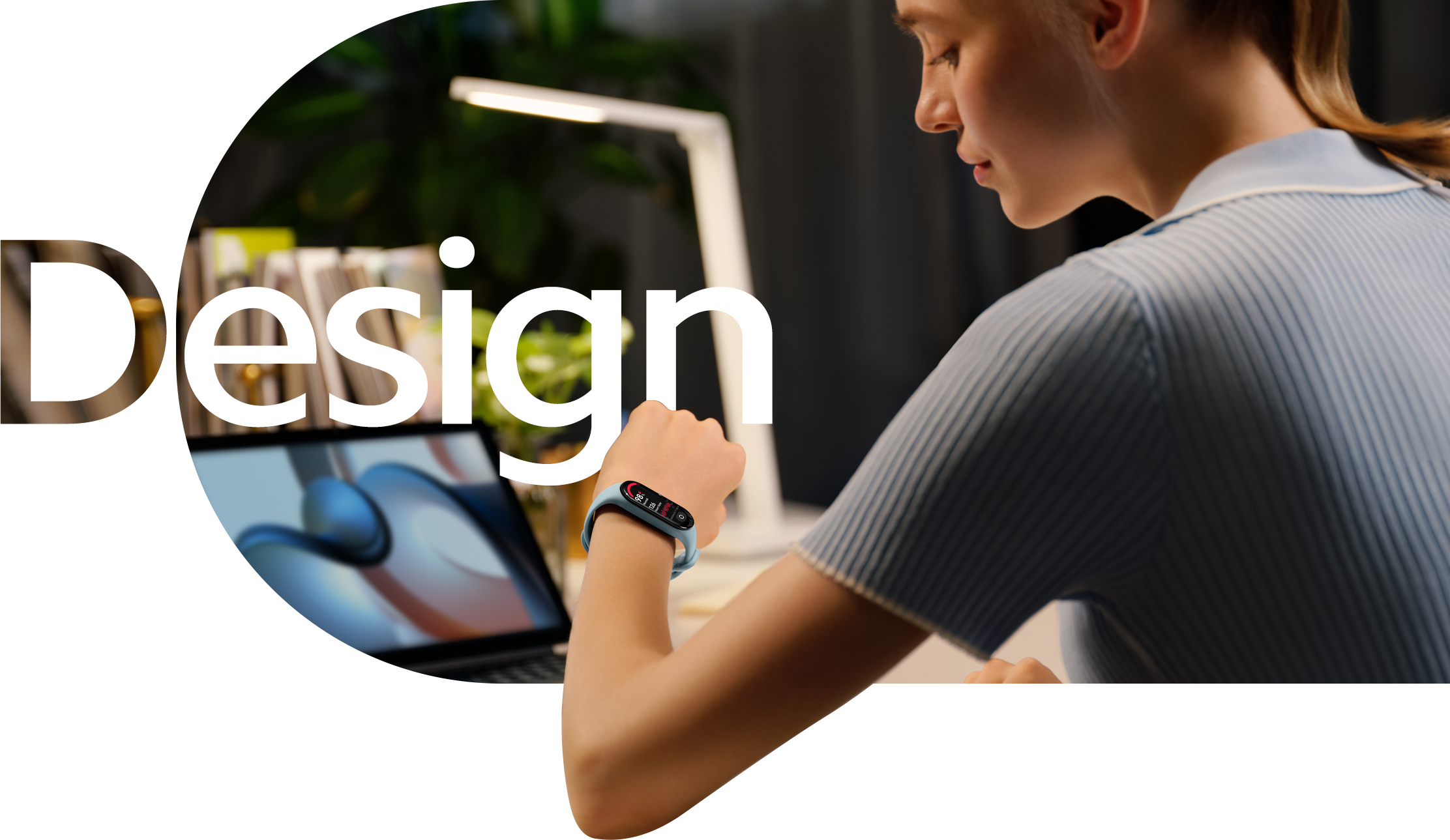 Too magnificent to miss with 

1.62" AMOLED Display

The magnificent large AMOLED display debuts on your wrist, making it easy for you to read and control. Everything is presented in detail at high resolution. Even better, thanks to always-on mode, you can read date and time without lifting your wrist or using your fingers.
25% more viewing area

326 

PPI

100 

levels brightness adjustment
*Compares to Mi Smart Band 6.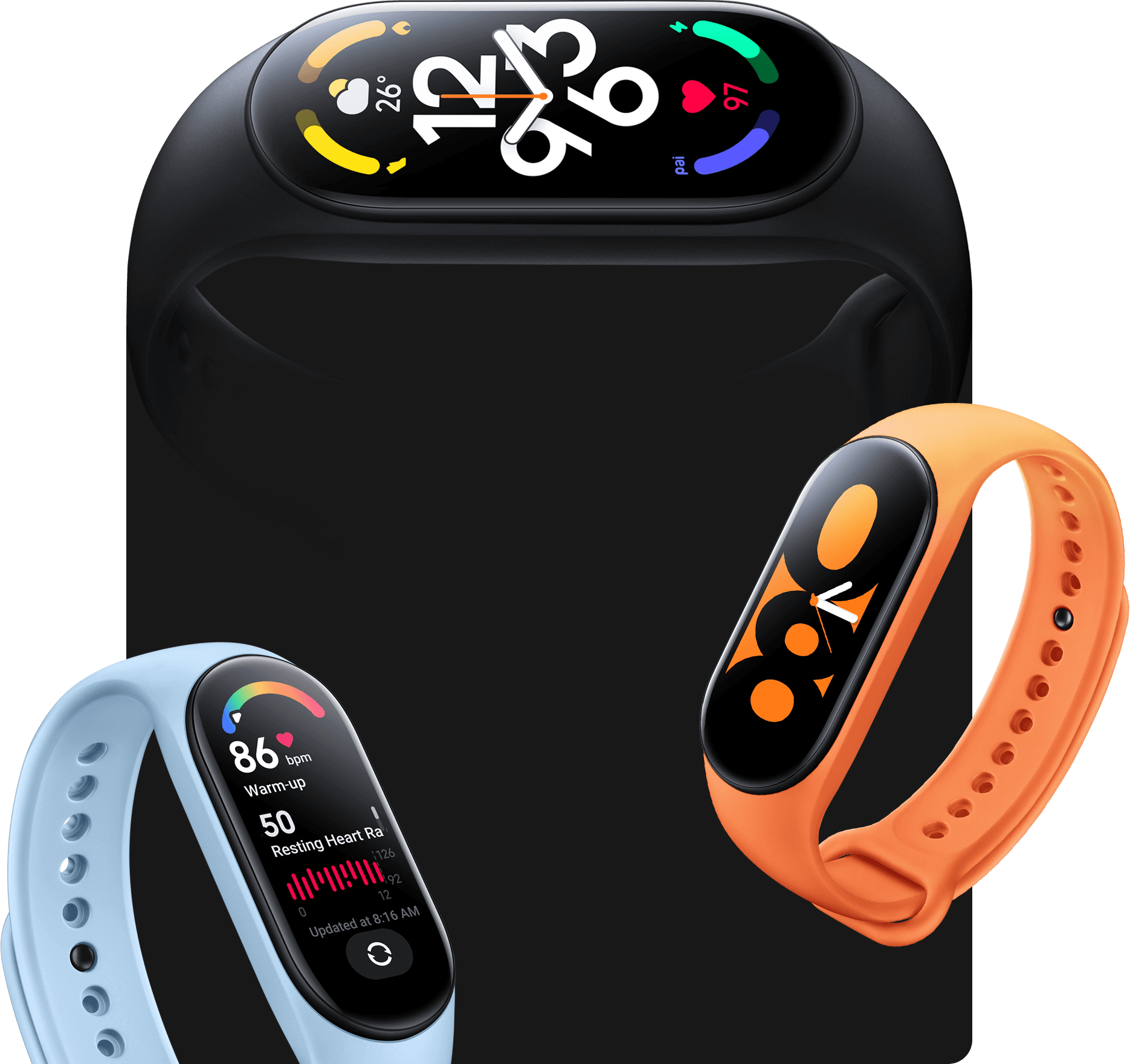 The views are better – 

The Advanced UI designs

Every UI interface has been redesigned and improved with the key information and numbers stand out to you. In brief, the interfaces are clearer and easier.

New band faces, new attitudes – 

100+ Dynamic Band Faces

With more advanced graphic rendering and smoother animation effects, both the exclusive dynamic band faces and the customlized ones become superior. Your favorite from your album is always on for you with AOD always-on mode.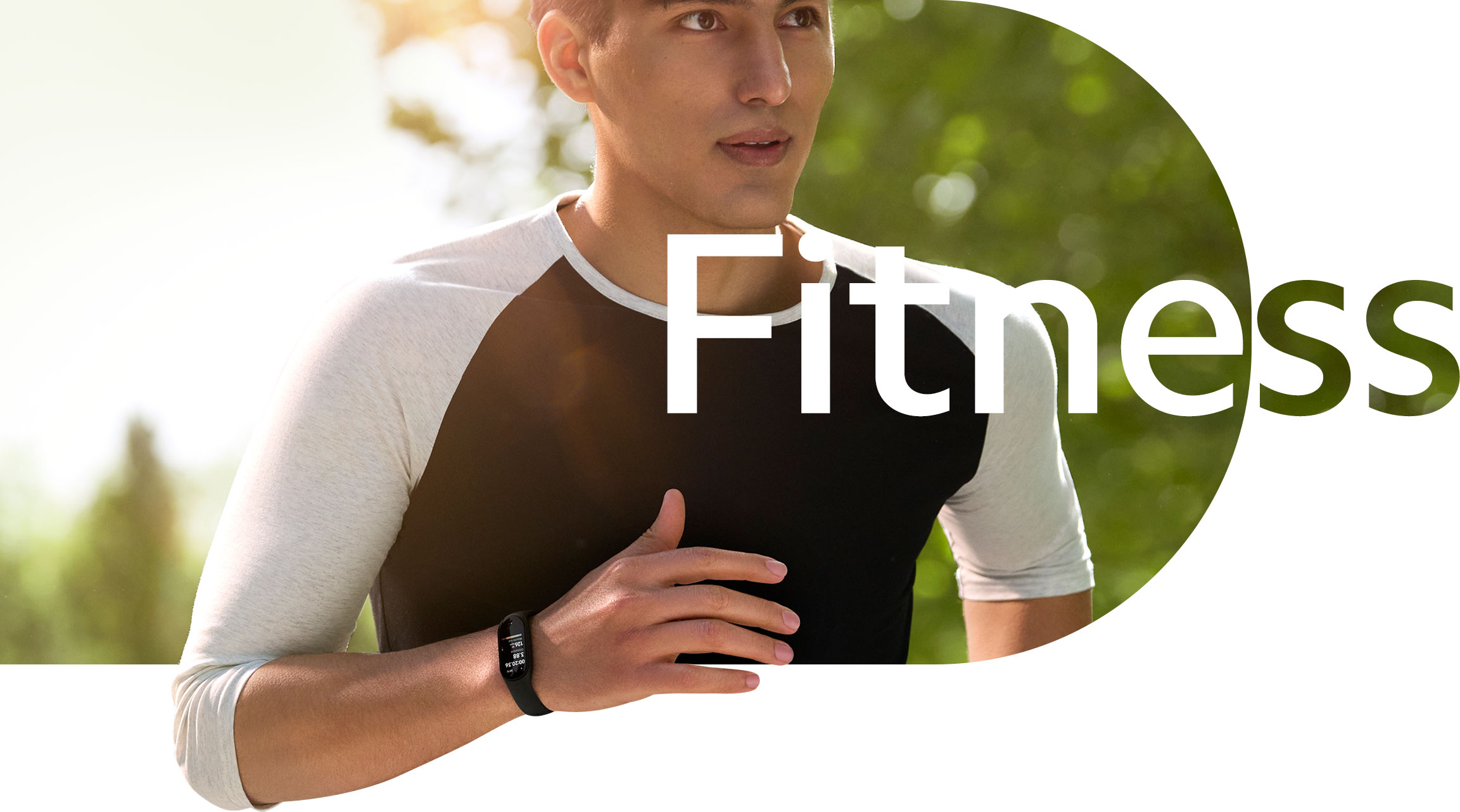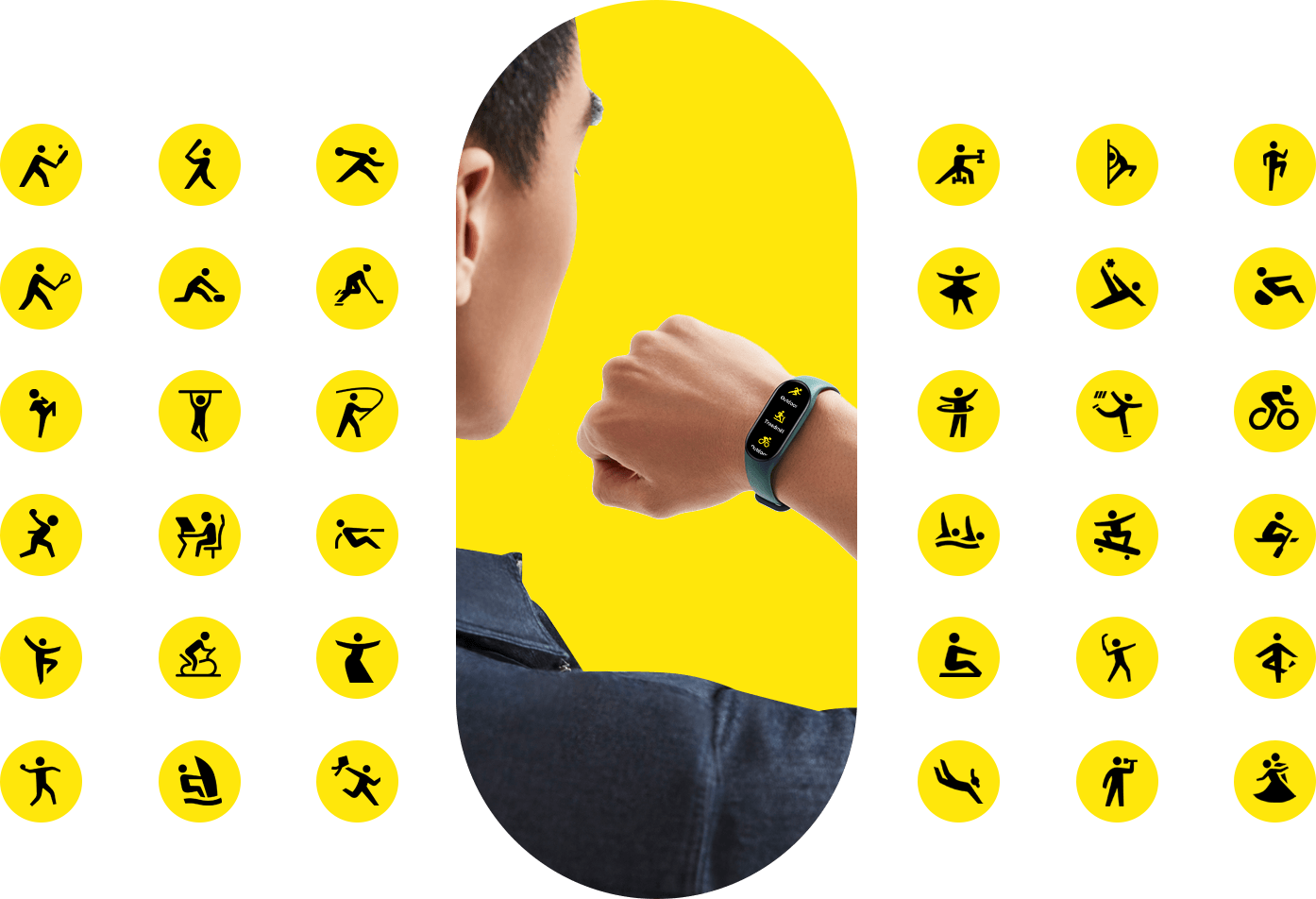 More options, more motives – 

Supports 110+ Sports Modes

A wide varity of sports modes help you keep a track of the burned calories, heart rate changes, and workout durations.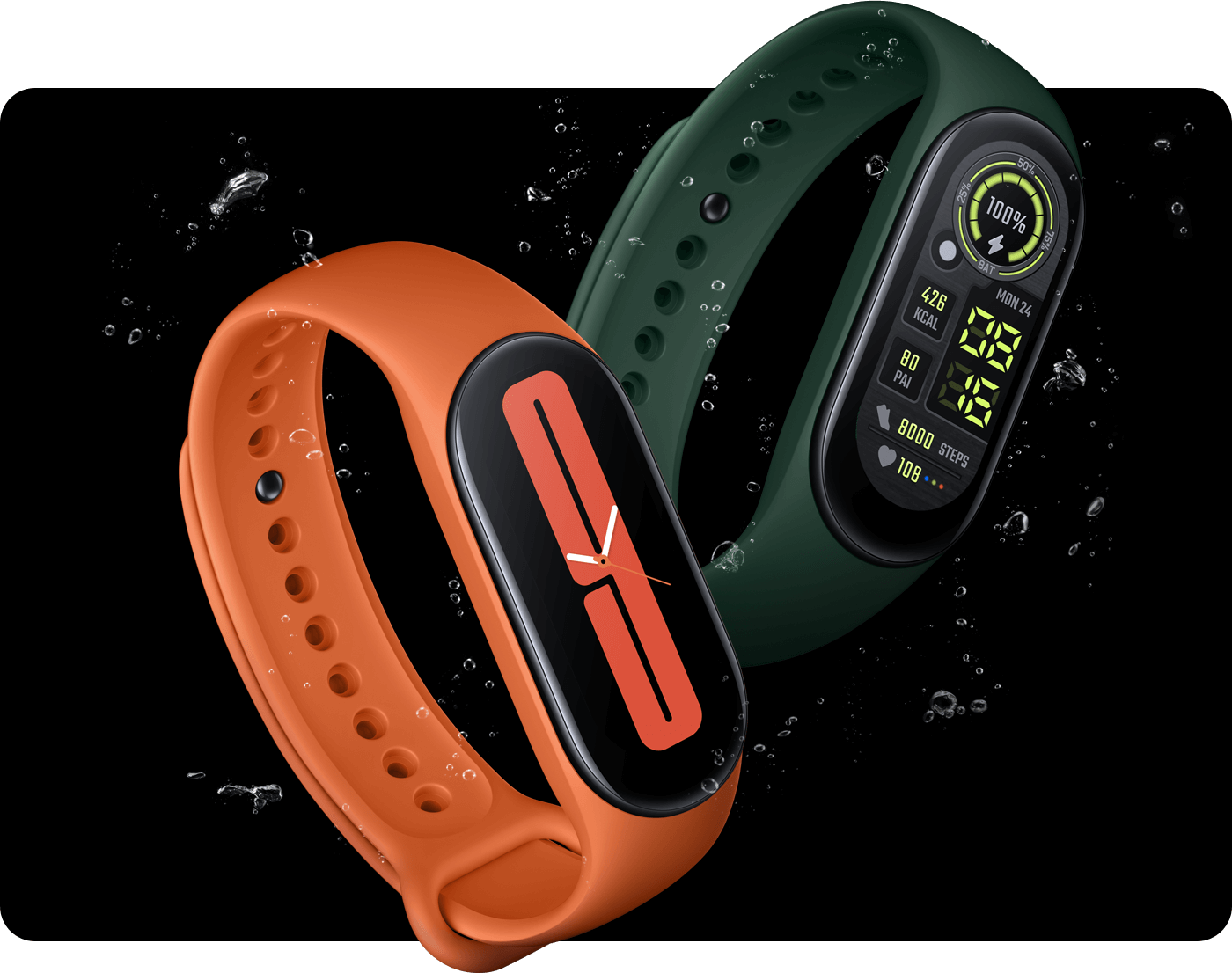 Going to the water with you
Support pool swimming, snorkeling, and intelligent recognition of the 4 common swimming styles.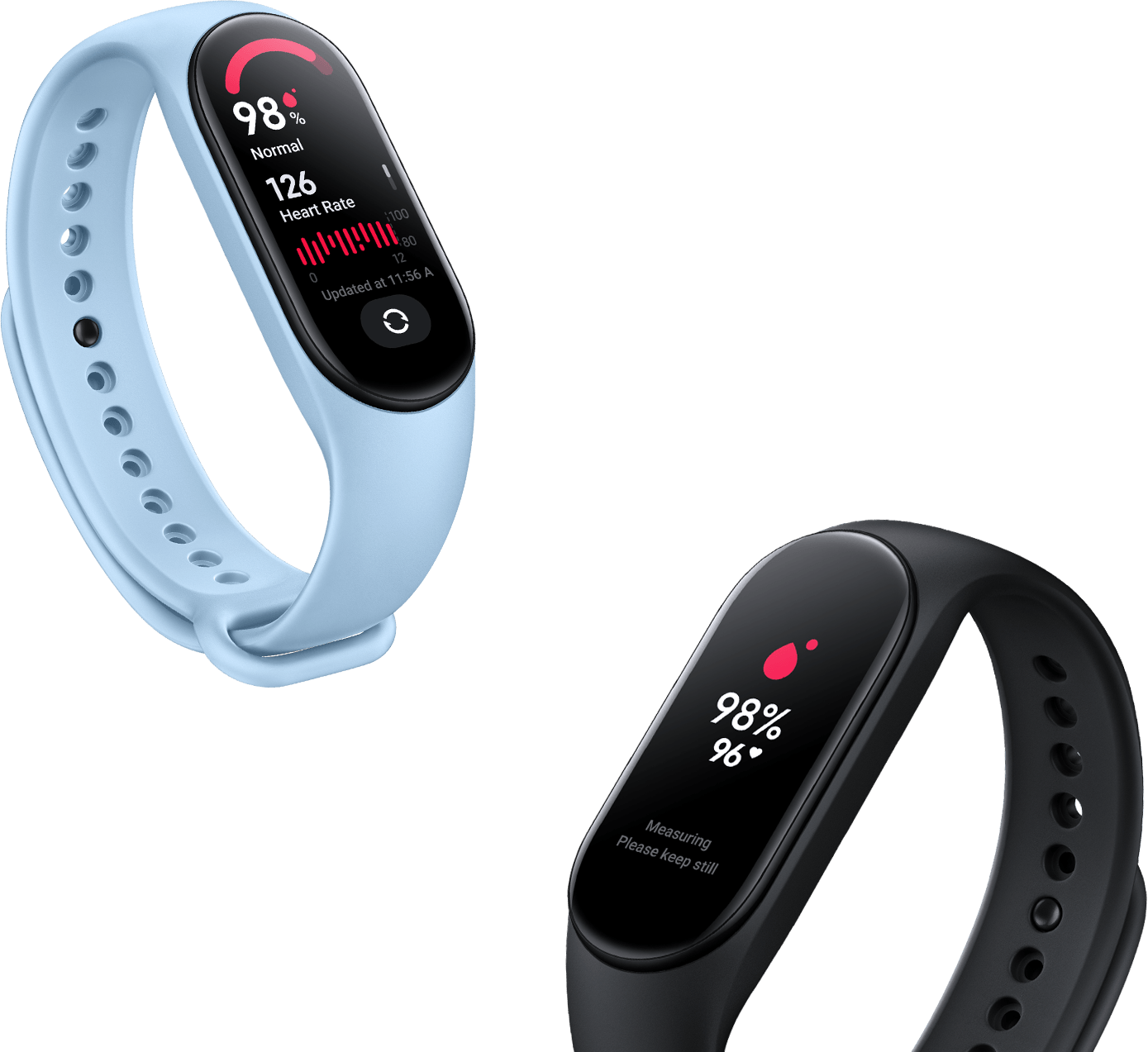 No Loose end on Your Health – 

All-day SpO₂ monitoring

Blood oxygen saturation (SpO₂) is a key indicator of a person's overall health, reflecting the oxygen levels in the blood. Xiaomi Smart Band 7 band will vibrate to alert you if your blood oxygen level is too low (<90%) to protect you from potential hea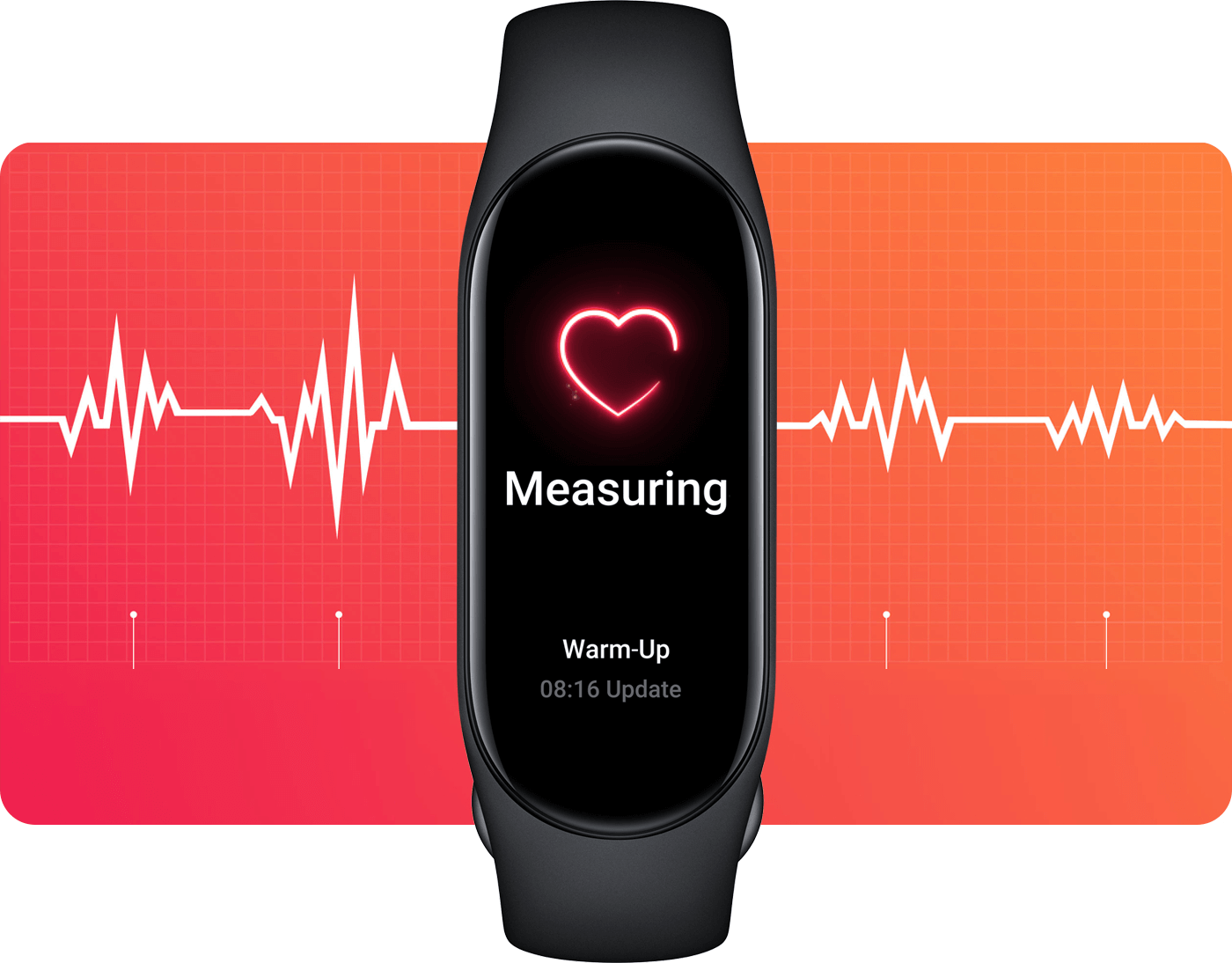 All-day heart rate monitoring
Xiaomi Smart Band 7 tracks your real time heart rate all day long and delivers precise reviews in easy-to-read graphs. The band will vibrate to alert when your heart rates fall out of the safe zone.*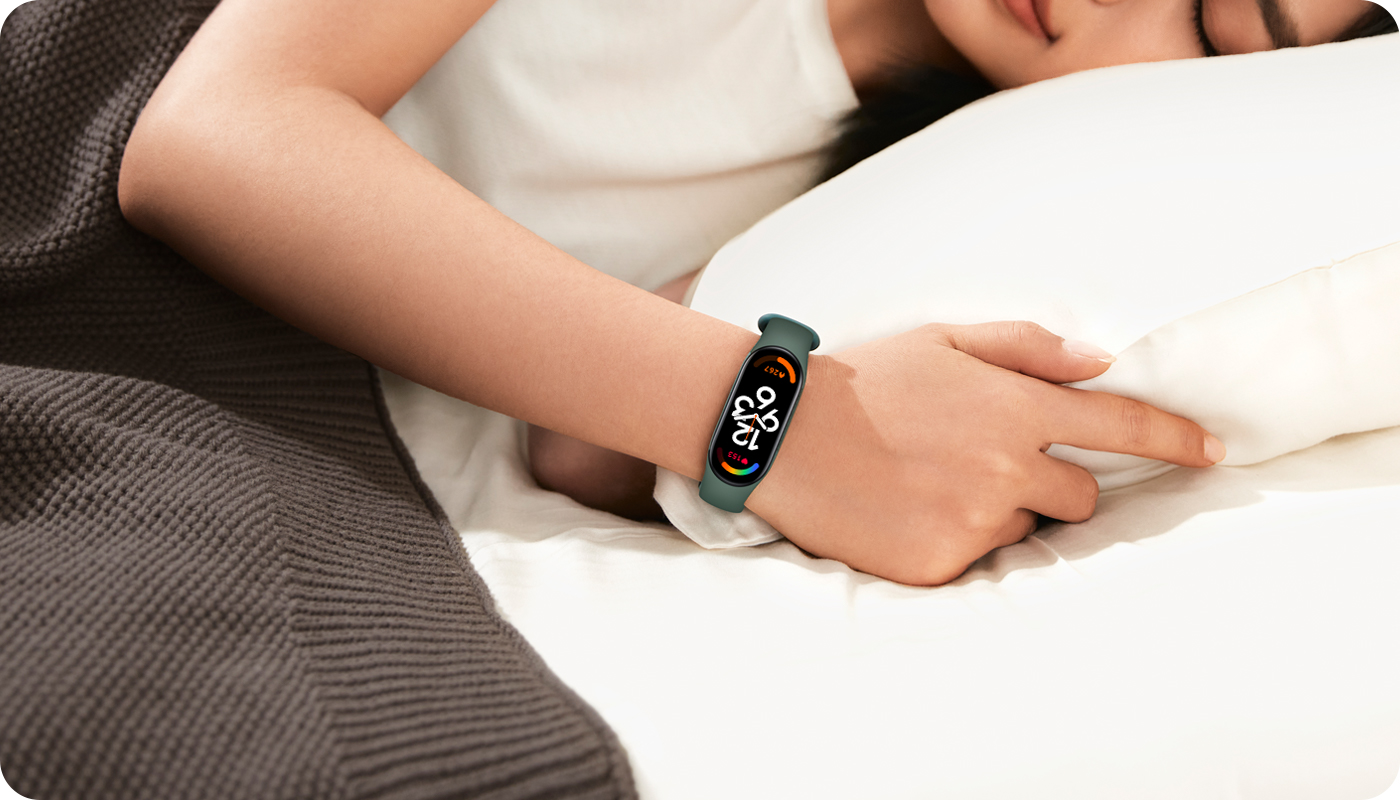 Sleep Quality Tracking
The band monitors your sleep patterns with care and accuracy. You can find detail statistics regarding deep sleep, light sleep and REM* phase on your smartphone to help you understand your sleep quality.
*REM: need to turn on advanced sleep monitoring in additional settings on Mi Fitness to have this feature.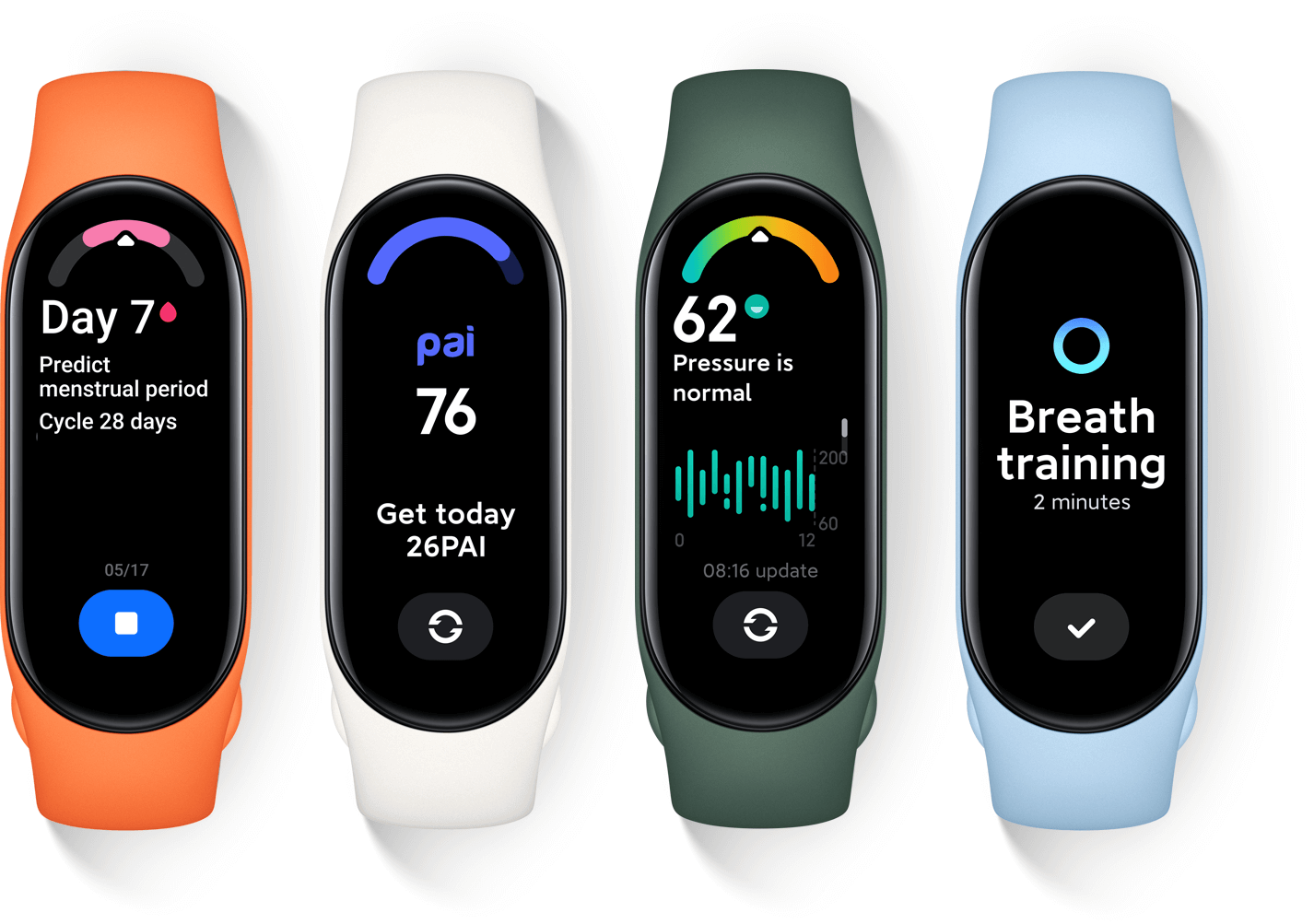 More About Your Health
Female Health Management

Personal Activity Index

Stress Level Monitoring

Deep Breath Exercise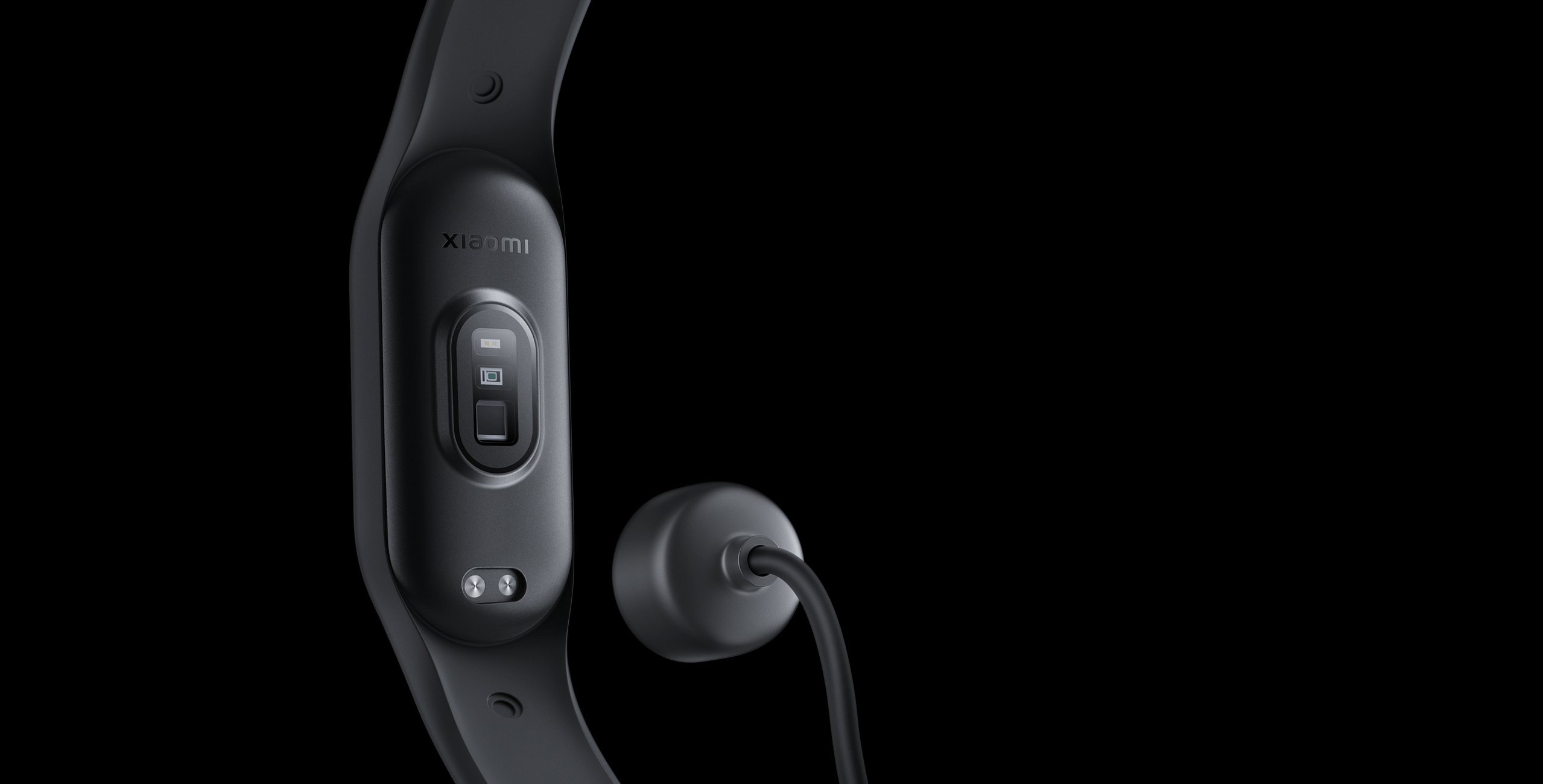 Magnetic Charging – 

Extended Battery Life
14 

Days With typical usage mode*
9 Days With heavy usage mode*
More Useful Features
Find My Phone

Countdown Timer

Tomato Clock

Weather Forecast

Stand Up Alerts

Incoming Call Notification*
Unlock My Phone
Notification*
Slient Mode
Flash Light
Do Not Disturb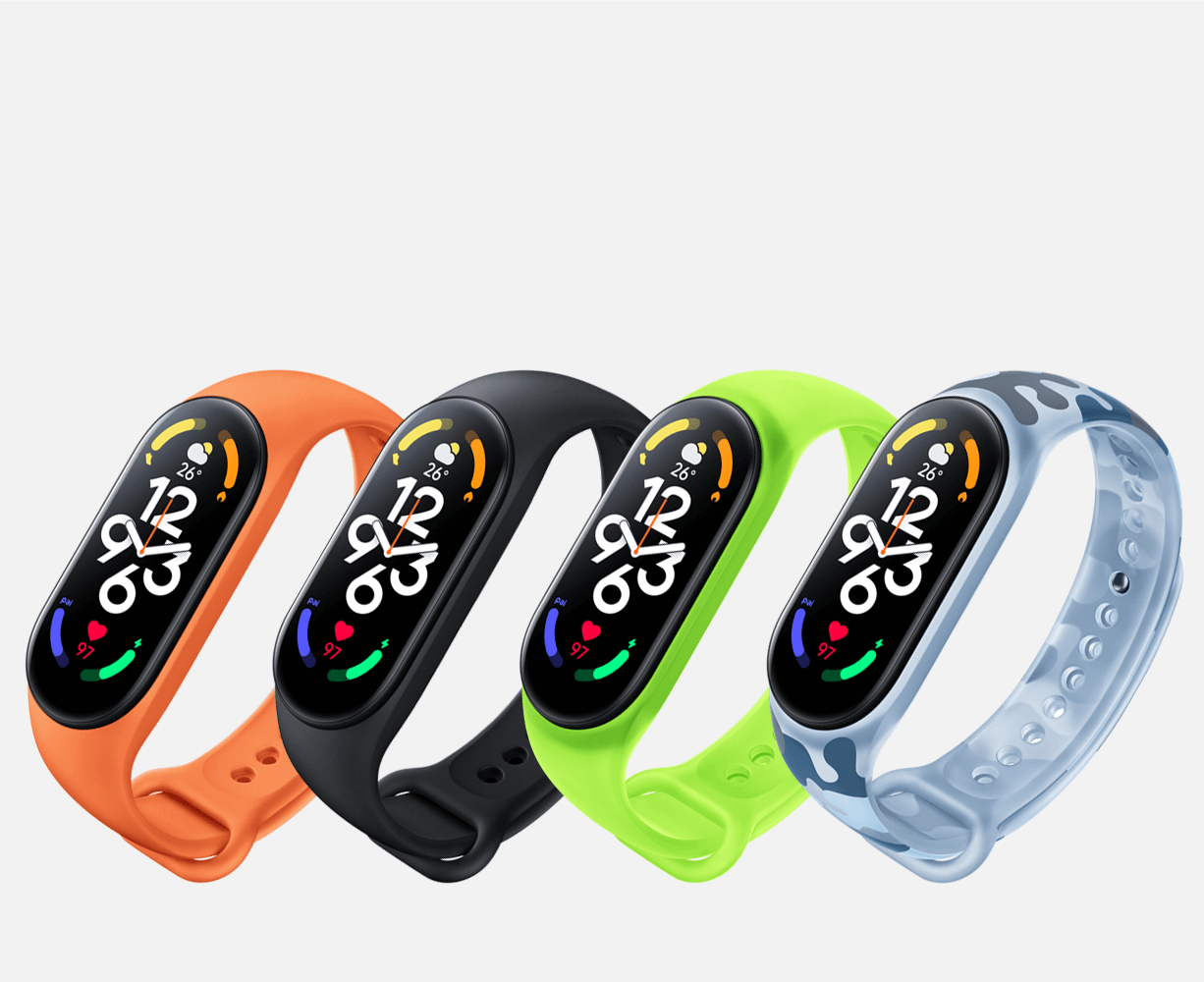 Specifications:
46.5 mm x 20.7 mm x 12.25 mm
*Height, width and thickness dimensions exclude the strap and protrusions
Strap buckle: aluminium alloy
1.62 inch AMOLED Touch Display
Resolution: 192 x 490 pixels,326 PPI
Brightness: up to 500 nits, adjustable
Tempered glass with anti-fingerprint coating
Approximately 25% larger visable area* *The visable area of the Xiaomi Smart Band 7 is approximately 25% larger compared to Mi Smart Band 6. Data obtained from Huami Labs.
High precision 6-axis sensor and PPG heart rate sensor 6-axis sensor: Low power-consumption 3-axis accelerometer and 3-axis gyroscope PPG heart rate sensor
Charging type: magnetic charging
Typical use time: ≥14 days
5 auto detection modes: outdoor running, walking, treadmill, rowing machine, elliptical
*The SpO₂ feature is not intended for diagnosis, prevention, monitoring, prediction, prognosis of any disease, investigation of physiological processes or any other medical purpose. All data and tracking should be used for well-being and personal reference only. If you feel uncomfortable, please rely on professional medical devices or consult a doctor for assistance.
Sleep tracking (deep sleep, light sleep, REM and naps)
Sleep breathing quality tracking
*This feature should not be used or relied on for any medical purposes. It may not accurately predict your menstrual cycles or related information. All data and tracking should be used for personal reference only.
Stress monitoring, breathing exercises PAI (Personal Activity Intelligence
Operating system: Android 6.0 or higher, iOS 10 or higher
System language:English, German, Italian, French, Spanish, Russian, Traditional Chinese/Simple Chinese and more.
Dedicated charging cable ×1