Divoom Ditoo Mic Pixel Art Bluetooth Speaker
RM469.00
Extreme Sound
Design Your Own Artwork
Retro Game Console
Original 1 Year Malaysia Warranty
What's In The Box:
1 x Divoom Ditoo Mic
1 x Protection Case Packaging
1 x Premium Gift Paper Bag
1 x Manual Guide Book
1 x Type-C Charging Cable
1 x Creative Sticker
Product Info
Divoom Ditoo Mic Pixel Art Bluetooth Speaker
𝐌𝐄𝐄𝐓 𝐃𝐈𝐕𝐎𝐎𝐌 𝐃𝐈𝐓𝐎𝐎 – It's the most visually pleasing, funnest, and feature-packed cute Bluetooth speaker you can get. The keys on this model are unique in that it uses backlit mechanical keyswitches on mini keyboard and the bright colors on the 16 x 16 pixel "monitor" which adds to the theme of retro arcade style.
𝐄𝐗𝐓𝐑𝐄𝐌𝐄 𝐒𝐎𝐔𝐍𝐃 – The retro speaker with 10w high-performance drivers, makes it pump out more volume; comes with the unique DSP bass boost mode, plays your music with no distortion, even at maximum volume. You can use the Bluetooth capabilities to stream your Spotify music through and it actually sounds really good!
𝐃𝐄𝐒𝐈𝐆𝐍 𝐘𝐎𝐔𝐑 𝐎𝐖𝐍 𝐀𝐑𝐓𝐖𝐎𝐑𝐊 – This is a retro alarm clock that can be customized to whatever pixel art you like on the screen. Play with this and get hours of fun creating different pixel images and then sharing them with your friends in Divoom community. There are lots of set images or you can choose to create your own image either with or without text.
𝐑𝐄𝐓𝐑𝐎 𝐆𝐀𝐌𝐄 𝐂𝐎𝐍𝐒𝐎𝐋𝐄 – The games are simple, yet responsive and importantly had no glitches. There are a variety of classic games, such as pixel racer, magic 8 ball, snake, etc., they are very fun to play and work well with the limited controls.
𝐆𝐑𝐄𝐀𝐓 𝐆𝐈𝐅𝐓 𝐈𝐃𝐄𝐀 – It is a led speaker to have on your desk, and the multitude of animations and other art available to put on its limitless. The sound quality is great, and so is the battery life. It even comes in a little gift bag, and that would make a great Christmas/birthday gift for someone who likes old computers or retro gaming.
𝐖𝐀𝐑𝐑𝐀𝐍𝐓𝐘
✅ 𝟑𝟔𝟓 Days Warranty
𝐒𝐏𝐄𝐂𝐈𝐅𝐈𝐂𝐀𝐓𝐈𝐎𝐍𝐒
𝗗𝗶𝗺𝗲𝗻𝘀𝗶𝗼𝗻𝘀 : 90 x 114 x 121 mm
𝗦𝗽𝗲𝗮𝗸𝗲𝗿 𝘀𝗶𝘇𝗲 : 45mm
𝗢𝘂𝘁𝗽𝘂𝘁 𝗽𝗼𝘄𝗲𝗿 : 15W
𝗦𝗶𝗴𝗻𝗮𝗹 𝘁𝗼 𝗻𝗼𝗶𝘀𝗲 𝗿𝗮𝘁𝗶𝗼 : ≥80dB
𝗕𝗮𝘁𝘁𝗲𝗿𝘆 𝗖𝗮𝗽𝗮𝗰𝗶𝘁𝘆 : 3000 mA
𝗕𝗮𝘁𝘁𝗲𝗿𝘆 𝗩𝗼𝗹𝘁𝗮𝗴𝗲 : 3.7 V
𝗕𝗮𝘁𝘁𝗲𝗿𝘆 𝗖𝗵𝗮𝗿𝗴𝗲 𝗧𝗶𝗺𝗲 : 4h hours
𝗣𝗹𝗮𝘆𝗯𝗮𝗰𝗸 𝗧𝗶𝗺𝗲 : Up to 8 hours
𝗕𝗹𝘂𝗲𝘁𝗼𝗼𝘁𝗵 𝗰𝗼𝗺𝗽𝗹𝗶𝗮𝗻𝘁 : Bluetooth V5.0
𝗪𝗲𝗶𝗴𝗵𝘁 : 505g
𝗙𝗿𝗲𝗾𝘂𝗲𝗻𝗰𝘆 𝗥𝗲𝘀𝗽𝗼𝗻𝘀𝗲 : 80-20K Hz
𝗪𝗶𝗿𝗲𝗹𝗲𝘀𝘀 𝗿𝗮𝗻𝗴𝗲 : 10M/33ft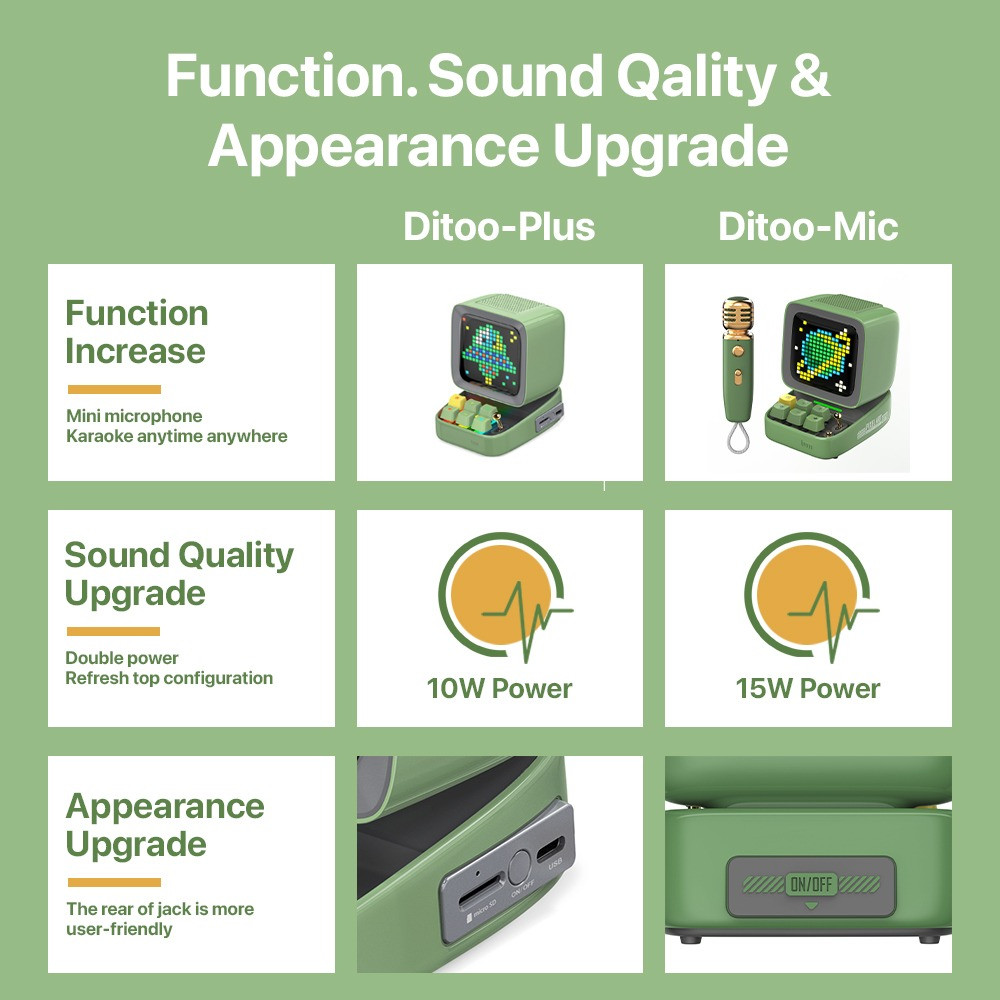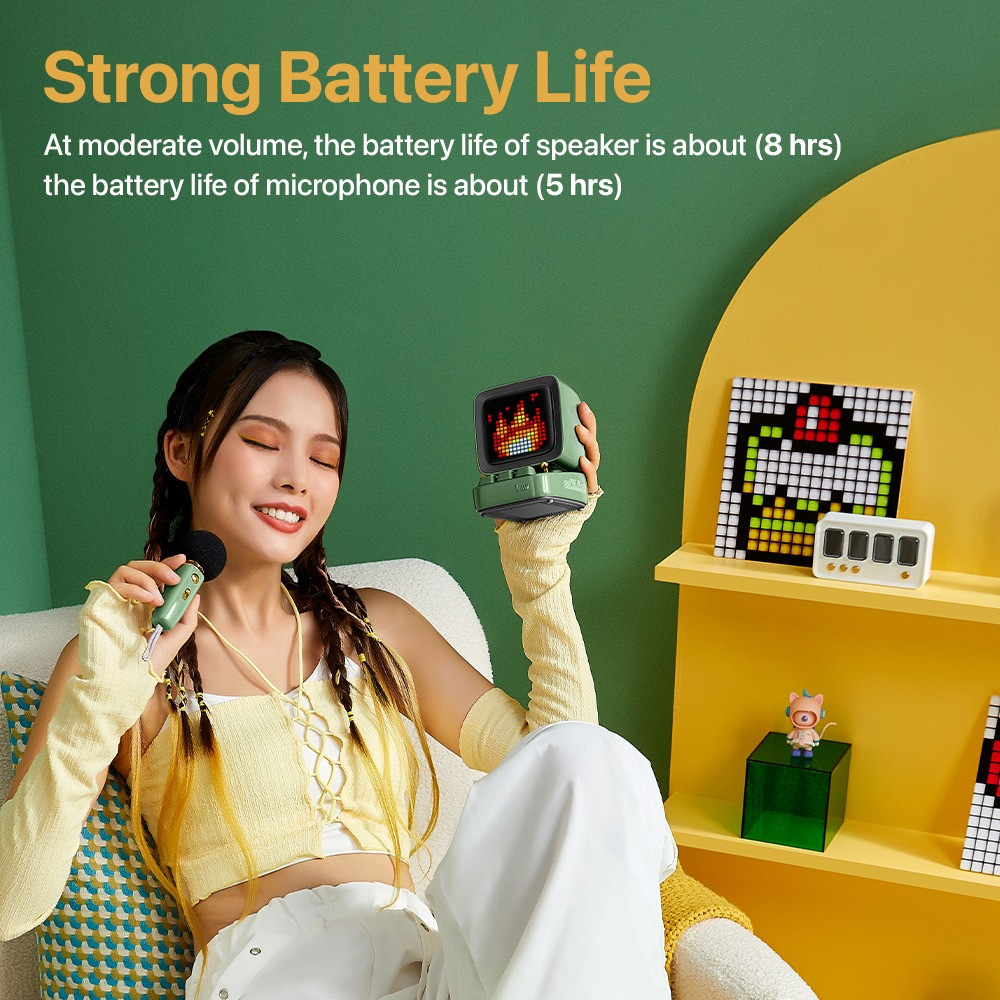 Additional Information
| | |
| --- | --- |
| Weight | 1 kg |
| Dimensions | 10 × 15 × 15 cm |
| Colour | Blue, Pink, Green |
Only logged in customers who have purchased this product may leave a review.