Introducing the Huawei Watch FIT Smartwatch, a sleek and sophisticated timepiece that seamlessly blends style and functionality. Designed to elevate your everyday life, this smartwatch is packed with cutting-edge features that will revolutionize the way you stay connected, motivated, and healthy.
Featuring a vibrant 1.64-inch AMOLED display, the Huawei Watch FIT delivers stunning visuals and crisp clarity, ensuring that every detail is brought to life on your wrist. With customizable watch faces and a variety of strap options, you can effortlessly match your smartwatch to your personal style, making a bold fashion statement wherever you go.
Stay connected and organized with ease, as the Huawei Watch FIT keeps you in the loop with notifications for calls, messages, and social media alerts. Never miss an important update again, as you can conveniently view and respond to messages directly from your wrist, keeping your phone in your pocket and your focus intact.
But the Huawei Watch FIT is not just about style and connectivity – it's a powerful fitness companion that will inspire you to reach your health goals. Equipped with a comprehensive set of fitness tracking features, including heart rate monitoring, sleep tracking, and stress level monitoring, this smartwatch provides valuable insights into your well-being. With personalized workout guidance and over 96 workout modes to choose from, you can take your fitness journey to new heights and stay motivated every step of the way.
One of the standout features of the Huawei Watch FIT is its impressive battery life. With up to 10 days of continuous use on a single charge, you can rely on this smartwatch to keep up with your active lifestyle without constantly searching for a power outlet. Whether you're exploring the great outdoors or tackling a busy day at the office, the Huawei Watch FIT has got you covered.
In addition to its exceptional features, the Huawei Watch FIT seamlessly integrates with the Huawei Health app, providing a holistic overview of your health and fitness data. Set goals, track your progress, and gain valuable insights into your habits, all in one convenient place. With the Huawei Watch FIT, you have the power to take control of your well-being and make positive changes that last.
In conclusion, the Huawei Watch FIT Smartwatch is not just a timepiece – it's a lifestyle companion that offers style, connectivity, and advanced health tracking features. With its sleek design, vibrant display, and long-lasting battery life, this smartwatch is the perfect blend of fashion and functionality. Stay connected, motivated, and healthy with the Huawei Watch FIT – your ultimate companion for a life well-lived.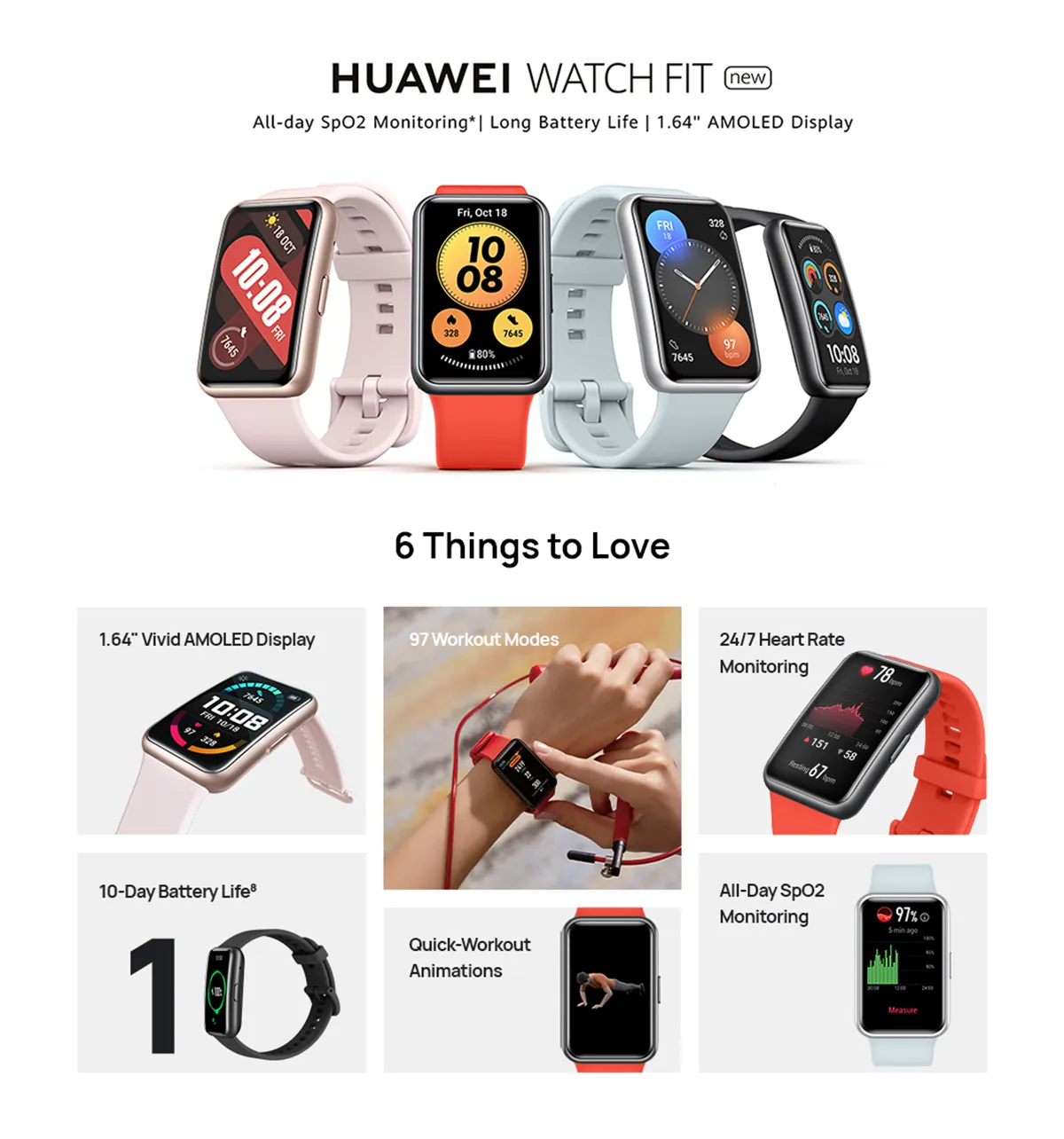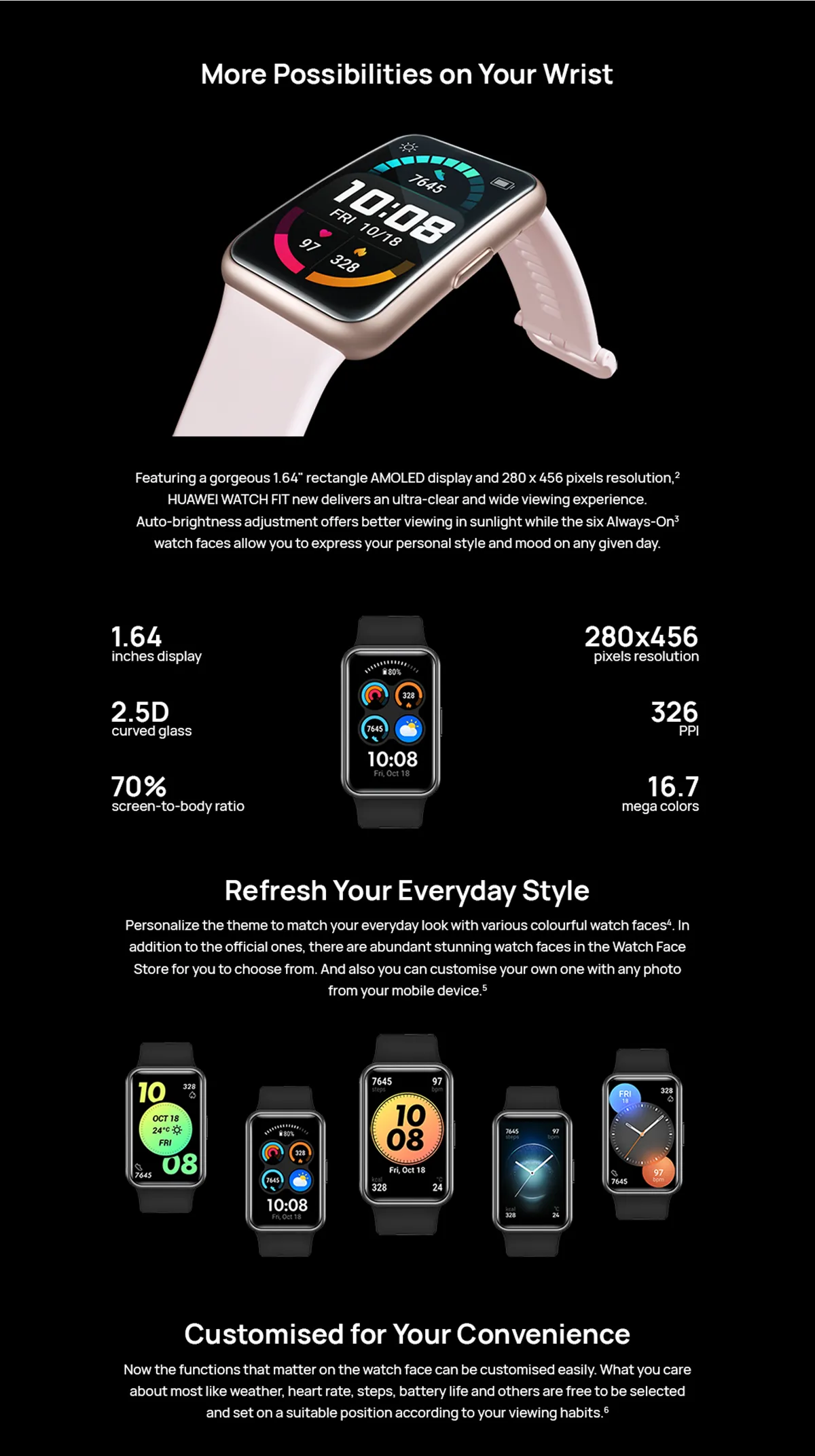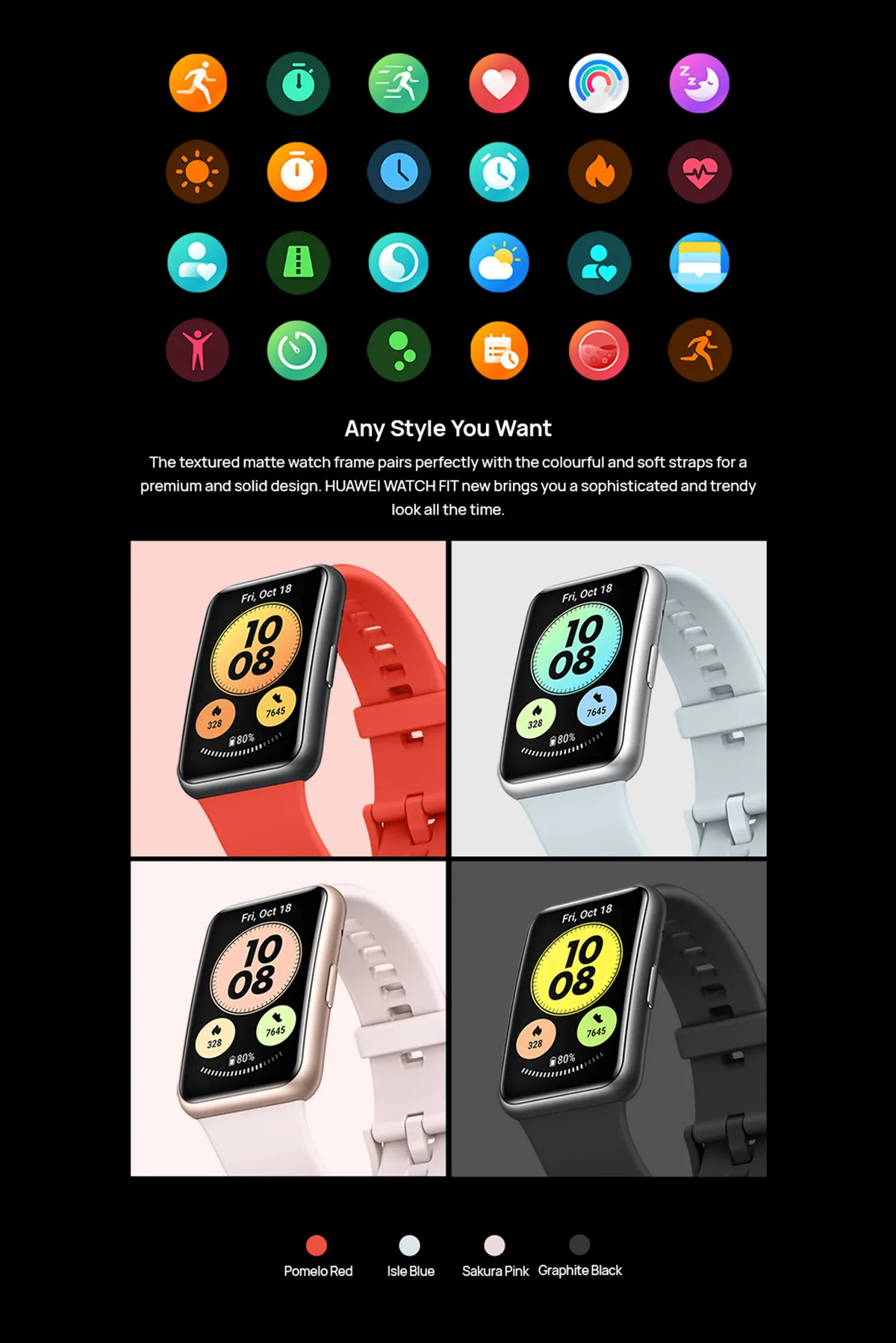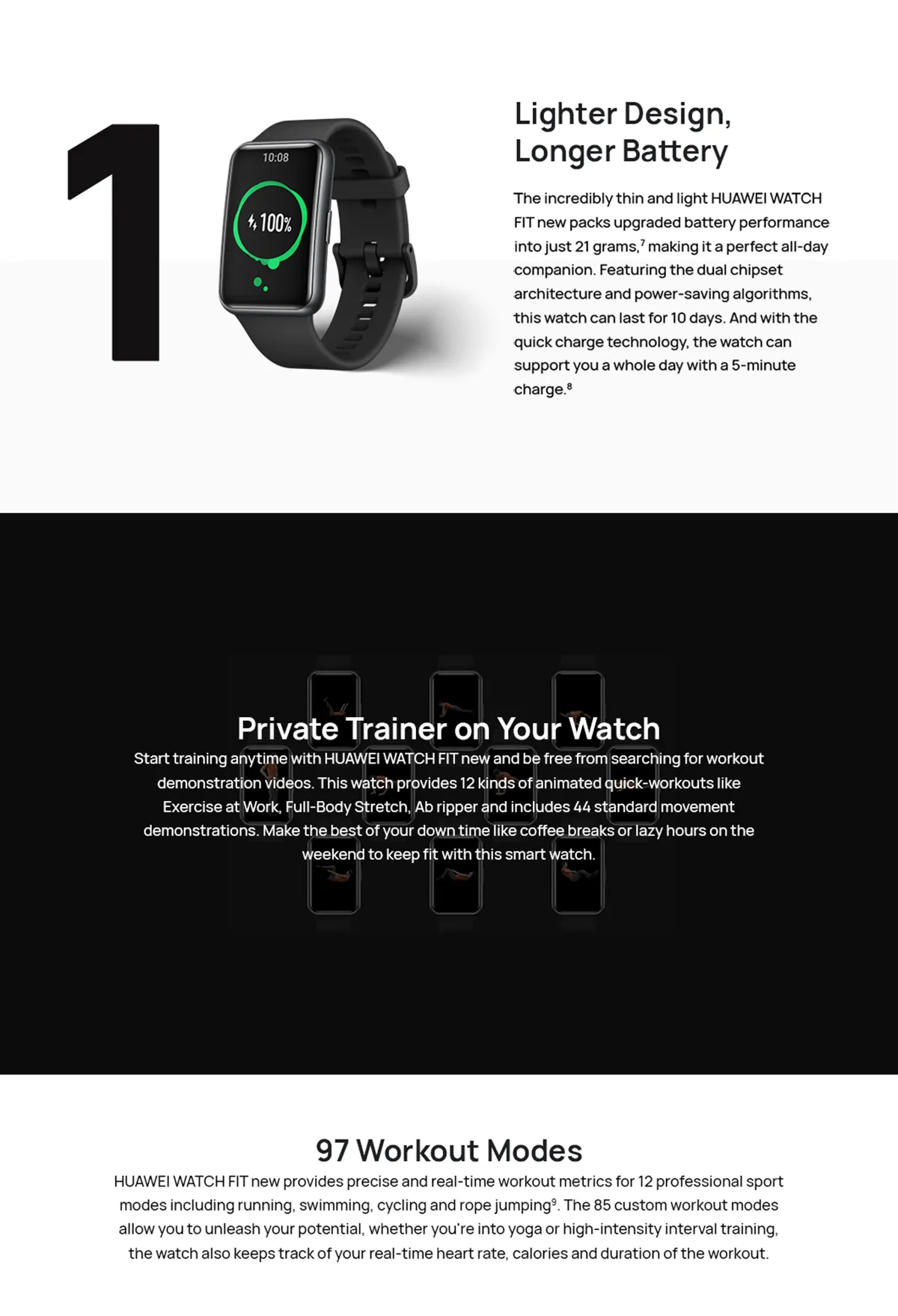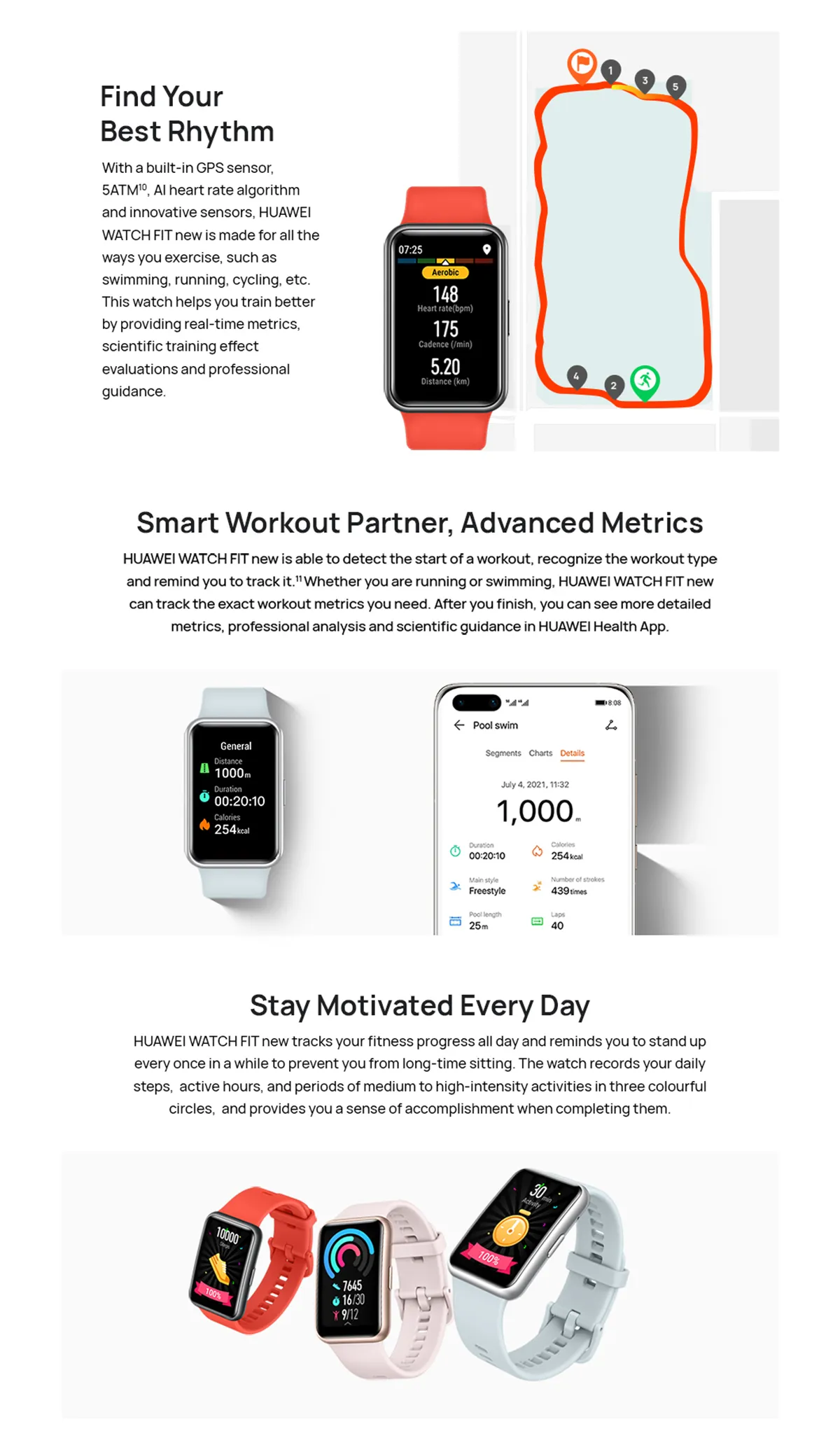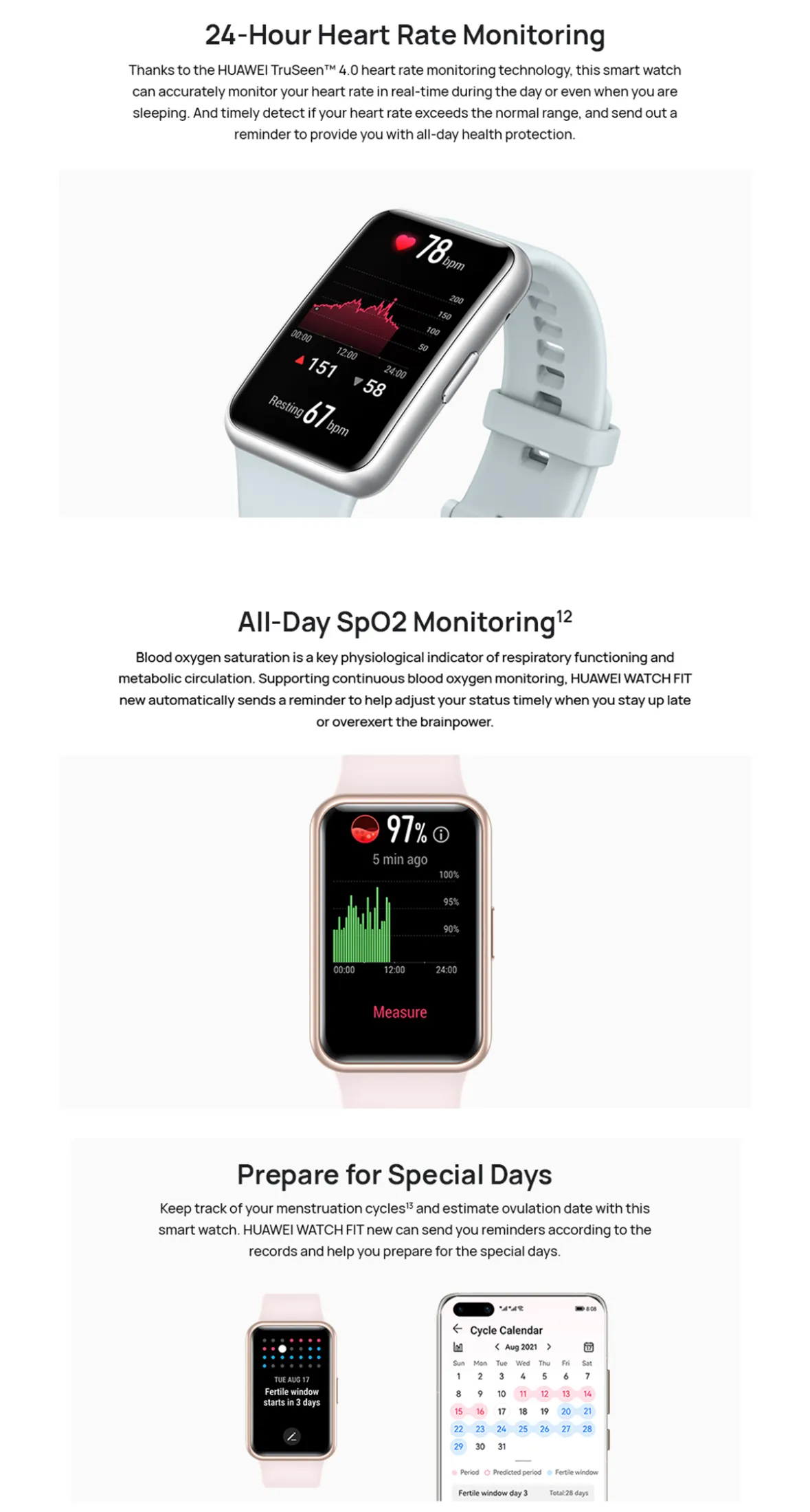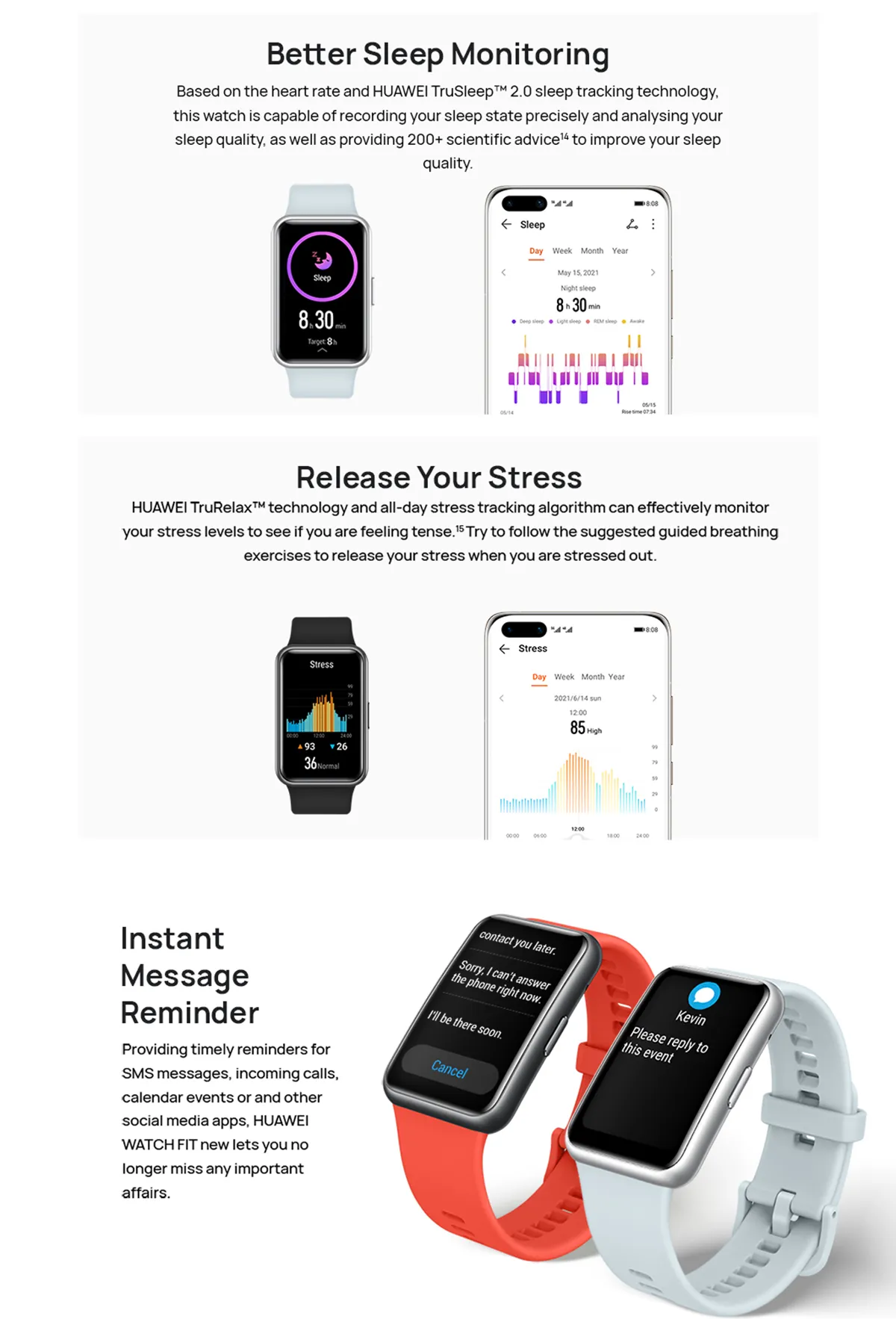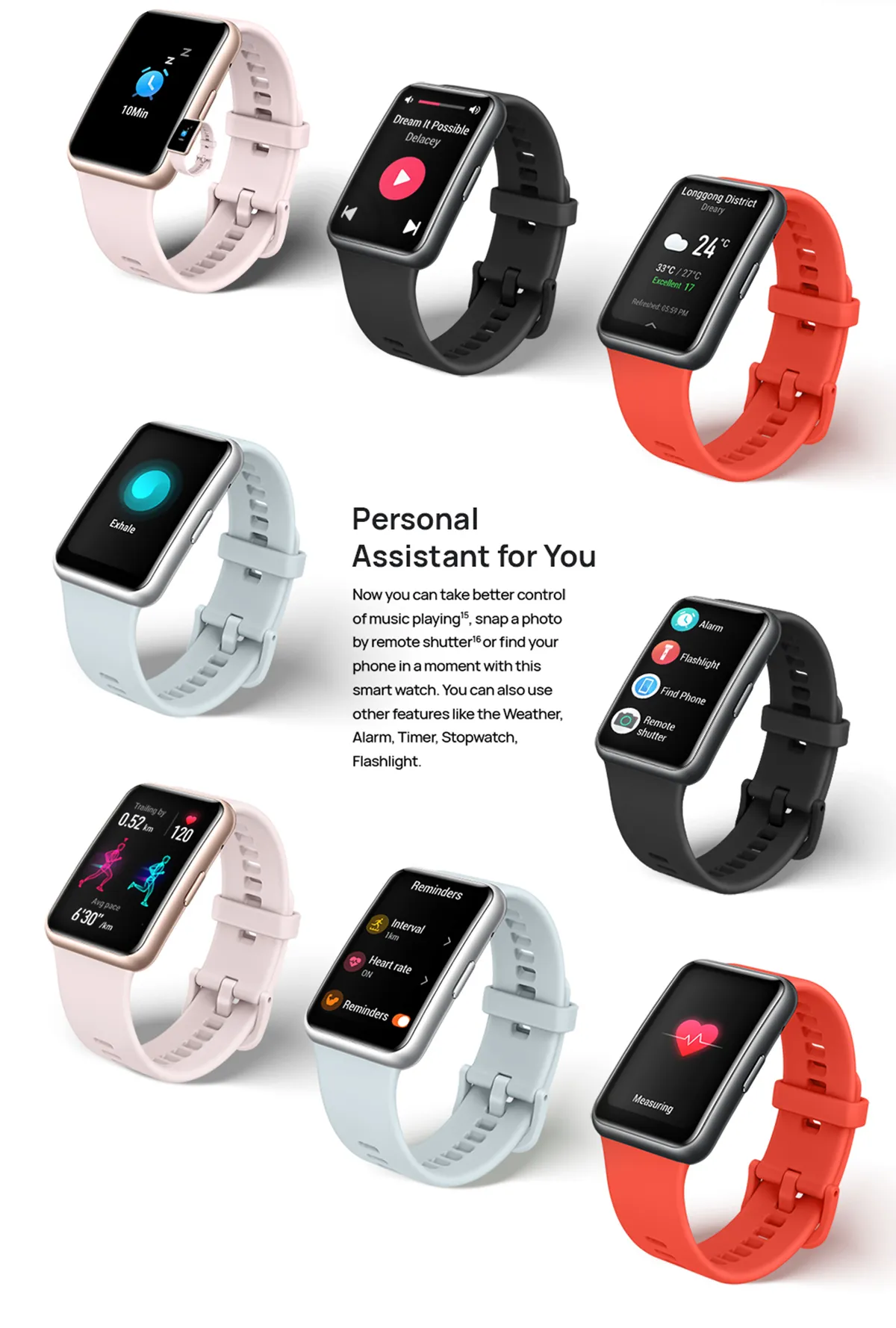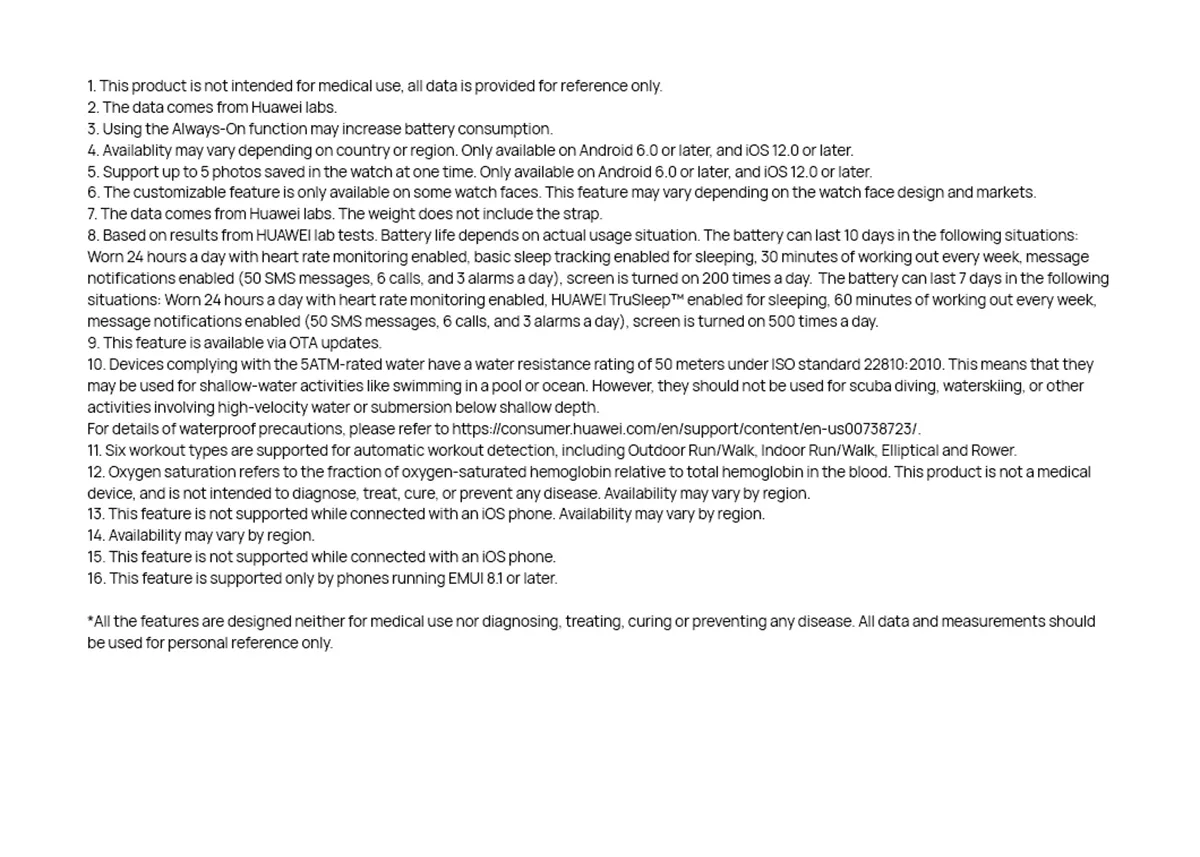 | | |
| --- | --- |
| BUTTON | Full screen touch + side button |
| MEMORY | 4 GBROM.Microprocessor:DK3.5+ST |
| OPERATING SYSTEM | Support Android 5.0 or later | iOS 9.0 or later |
| BATTERY | Capacity: Typical value at 180 mAh l Type: Secondary Li-ion Battery l Charging time: about 100 minutes (under 25°C ambient temperatures) |
| BLUETOOTH FREQUENCY | 2.4 GHz, BT5.0, BLE |
| GPS | Supported |
| SENSOR | 6-axis IMU sensor (Accelerometer sensor, Gyroscope sensor), optical heart rate sensor, capacitive sensor, ambient light sensor |
| WATER AND DUST RESISTANCE RATING | Resistance Levels: 5 ATM water-resistant |
| CHARGING PORT | Magnetic charging port |
| IN THE BOX | HUAWEI WATCH FIT, Charging Dock, Charging Cable, Quick Start Guide, Safety Information, and Warranty Card |
【1.64″Vivid AMOLED Display】Featuring a gorgeous 1.64″ rectangle AMOLED display and 280 x 456 pixels resolution, HUAWEI WATCH FIT new delivers an ultra-clear and wide viewing experience. Auto-brightness adjustment offers better viewing in sunlight while the six Always-On watch faces allow you to express your personal style and mood on any given day.
【97Workout Modes】HUAWEI WATCH FIT new provides precise and real-time workout metrics for 12 professional sport modes including running, swimming, cycling and rope jumping. The 85 custom workout modes allow you to unleash your potential, whether you're into yoga or high-intensity interval training, the watch also keeps track of your real-time heart rate, calories and duration ofthe workout.
【24/7Heart Rate Monitoring】Thanks to the HUAWEI TruSeen™ 4.0 heart rate monitoring technology, this smart watch can accurately monitor your heart rate in real-time during the day or even when you are sleeping. And timely detect if your heart rate exceeds the normal range, and send out a reminder to provide you with all-day health protection.
【10-DayBattery Life】The incredibly thin and light HUAWEI WATCH FIT new packs upgraded battery performance into just 21 grams, making it a perfect all-day companion.Featuring the dual chipset architecture and power-saving algorithms, this watch can last for 10 days. And with the quick charge technology, the watch cansupport you a whole day with a 5-minute charge.
【Quick-WorkoutAnimations】This watch provides 12 kinds of animated quick-workouts like Exercise at Work, Full-Body Stretch, Ab ripper and includes 44 standard movement demonstrations.
【All-DaySpO2 Monitoring】Supporting continuous blood oxygen monitoring, HUAWEI WATCH FIT new automatically sends a reminder to help adjust your status timely when you stay up late or overexert the brainpower.
Product Description:
HUAWEIWATCH FIT new Smartwatch, 1.64″ Vivid AMOLED Display, 280 x 456 pixels resolution, Sophisticated and trendy look, Abundant stunning watch faces,Lighter Design, 10-Day Longer Battery Life, 12 kinds of animalesque-workouts, 97 Workout Modes, Built-in GPS sensor, 24-Hour Heart Rate Monitoring, All-Day SpO2 Monitoring, Better Sleep Monitoring, Stress Monitoring
-Thedata comes from Huawei labs.
-Usingthe Always-On function may increase battery consumption. Battery life depends on actual usage situation. The battery can last 10 days in the following situations: Worn 24 hours a day with heart rate monitoring enabled, basic sleep tracking enabled for sleeping, 30 minutes of working out every week, message notifications enabled (50 SMS messages, 6 calls, and 3 alarms a day), screen is turned on 200 times a day.The battery can last 7 days in the following situations: Worn 24 hours a day with heartrate monitoring enabled, HUAWEI TruSleep™ enabled for sleeping, 60 minutes of working out every week, message notifications enabled (50 SMS messages, 6calls, and 3 alarms a day), screen is turned on 500 times a day.
-Allthe features are designed neither for medical use nor diagnosing, treating,curing or preventing any disease. All data and measurements should be used for personal reference only.