The EcoFlow WAVE 2 Portable Air Conditioner Bundle add-on Battery is the ultimate solution for keeping cool and comfortable during those scorching hot summer days. This innovative and eco-friendly product combines the power of a portable air conditioner with the convenience of a rechargeable battery, ensuring that you can enjoy a refreshing breeze wherever you go, without being tied down to a power source.
Designed with cutting-edge technology, the EcoFlow WAVE 2 Portable Air Conditioner is engineered to deliver efficient and powerful cooling performance. With a compact and lightweight design, it is easy to transport and set up, making it ideal for both indoor and outdoor use. Whether you're camping in the wilderness, traveling in your RV, or simply trying to beat the heat in your home, this portable air conditioner will quickly become your go-to cooling solution.
But what sets the EcoFlow WAVE 2 Portable Air Conditioner Bundle apart from the rest is its add-on battery. This high-capacity lithium-ion battery can be attached to the air conditioner, providing you with hours of uninterrupted cooling power. This means you can stay cool even in areas where traditional power outlets are not available or reliable. Whether you're exploring remote destinations or experiencing a power outage, this bundle ensures that you won't have to sacrifice comfort.
The EcoFlow WAVE 2 Portable Air Conditioner Bundle add-on Battery is not only convenient and efficient, but it is also an environmentally conscious choice. With its energy-efficient design, it helps reduce your carbon footprint while providing you with a comfortable and refreshing environment. By opting for this product, you're not only investing in your own comfort but also in a sustainable future.
In addition to its impressive cooling capabilities, the EcoFlow WAVE 2 Portable Air Conditioner Bundle add-on Battery also offers other useful features. The user-friendly control panel allows you to easily adjust the temperature, fan speed, and timer settings to meet your specific needs. Furthermore, the included remote control allows you to conveniently operate the air conditioner from a distance, making it even more convenient and hassle-free to use.
With its durable construction and reliable performance, the EcoFlow WAVE 2 Portable Air Conditioner Bundle add-on Battery is built to last. It is designed to withstand the rigors of outdoor adventures and provide you with long-lasting cooling comfort. This product is backed by a comprehensive warranty, giving you peace of mind that your investment is protected.
Stay cool and comfortable no matter where you are with the EcoFlow WAVE 2 Portable Air Conditioner Bundle add-on Battery. Whether you're embarking on a camping trip, road-tripping in your RV, or simply looking for a reliable cooling solution for your home, this bundle has got you covered. Don't let the heat get the best of you – invest in this versatile and eco-friendly cooling system today and experience the ultimate in portable comfort.
The most powerful and compact portable AC
that can be used anywhere, anytime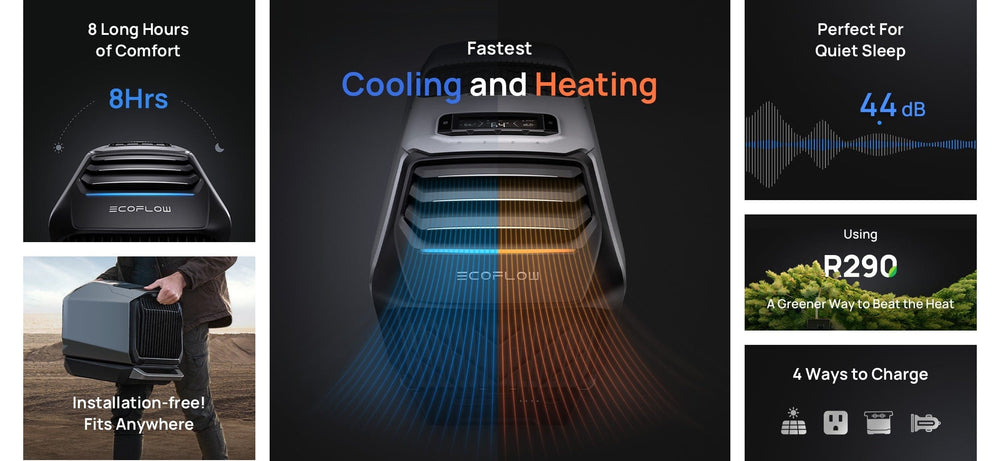 "Best Portable Air Conditioning
Device at CES 2023"
——by MakeUseOf
Right Temp. Right Now.
RVs
Trucks
Off-grid houses
Outdoors
Tents
Boats
Fastest cooling and heating
The world's first wireless portable AC with a heater.
EcoFlow's tailor-made compressor enables WAVE 2 to provide 5100 BTUs of cooling
and 6100 BTUs of heating. Prepare for ultimate comfort with WAVE 2!
* Drop 10℃ from 30℃ for 10m³ in 5 min with 5100 BTUs of cooling,and raise 10℃ from 20℃ in 5 minutes for 10m³ with 6100 BTUs of heating in optimal running performance.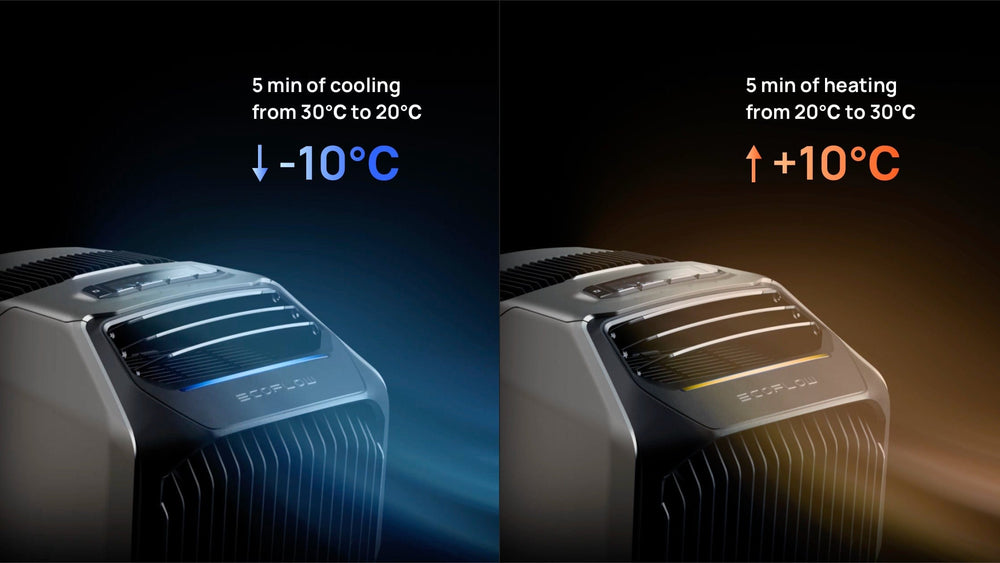 Installation-free! Fits anywhere
The perfect air conditioner for any compact space! It is extremely simple to use, requiring no installation or drainage*. There are air duct adapters to fit any space. Enjoy the convenience of cooling and heating without any fuss.
* No drainage is needed in cooling mode when humidity is below 70%, but it is still needed in heating mode.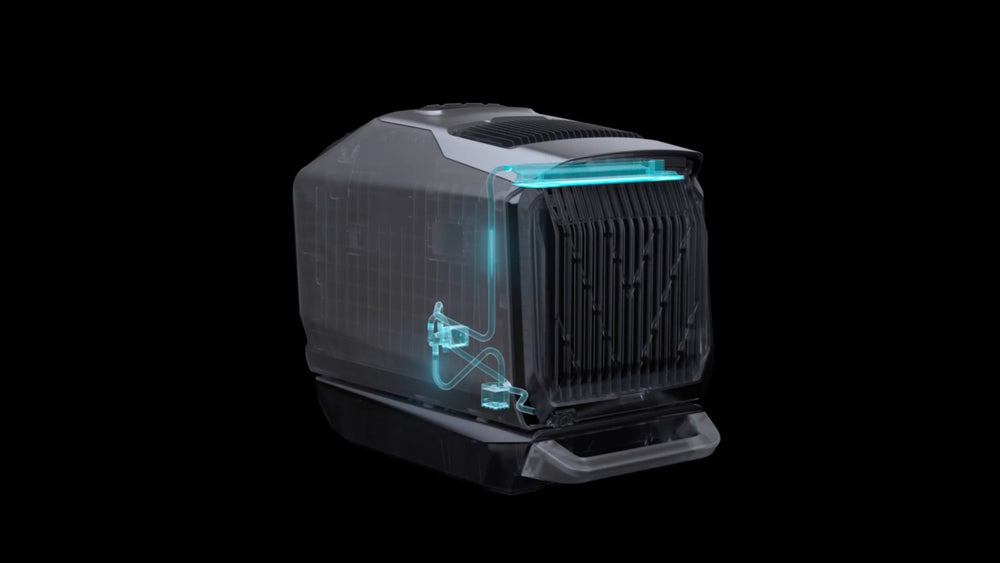 Peaceful snooze, quiet & long
With EcoFlow's advanced software algorithm, the WAVE 2 offers multiple modes and app control. It runs quietly (44 dB) in Sleep Mode and up to 8 hours in Eco Mode. Experience longer-lasting comfort in your tent, RV, or home with its powerful and portable design.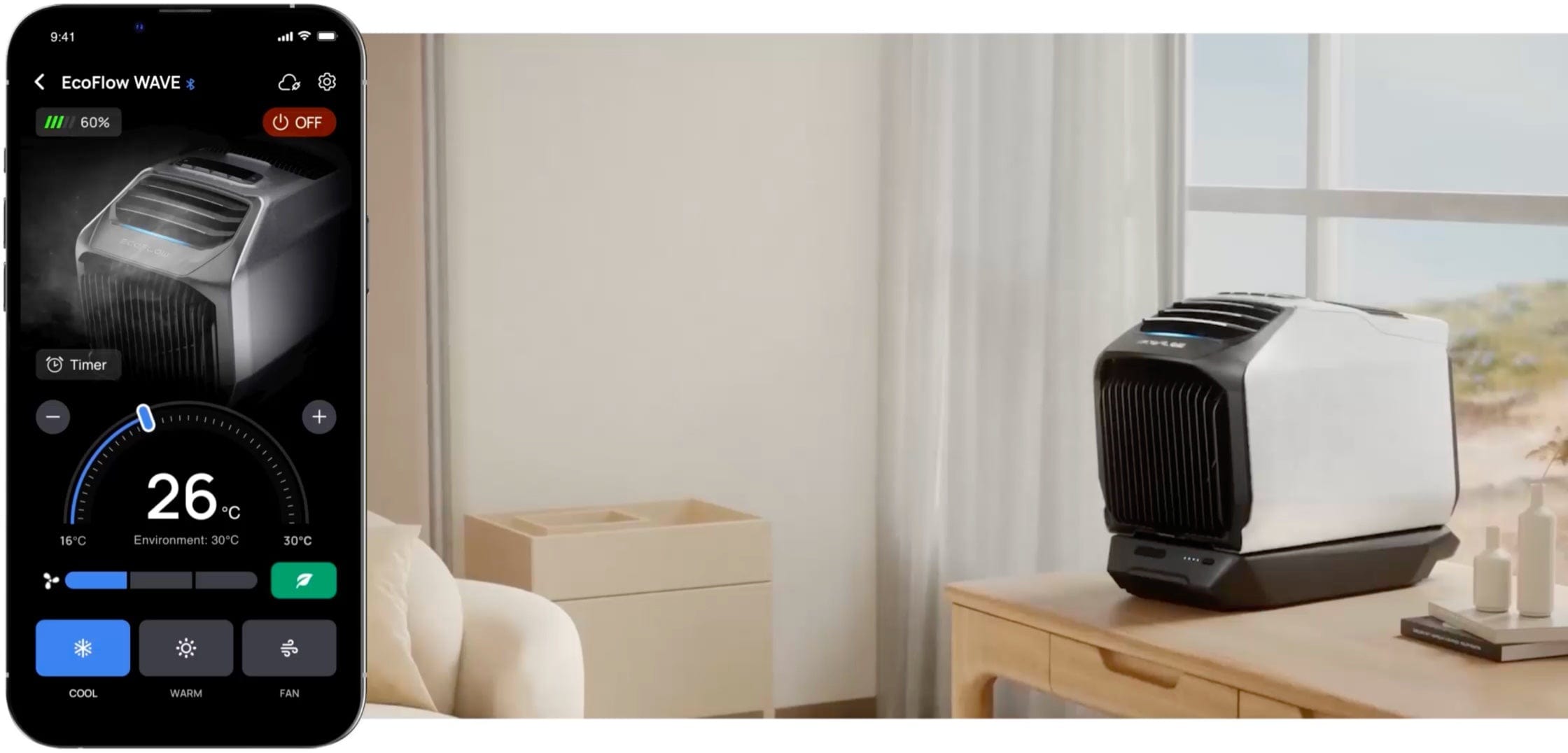 Eco Mode (8 hours of runtime)
Sleep Mode (As quiet as 44dB)
Using R290: A greener way to beat the heat.
At EcoFlow, eco-friendliness meets ultimate comfort. WAVE 2 uses R290, a natural refrigerant that's clean, green, and perfect for a relaxing cooling experience. With lower global warming potential and no ozone emissions, it's the ideal way to stay cool and comfortable compared to traditional refrigerants while reducing your carbon footprint.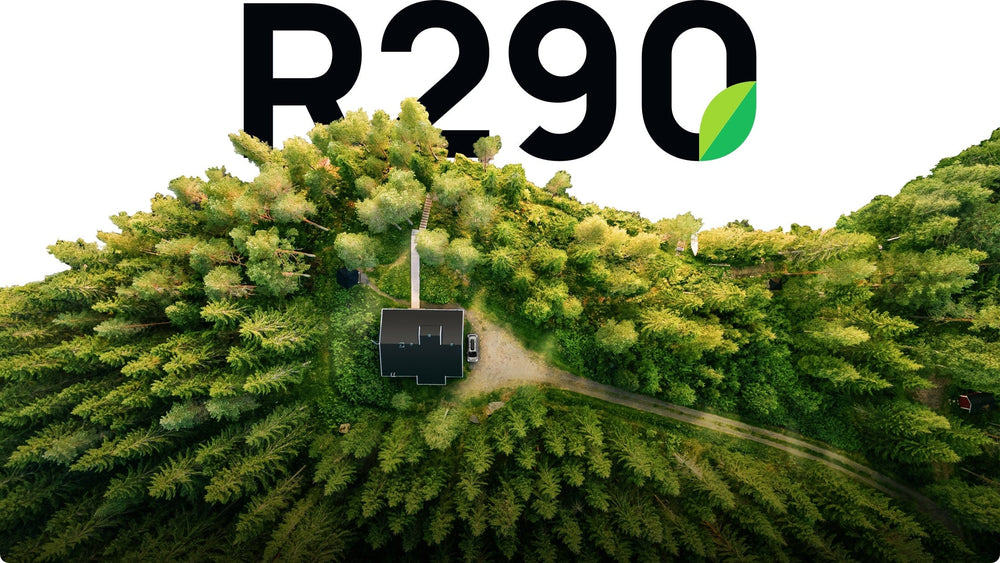 Charge fast, at home or on the go
WAVE 2—the ultimate air conditioner and heater with an optional swappable battery! Charge it fast with AC, solar, a car, or power stations. Enjoy cool or warm air
anytime, anywhere, with the flexibility of multiple charging options.
AC
Power Station
Solar
Car
Part of an ever-growing ecosystem.
WAVE 2 is just the start. Pair with an EcoFlow DELTA 2 / DELTA Max or their extra batteries and get an astonishing 7-14hr run time in Eco Mode. Compared to using other portable power stations, it's 28% more efficient. You can also use any portable power station with a 820W input to charge your WAVE 2.
Powerful portability, according to your needs.
It's the most powerful air conditioner of its size by a long shot. Carry it anywhere and
attach ducts for directed, efficient cooling. Ideal for tents, RV windows, or placing
your unit at a distance.