The Evis Zenia Cordless Massage Chair is the epitome of luxury and relaxation, allowingThe Evis Zenia Cordless Massage Chair is the ultimate relaxation companion for those seeking a blissful escape from the stresses of everyday life. Designed with cutting-edge technology and unparalleled comfort in mind, this innovative chair seamlessly combines state-of-the-art features with a sleek and modern design.
One of the standout features of the Evis Zenia Cordless Massage Chair is its cordless functionality, allowing you to place the chair anywhere in your home without the hassle of dealing with tangled wires or limited positioning options. This freedom of movement ensures that you can truly create your own personal oasis, whether it be in your living room, bedroom, or even outside in your garden.
Equipped with an advanced massage system, the Evis Zenia Cordless Massage Chair offers a wide range of massage techniques to suit your individual needs. From a gentle and soothing Swedish massage to a more invigorating deep tissue massage, this chair has it all. The customizable settings allow you to adjust the intensity, speed, and focus areas of the massage, ensuring a personalized experience every time.
The ergonomic design of the Evis Zenia Cordless Massage Chair is not only visually appealing but also incredibly comfortable. Crafted with plush, high-quality materials, this chair provides optimal support for your entire body, from your head down to your feet. The contoured shape of the chair conforms to your body, relieving tension and promoting relaxation in every muscle.
With an array of convenient features, the Evis Zenia Cordless Massage Chair takes relaxation to a whole new level. The built-in heating function warms your body, melting away stress and promoting blood circulation. An intuitive control panel allows for easy adjustments, and the chair even comes with a built-in Bluetooth speaker, allowing you to enjoy your favorite music or podcasts while you unwind.
In addition to its exceptional comfort and functionality, the Evis Zenia Cordless Massage Chair boasts a sleek and modern design that effortlessly complements any decor. Its compact size ensures that it can fit seamlessly into any space, making it an ideal addition to your home or office.
The Evis Zenia Cordless Massage Chair is not only a luxurious and indulgent treat for yourself but also a thoughtful gift for friends and loved ones. Whether you're seeking relief from muscle tension, promoting relaxation after a long day, or simply looking to enhance your overall well-being, this massage chair is the perfect solution. Experience the ultimate in relaxation with the Evis Zenia Cordless Massage Chair and transform any space into your own personal sanctuary.
Introducing Zenia, the world's first cordless massage chair. Built with Z-Flux Technology, Zenia is designed to mimic the fluid motion of a stream, perpetually flowing. With a full charge lasting up to 6 hours, providing you relaxation unlike any other. Made for your ease in mind, Zenia is controllable through our app, the EVIS Smart App. Experience relaxation anytime, anywhere with a full charge lasting up to 6 hours.

Expertly Developed EVIS Smart App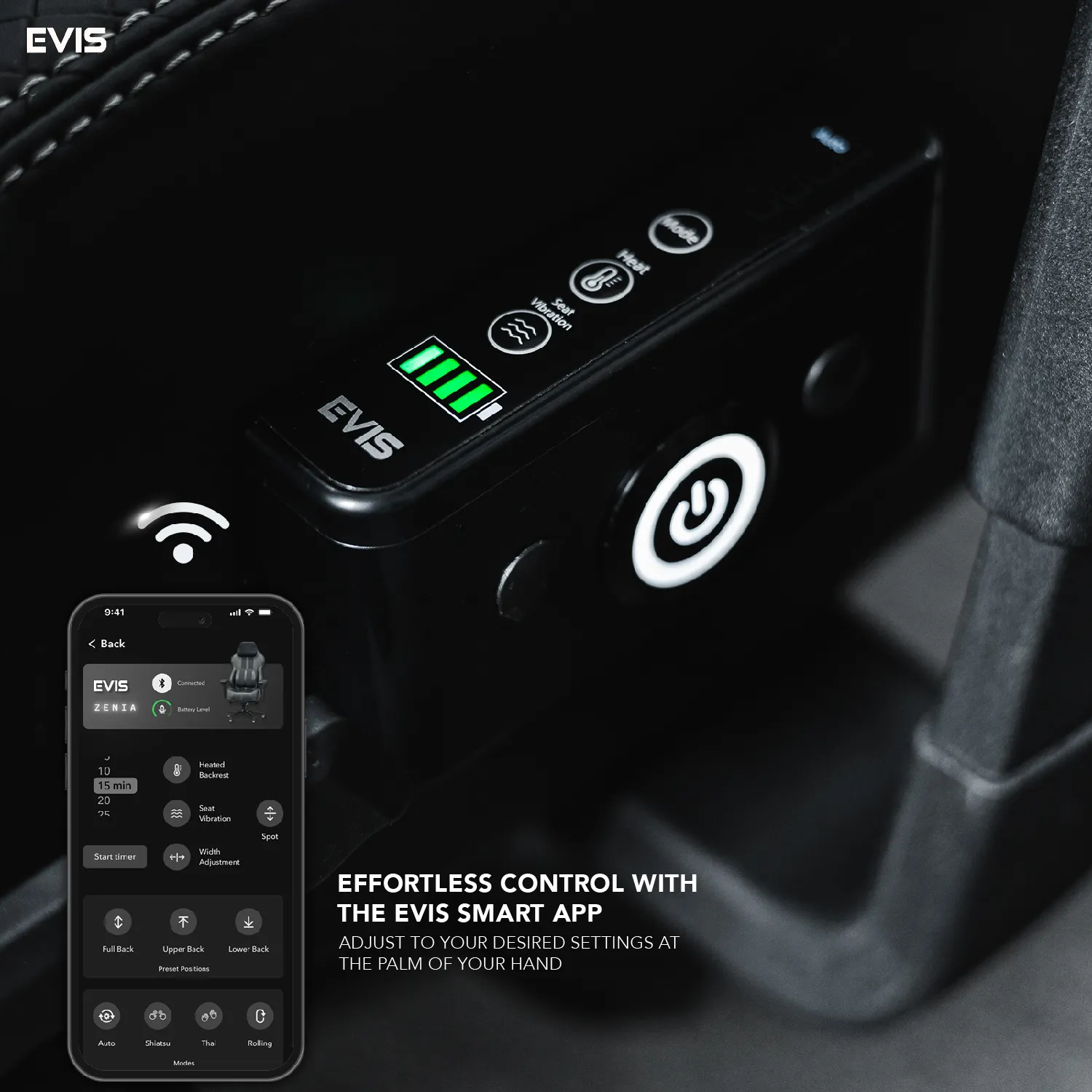 Z-Flux Technology & 5D Arm Rests
Z-Flux Technology is engineered to ensure you feel constant motion, working your neck all the way to your thighs. The heated mechanism also adds an extra touch of reinvigoration, for you to be transported to a world of bliss. The 5D arm rests were also designed to ensure you can adjust them to your ergonomic needs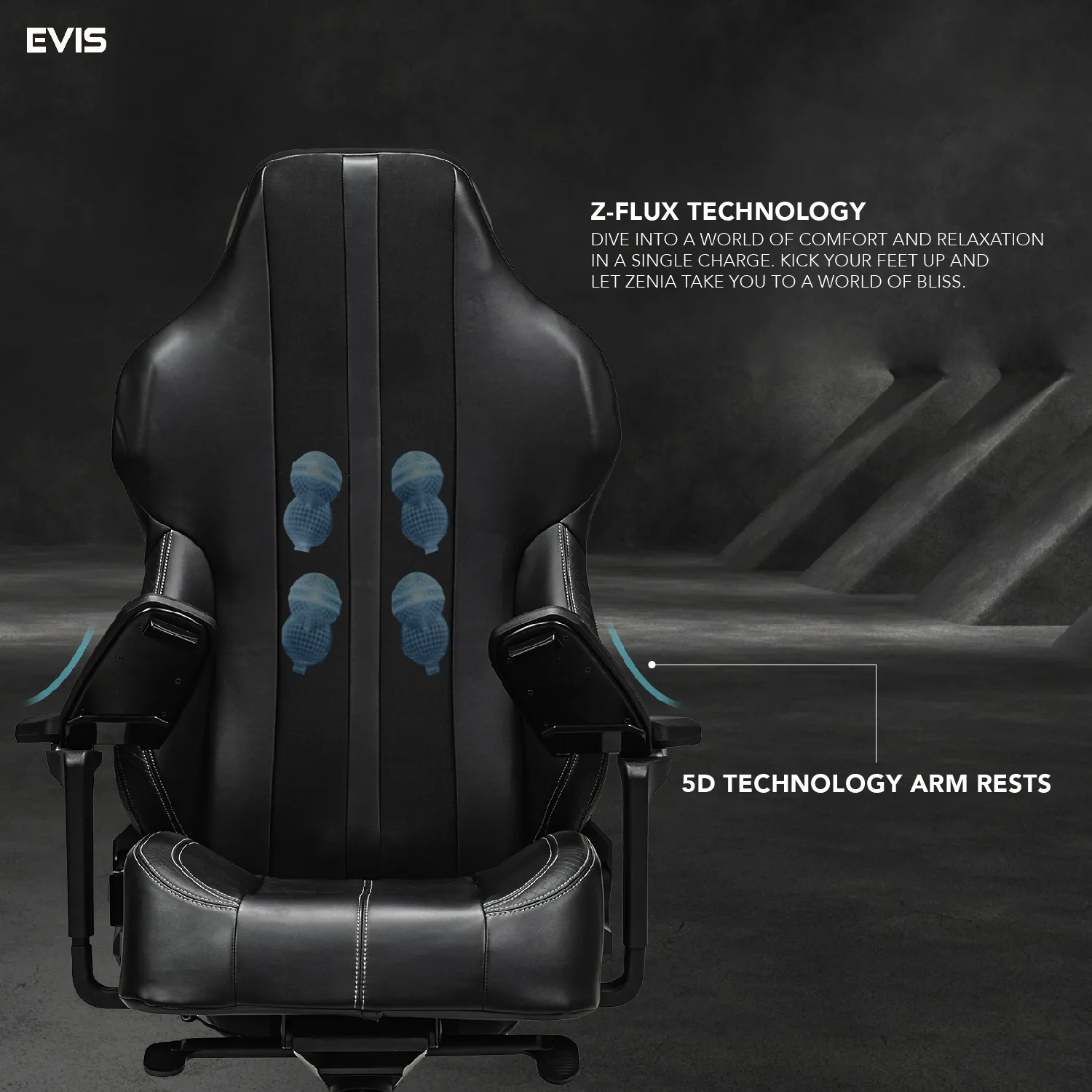 Magnetic Headrest and Lumbar Support
Made with memory foam, the headrest and lumbar support are soft to the touch and a comfortable add-on for your maximum relaxation needs. Built to contour to your body, experience only the best comfort.