The Garmin Descent Mk2s GPS Dive Computer is the perfect companion for any passionate diver seeking to enhance their underwater experience. This remarkable piece of diving equipment offers advanced features and cutting-edge technology to ensure your safety, convenience, and enjoyment during every dive.
Equipped with a built-in GPS, the Descent Mk2s allows you to effortlessly track your dive site, navigate underwater terrain, and accurately record your dive data. This invaluable tool ensures you never lose your way and allows you to explore with confidence, even in unfamiliar waters. You can track your entry and exit points, mark waypoints, and create detailed dive logs to document and share your underwater adventures.
With a vibrant color display and intuitive user interface, the Garmin Descent Mk2s provides a clear and readable view of your dive data at a glance. You can easily monitor your depth, temperature, ascent rate, and other important parameters, allowing you to make informed decisions and stay within safe diving limits. The customizable data fields and screen layouts empower you to personalize your dive computer to suit your preferences and diving style.
Safety is paramount when it comes to diving, and the Descent Mk2s has numerous features in place to ensure your well-being underwater. Its advanced gas monitoring capabilities enable you to track up to 6 different gas mixes, including nitrox and trimix, providing you with accurate and real-time information about your decompression status. The integrated heart rate monitor allows you to monitor your exertion levels and adjust your diving accordingly, maximizing your safety and preventing decompression sickness.
The Garmin Descent Mk2s also doubles as a smartwatch, offering a range of practical features that make it an indispensable companion both underwater and on land. Stay connected with smart notifications, receive texts, calls, and emails right on your wrist, and even control your music playlist during surface intervals. The long battery life ensures that you can rely on this watch for your entire diving trip without worrying about running out of power.
Durability and robustness are essential for any dive computer, and the Descent Mk2s excels in this regard. Built to withstand the rigors of the underwater environment, this dive computer boasts a rugged yet sleek design, featuring a stainless steel bezel and scratch-resistant sapphire crystal lens. It is water-resistant up to 100 meters, and its high-quality materials ensure it can withstand the pressure and demands of deep dives.
The Garmin Descent Mk2s GPS Dive Computer is not just a gadget; it is a tool that empowers divers to explore the depths of the ocean with confidence, safety, and style. Whether you are a professional diver or an avid enthusiast, this remarkable device will elevate your diving experience to new heights. So dive in, discover the underwater wonders, and let the Garmin Descent Mk2s be your trusted companion on every underwater adventure.
THE DIVE COMPUTER FOR BOTH YOUR WORLDS
This is the smaller, watch-style dive computer that features multiple modes as well as multisport training and smart features.
Choose from multiple dive modes for your underwater adventure.
Measure your performance, and track your stats above water.
More sports apps, such as golfing and skiing, mean more ways to play.
Share and review dives in the Garmin Dive app2.
Battery life doesn't limit you. Up to 7 days in smartwatch mode.
Plunge to a whole new depth of capability.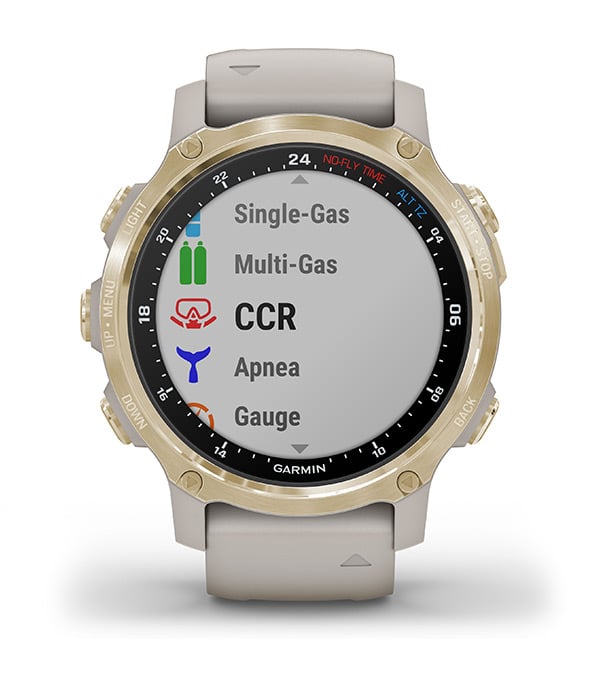 DIVE MODES
Get multiple dive modes for single and multiple gas dives (including nitrox and trimix), gauge, apnea, apnea hunt and closed-circuit rebreather.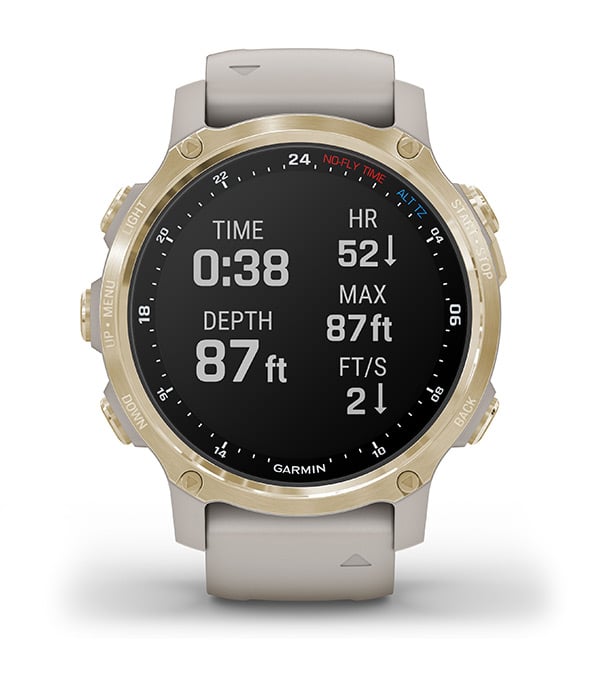 CUSTOMIZABLE DIVE MODES
Add additional screens for each dive mode that features the fields you want to see.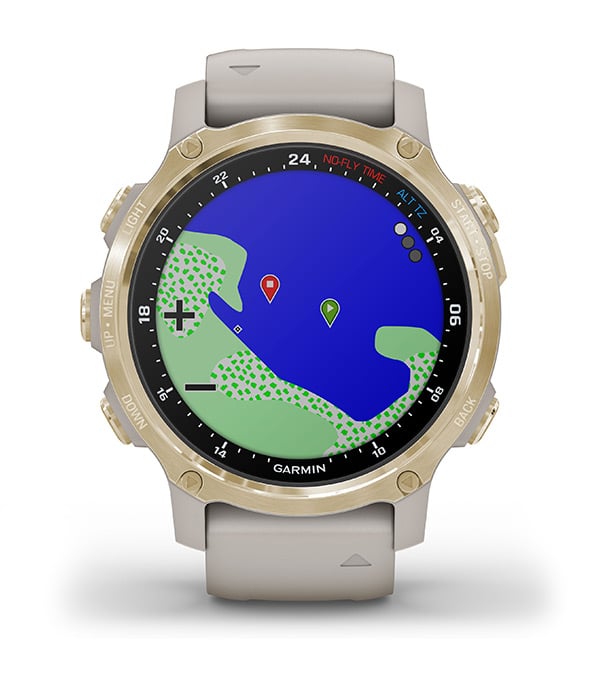 SURFACE MULTI-GNSS
Track your entry and exit points3 with advanced satellite connectivity.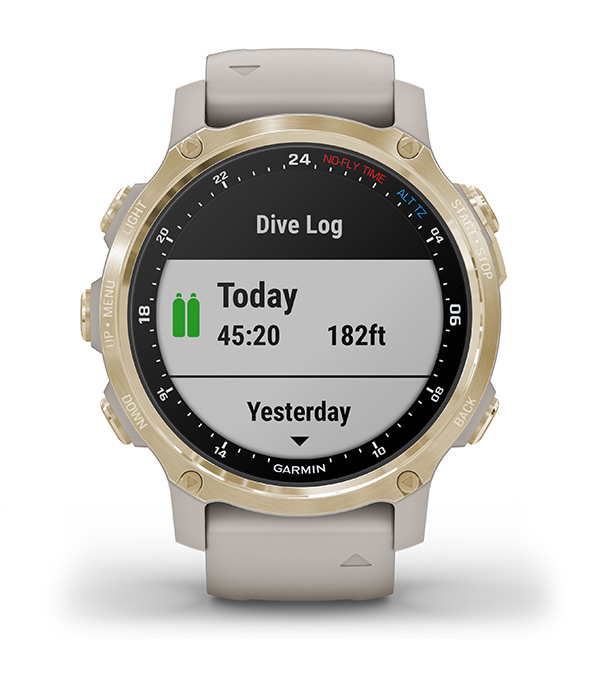 DIVE LOG
Store and review data for up to 200 dives — and share via the Garmin Dive app.
Push performance to a whole new level.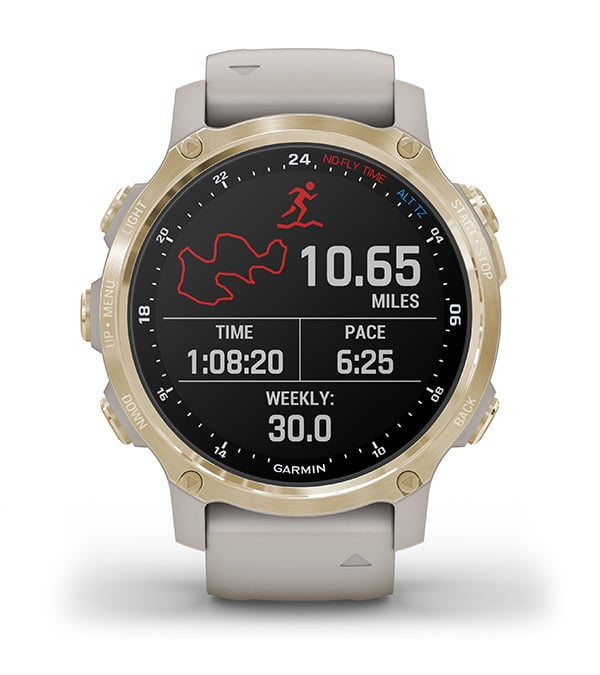 SPORTS APPS
Use preloaded activity profiles for trail running, swimming, running, biking, hiking, rowing, skiing, golfing and more.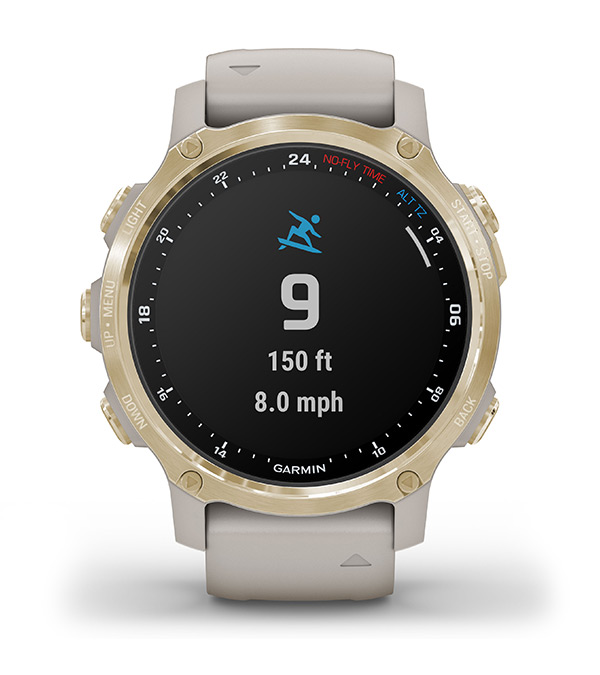 SURF-READY FEATURES
Get ready to catch some waves. Use the Surfline Sessions app on your compatible smartphone with your paired Descent Mk2S dive computer to create a video of every wave you ride in front of your Surfline camera. Watch the videos later to see how you did.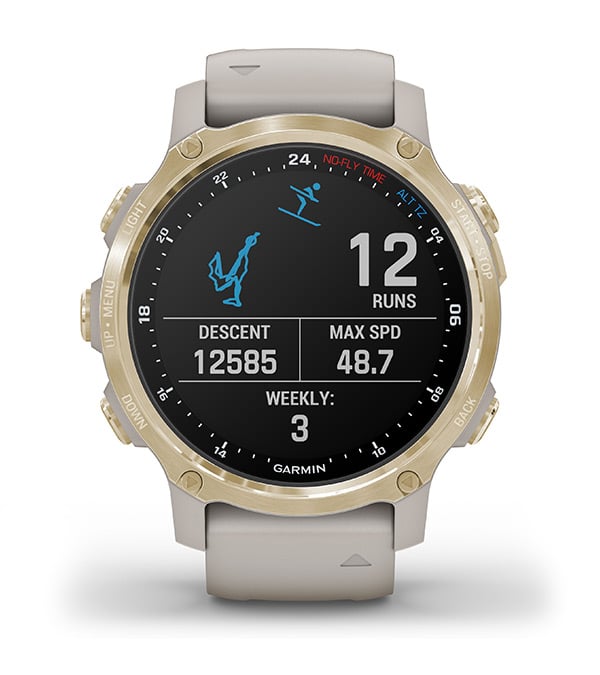 BACKCOUNTRY SKI
Stay informed when you're in the snow. This preloaded profile can distinguish between skiing and climbing. It automatically shows metrics specific to either ascent or descent.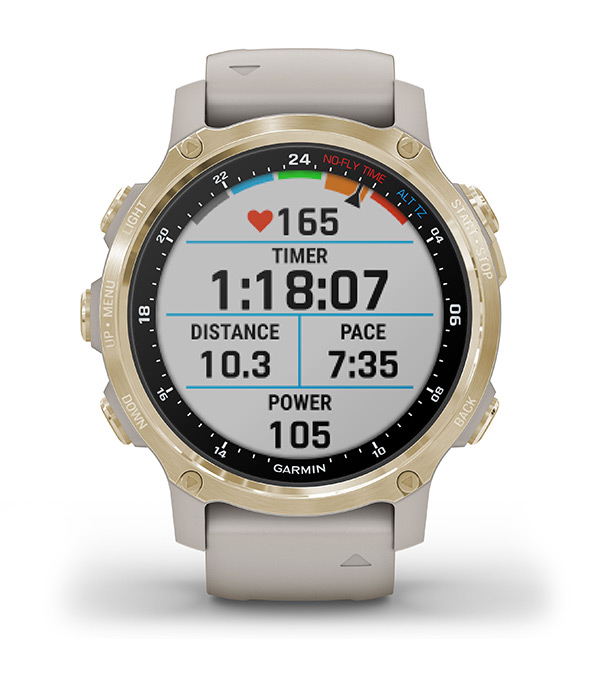 XC SKI DYNAMICS
When paired with the HRM-Pro chest strap (sold separately), the ski power metric helps measure the actual exercise load of cross-country workouts.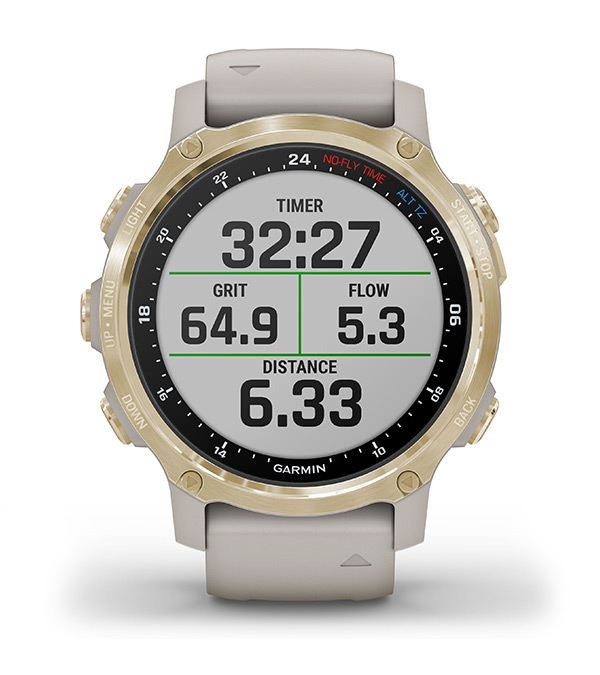 MTB DYNAMICS
Track the details of every ride with mountain biking metrics plus specialized grit and flow measurements that rate trail difficulty and how smoothly you descend, giving you a score to beat next time.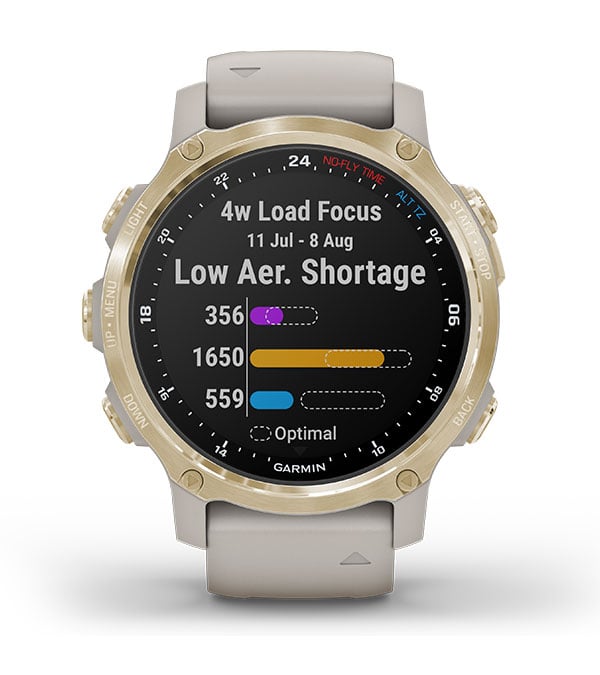 PERFORMANCE METRICS
View advanced training metrics that include running dynamics, heat- and altitude-adjusted VO2 max, recovery advisor and more5.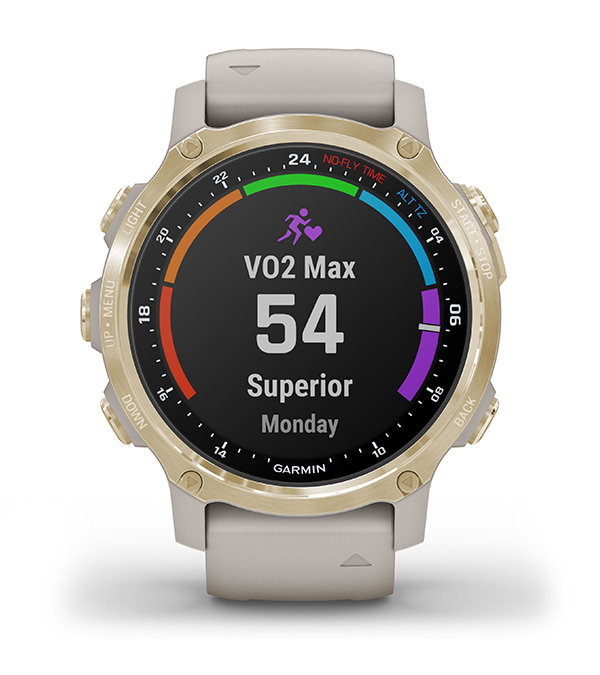 TRAIL RUN VO2 MAX
Trail run VO2 max tracks your cardiovascular fitness level and adjusts based on trail conditions.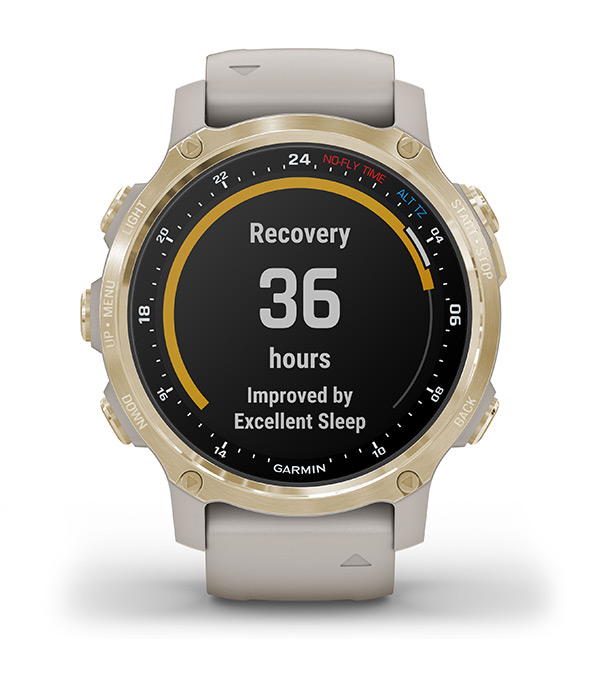 RECOVERY ADVISOR
Giving your body time to recover between training sessions is crucial. After each workout, the built-in recovery advisor will let you know how long to rest before another big effort.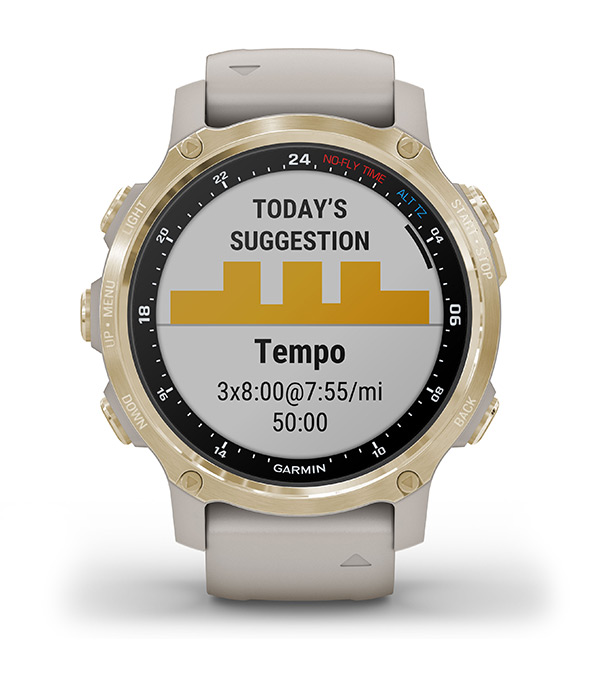 DAILY SUGGESTED WORKOUTS
For training guidance that takes you and your fitness level into account, get daily run and ride suggestions based on your current training load and status.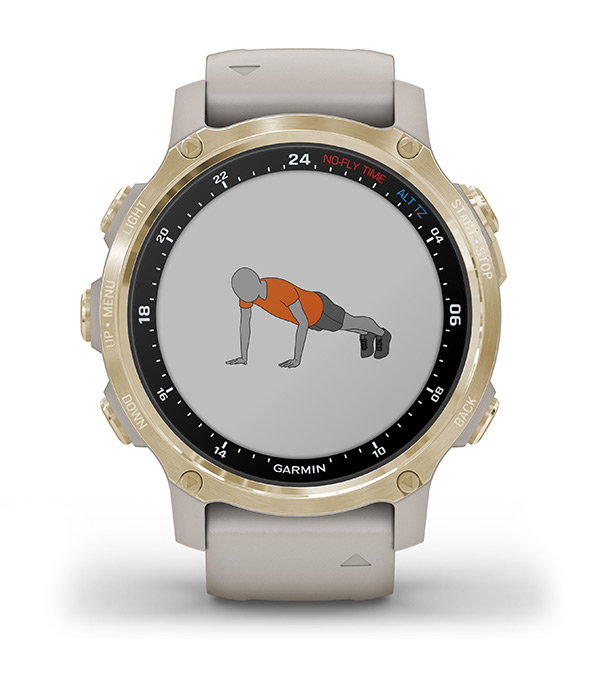 ANIMATED WORKOUTS
Easily follow animated workouts for cardio, strength, yoga and Pilates. View workouts right on your watch screen.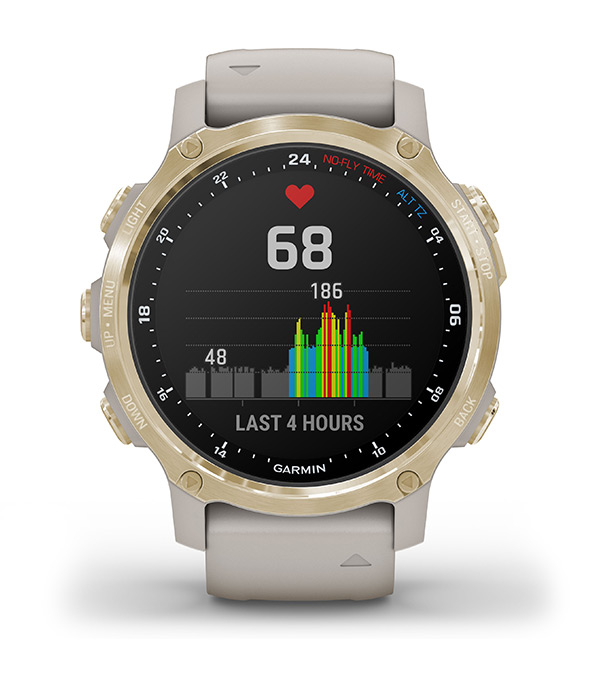 WRIST-BASED HEART RATE
Optical heart rate5 technology gauges activity intensity as well as heart rate variability to calculate your stress level. It also tracks underwater without a heart rate strap.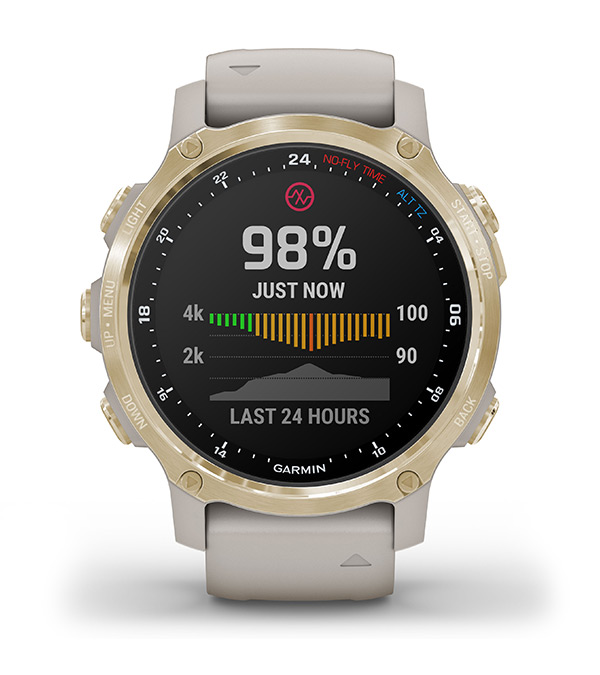 PULSE OX SENSOR
For altitude acclimation or sleep monitoring, a Pulse Ox5 sensor uses light beams at your wrist to gauge how well your body is absorbing oxygen.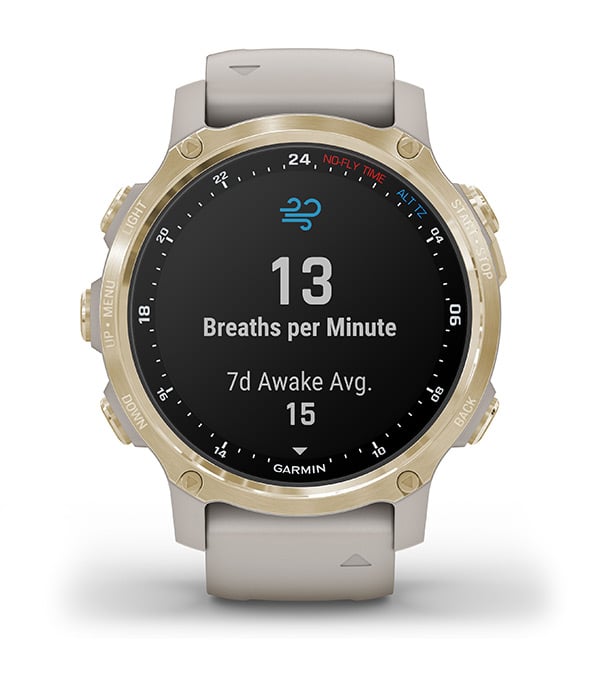 ALL DAY RESPIRATION
Track how you're breathing throughout the day, during sleep, and during breathwork and activities such as yoga.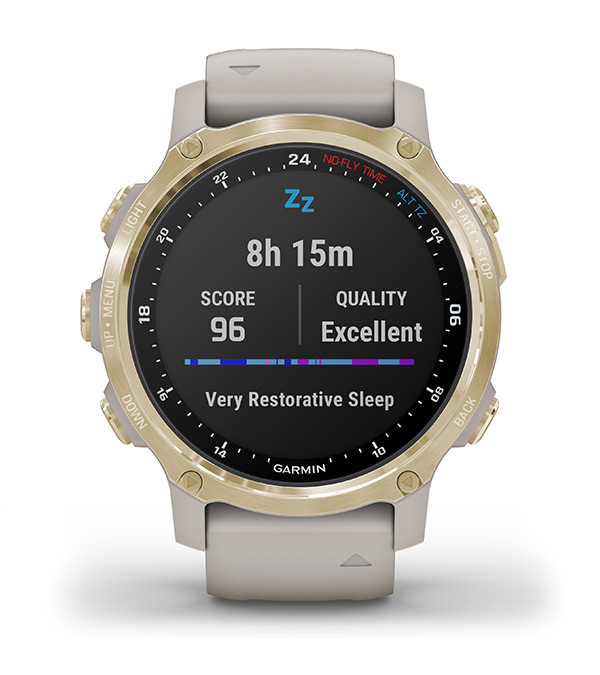 ADVANCED SLEEP MONITORING
Get a full breakdown of your light, deep and REM sleep stages5 as well as Pulse Ox5 and respiration data. View it all on a dedicated widget that includes your stress score and other insights.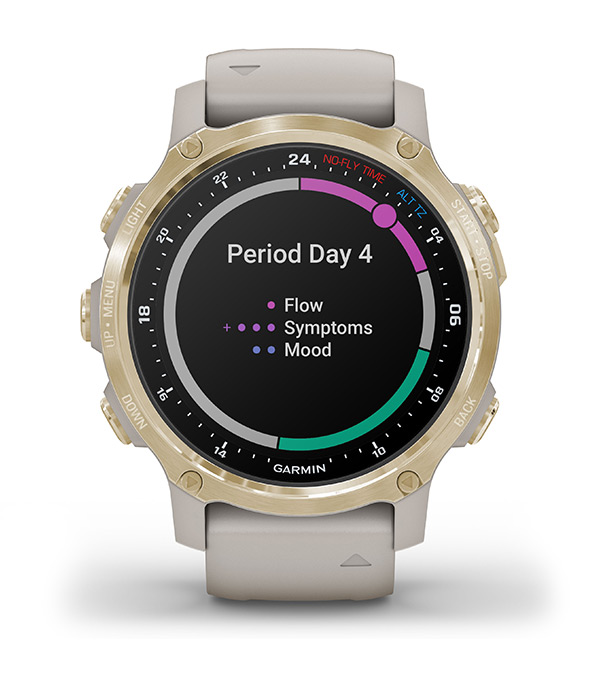 WOMEN'S HEALTH TRACKING
Use the Garmin Connect app to track your menstrual cycle or pregnancy. Log symptoms, get exercise and nutrition education, and more. See details on your wrist by downloading the Menstrual Cycle Tracking widget and Pregnancy Tracking app from the Connect IQ Store6.
You reach new heights. Your watch goes with you.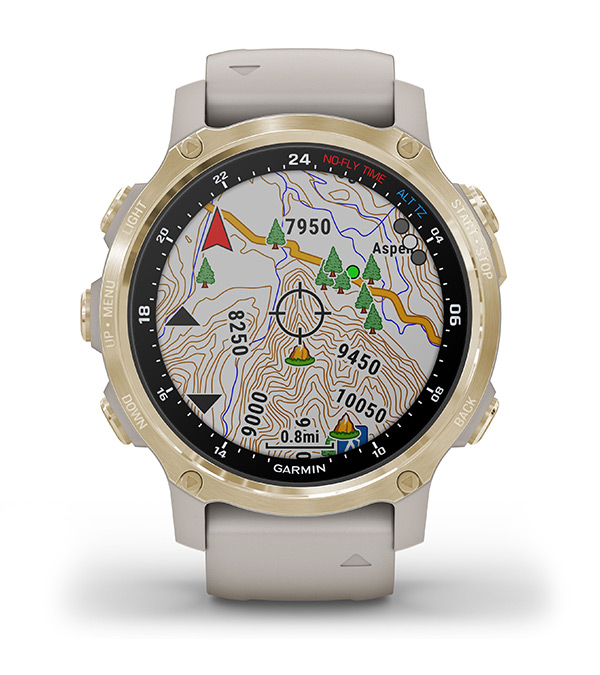 MULTI-GNSS SUPPORT
Access multiple global navigation systems (GPS, GLONASS and Galileo) to track in more challenging environments than GPS alone.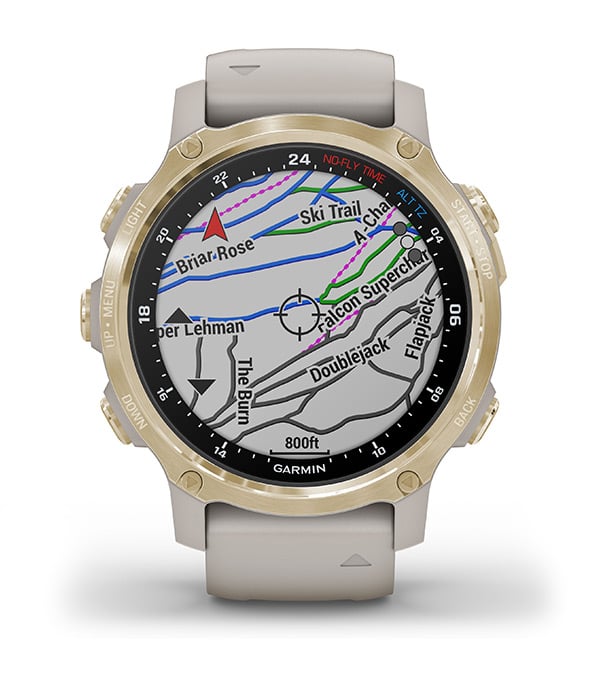 TOPO AND SKI MAPS
Use topographical maps to navigate your adventures and view run names and difficulty ratings for 2,200 worldwide ski resorts1.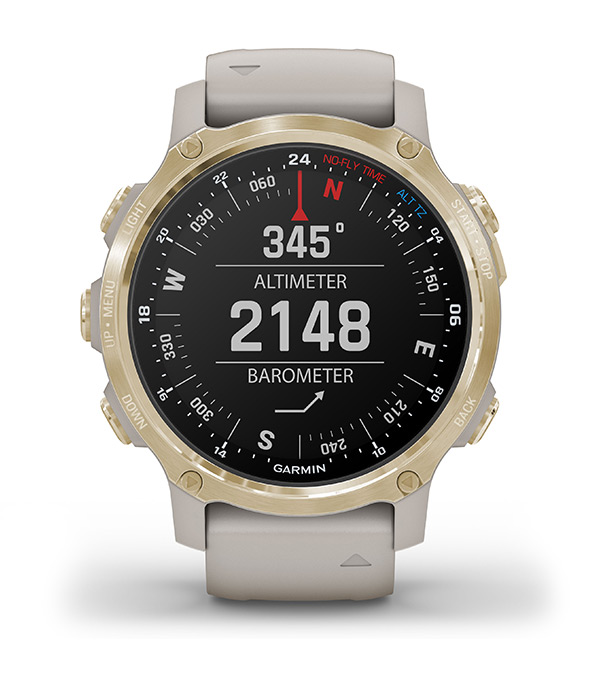 ABC SURFACE SENSORS
Navigate your next trail with ABC sensors, including an altimeter for elevation data, barometer to monitor weather and 3-axis compass.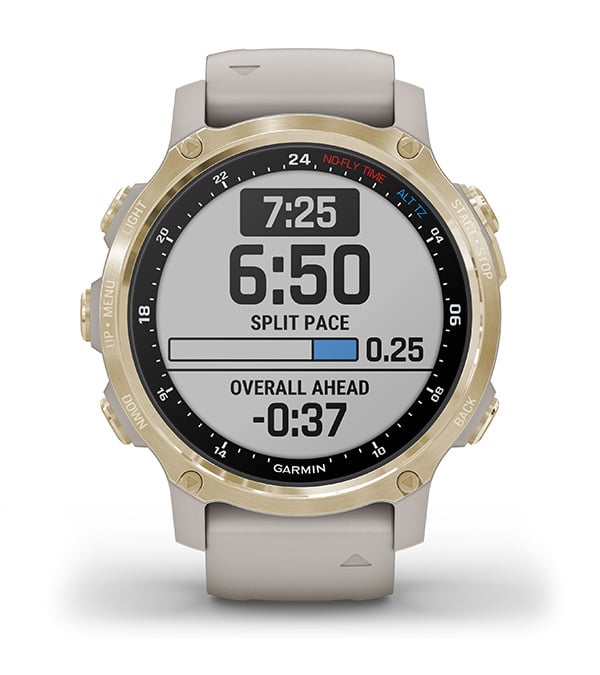 PACEPRO TECHNOLOGY
A first-of-its-kind PacePro feature helps keep you on pace with grade-adjusted guidance as you run a course.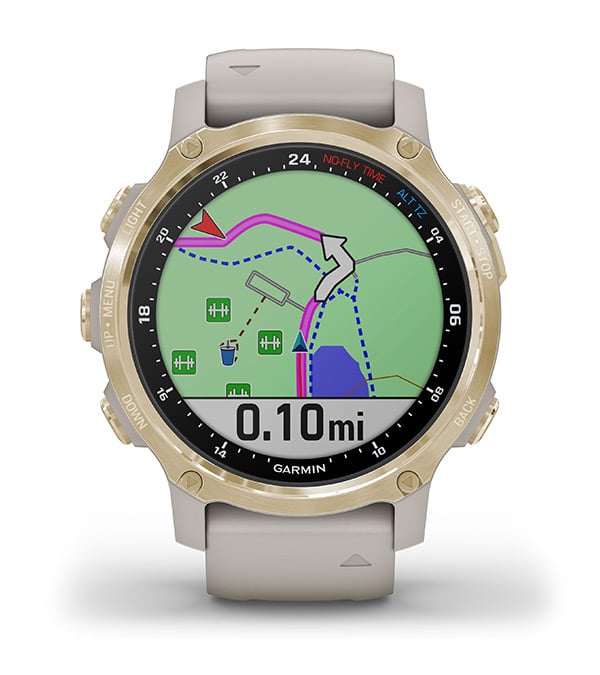 TURN-BY-TURN NAVIGATION
Follow a route or course with help from turn-by-turn directions, which let you know ahead of time when the next turn is coming.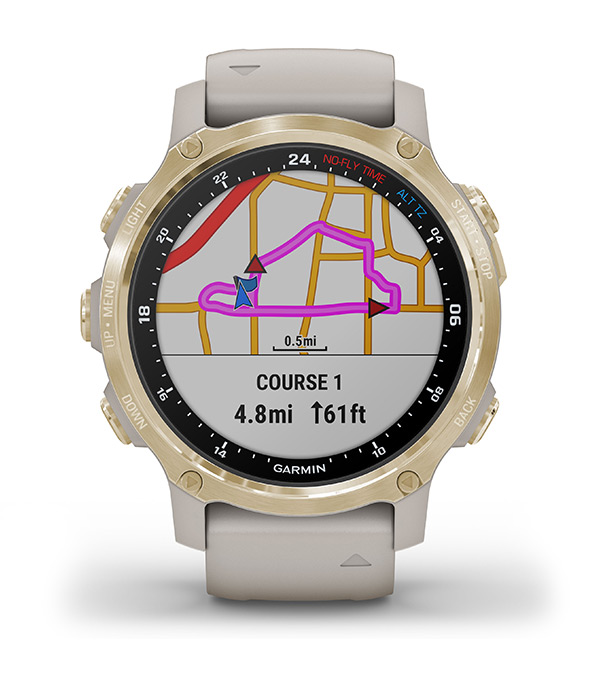 ROUND-TRIP ROUTING
Enter a distance you want to travel, and get suggested routes that will bring you back to your starting point. Trendline popularity routing helps you find the best local paths.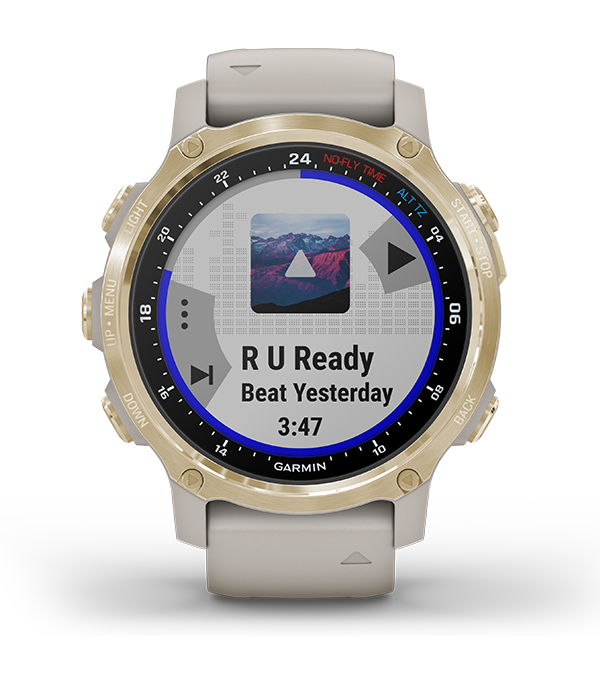 MUSIC
Store up to 2,000 songs, or access music apps from your compatible services, including Spotify®, Deezer and Amazon Music.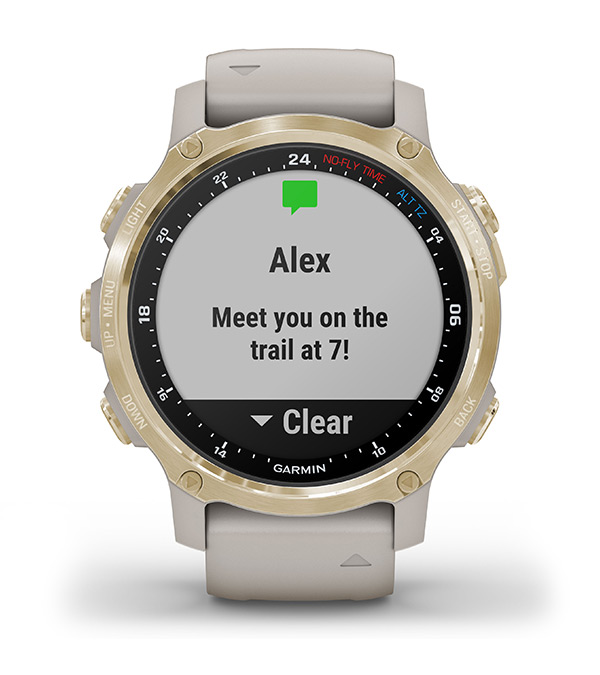 SMART NOTIFICATIONS
Receive emails, texts and alerts right on your wrist when paired with a compatible device.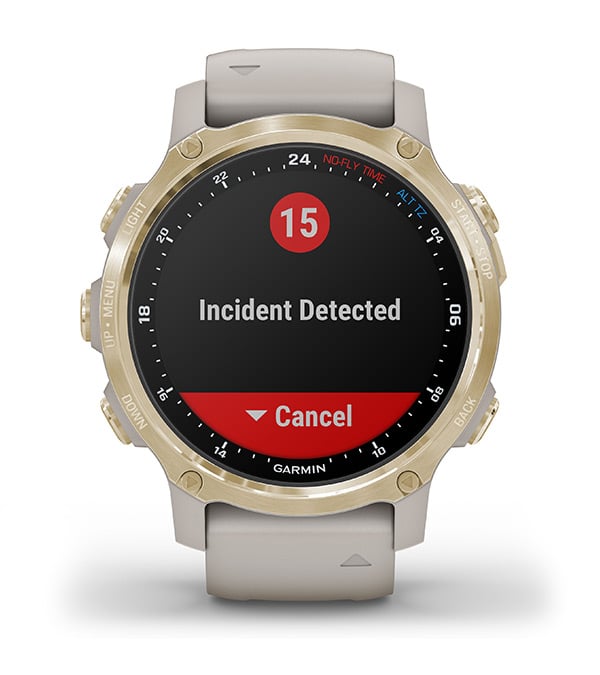 SAFETY AND TRACKING FEATURES
If you feel unsafe or if your watch senses that an incident occurred, assistance and incident detection features7 send your location to emergency contacts.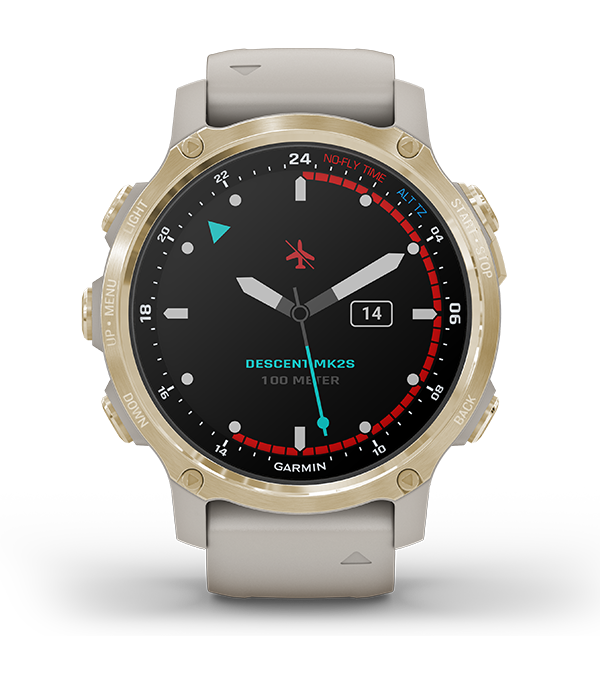 CONNECT IQ STORE
Download custom watch faces, add data fields, and get apps and widgets from the Connect IQ Store.
QuickFit accessory bands let you match your style.
Customize your Garmin device using the Connect IQ Store.
The Garmin Dive app lets you log, track and share your dives.
2 Requires app loaded on your compatible smartphone paired to Descent Mk2S
3 Active satellite subscription required. Some jurisdictions regulate or prohibit the use of satellite communication devices. It is your responsibility to know and follow all applicable laws in the jurisdictions where the satellite communication device is intended to be used. Satellite communication does not work underwater.
5 
This is not a medical device and is not intended for use in the diagnosis or monitoring of any medical condition; see 
Garmin.com/ataccuracy
. Pulse Ox not available in all countries
6 When paired with your computer or compatible smartphone downloaded with the Connect IQ Store app
SPOTIFY and the Spotify logo are among the registered trademarks of Spotify AB. Amazon Music and all related logos are trademarks of Amazon.com, Inc. or its affiliates.