Introducing the ShowSee Hair Dryer A8, the ultimate hair styling tool that will revolutionize your daily beauty routine. Designed with cutting-edge technology and crafted with precision, this hair dryer is a game-changer in the world of hair care.
The ShowSee Hair Dryer A8 boasts a powerful 1800W motor, delivering a salon-quality blowout in the comfort of your own home. With its advanced ionic technology, it emits negative ions that reduce frizz and static, leaving your hair smooth, shiny, and effortlessly manageable. Say goodbye to unruly tresses and hello to picture-perfect locks!
Equipped with three heat settings and two speed settings, the ShowSee Hair Dryer A8 offers complete control over your styling preferences. Whether you desire a gentle breeze or a powerful blast, this hair dryer caters to your unique needs. The cool shot button provides a burst of cool air to set your style, ensuring long-lasting results that will turn heads wherever you go.
We understand the importance of preserving your hair's health, which is why the ShowSee Hair Dryer A8 features a built-in intelligent temperature control system. This innovative technology prevents overheating and damage, allowing you to dry and style your hair without compromising its integrity. Experience salon-quality results without the guilt of damaging your precious locks.
Designed with your convenience in mind, the ShowSee Hair Dryer A8 is lightweight and ergonomically designed for comfortable handling. Its sleek and compact design makes it perfect for travel, ensuring you can achieve flawless hair wherever you are. The removable air filter makes cleaning a breeze, ensuring optimal performance and longevity.
But the benefits don't stop there. The ShowSee Hair Dryer A8 is not just a hair styling tool; it's a confidence booster. With its exceptional performance and professional results, you'll feel like you just stepped out of a high-end salon every time you use it. Embrace your inner diva and unleash your hair's true potential with the ShowSee Hair Dryer A8.
Invest in the ShowSee Hair Dryer A8 and elevate your hair care routine to new heights. Experience the power, precision, and performance that this remarkable hair dryer offers. Say goodbye to bad hair days and hello to a world of endless styling possibilities. Get ready to turn heads and make a statement with the ShowSee Hair Dryer A8 – your ultimate hair styling companion.
Notes:
1. Item color may show slight aberration due to different shooting light and monitor display.
2. Packaging may unsealed for inspection and apply for warranty sticker.
3. These are Xiaomi ecological chains products, it do not have the Xiaomi logo.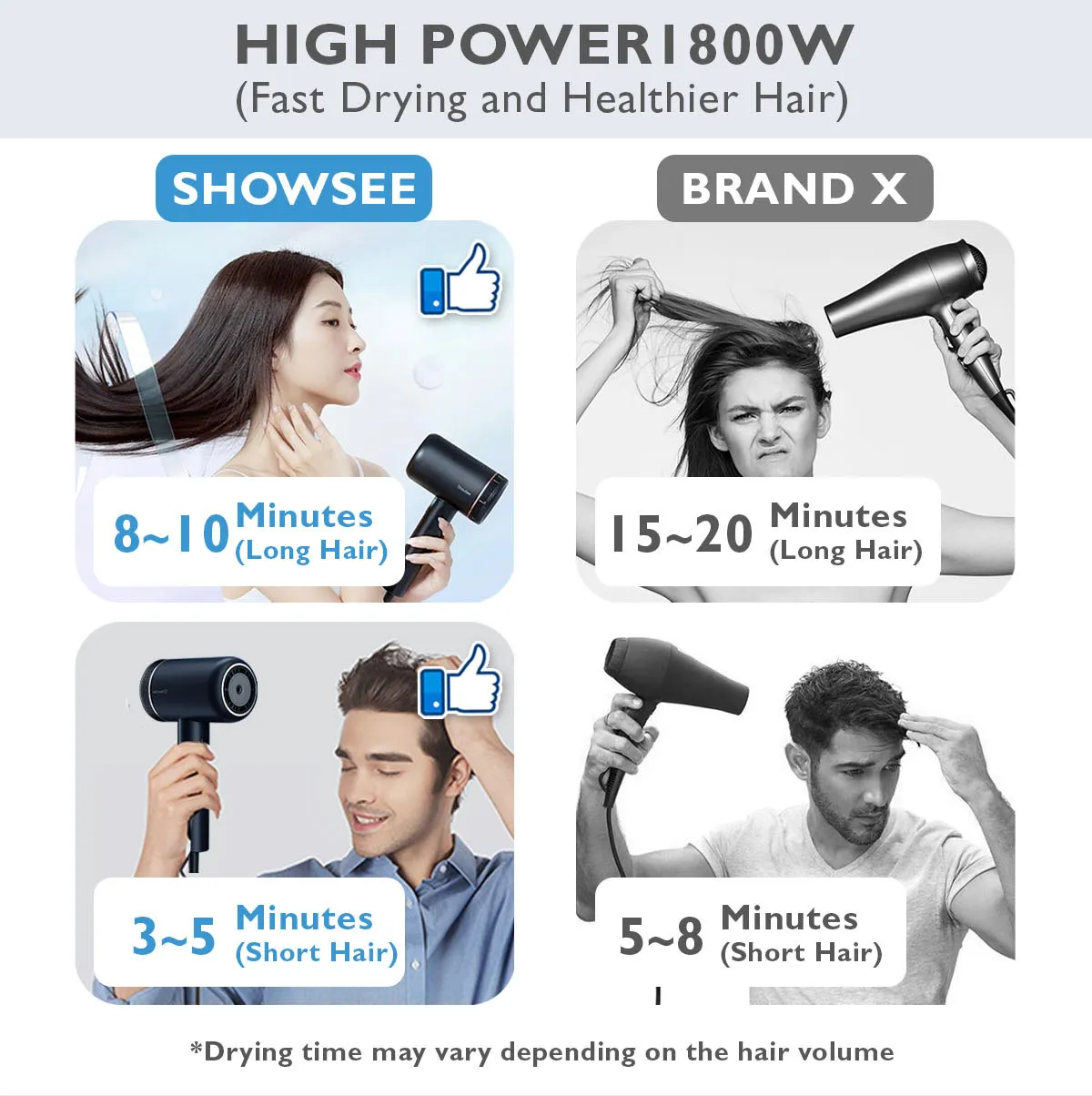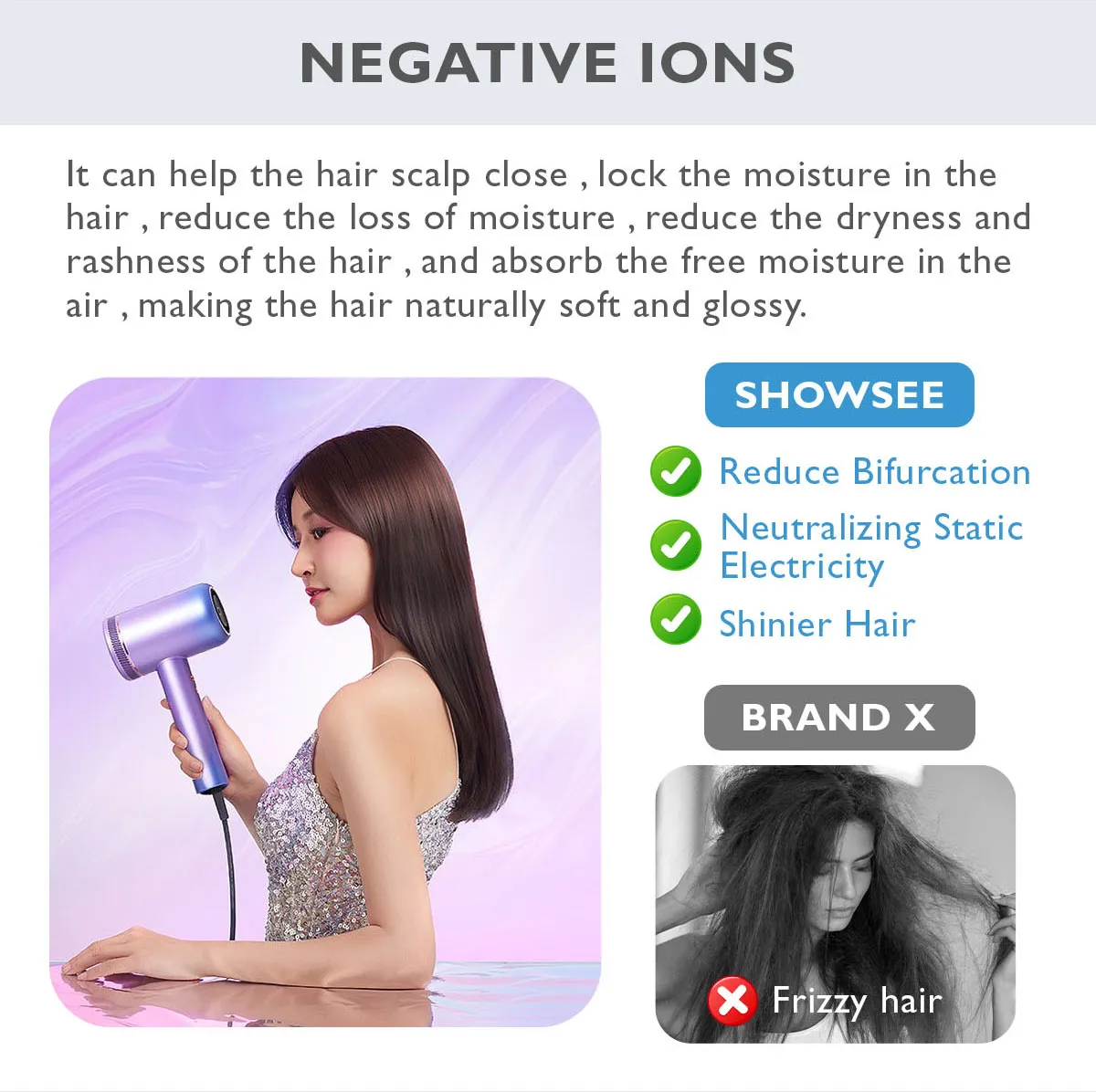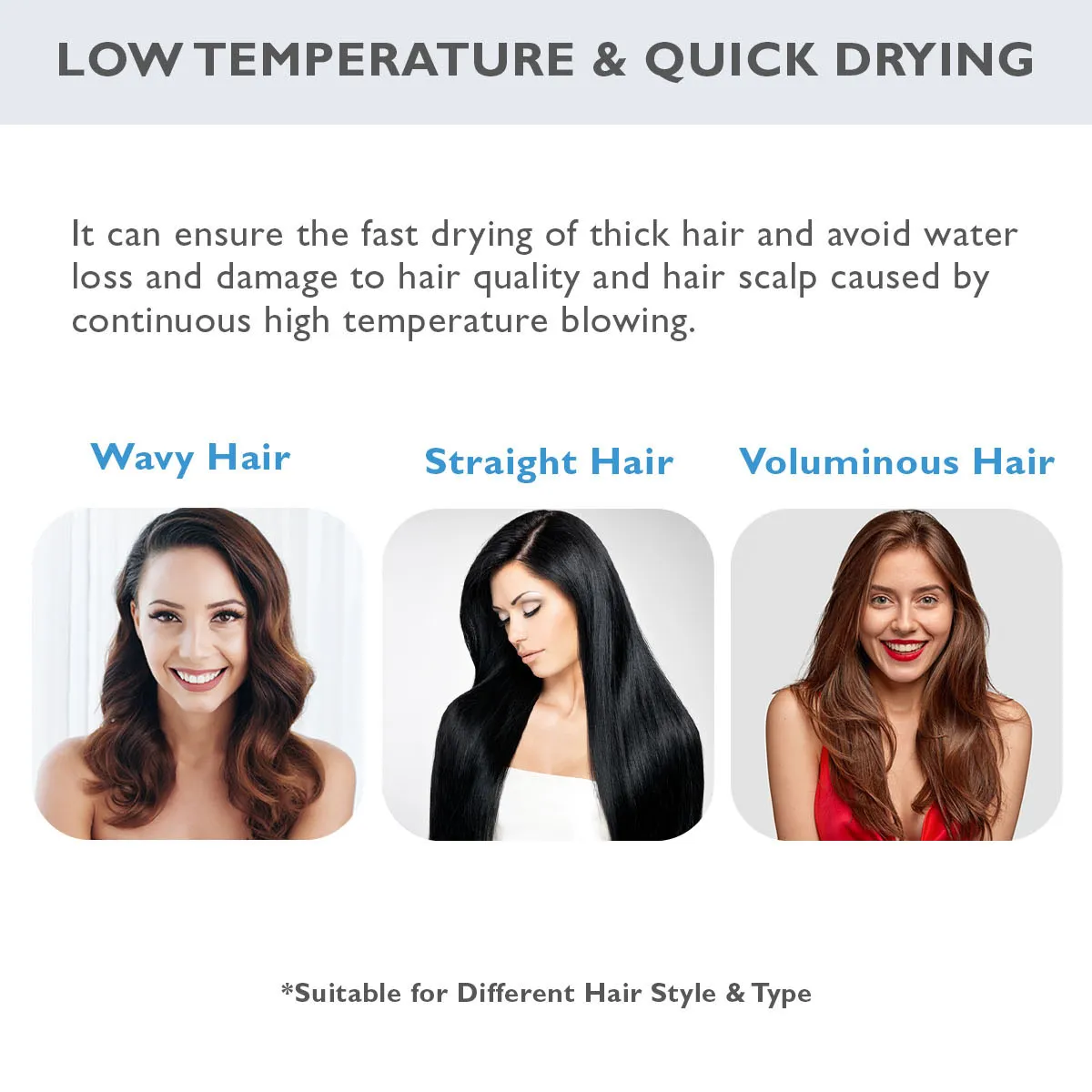 Brand: Showsee
Type: Hair Dryer
Power: 1,800W
Motor speed: 90,000rpm
Maximum air volume: 17m/s
Power cord length: 1.8m
Product weight: 0.589 kg
Product size (L x W x H): 12.60 x 75.00 x 27.50 cm