Introducing the Segway-Ninebot Super Scooter GT1, the ultimate ride that combines power, style, and innovation. This cutting-edge electric scooter is designed to revolutionize your daily commute and elevate your urban adventures to new heights.
With its sleek and modern design, the GT1 is a true head-turner. Its robust frame, crafted from high-quality materials, ensures durability and stability, making it perfect for both city streets and off-road terrains. The scooter's striking LED lights not only enhance visibility but also add a touch of futuristic elegance.
Unleash the power within as you effortlessly glide through the streets. The GT1 boasts a powerful 500W motor, providing exhilarating acceleration and a top speed of up to 25 mph (40 km/h). Say goodbye to traffic jams and hello to a thrilling and efficient way of getting around town.
Equipped with a high-capacity 48V battery, the GT1 offers an impressive range of up to 45 miles (72 km) on a single charge. Whether you're commuting to work, exploring the city, or simply enjoying a leisurely ride, this scooter ensures you'll reach your destination without worrying about running out of power.
Safety is paramount, and the GT1 excels in this aspect. It features a dual braking system, combining a front electronic brake and a rear disc brake, providing reliable and responsive stopping power. The scooter's large 10-inch pneumatic tires offer excellent traction and stability, ensuring a smooth and secure ride even on uneven surfaces.
But the GT1 doesn't stop there. It's packed with smart features that enhance your riding experience. Connect your smartphone via Bluetooth to the Segway-Ninebot app and unlock a world of possibilities. Customize your ride settings, monitor battery life, and even engage the cruise control feature for a more relaxed journey.
Portability is key, and the GT1 delivers. With its one-click folding mechanism, you can effortlessly fold and store the scooter in seconds. Whether you're hopping on a train or stowing it in your car trunk, this scooter is designed to be your convenient travel companion.
Investing in the Segway-Ninebot Super Scooter GT1 means investing in a lifestyle of freedom, convenience, and excitement. Say goodbye to the limitations of traditional transportation and embrace a new way of exploring your surroundings. Join the revolution and experience the thrill of the GT1 – the ultimate ride for the modern adventurer.
Highlights:
11″ Tubeless Tires (tire self-repair technology)
900 Lumen LED Lighting, LED Digital Screen
Front Double Wishbone, Rear Trailing Arm Suspension Structure
Front & Rear Hydraulic Disc Brake
1008Wh High Performance Battery
12H Fast Charging, Dual Charging System
Smart-BMS(Battery Management System)
Size Unfolded (LxWxH): 1485mm x 650mm x 1308mm
Weight: 47.6kg
Max speed: 60km/h, approx 70km
Max Payload: 150kg
Segway-Ninebot Super Scooter GT1 – Supercar In Scooter
To create an unparalleled flagship scooter-the GT series of super scooters, Segway has assembled the world's top talent to form the Segway Innovation Group team focused on innovation and performance.
Segway-Ninebot Super Scooter GT1 Innovation
The Segway Innovation Group team spent two years and accumulated 38,000 kilometers of research and development in cooperation with professional drivers. Out of the full pursuit of sports performance and high-speed stability,the team has carried out countless design optimizations based on test feedback, just to create a real supercar in a scooter worthy of the"GT" name.
3000W Rear Drive Air-cooled Motor
GT1 uses an air-cooled motor withapeak power of up to 3000W,apeak torque of up to 50Nm,atop speed of an astonishing 60km/h,and can accelerate from 0 to 48km/hin 7.5 seconds.!!!!!
Segway-Ninebot Super Scooter GT1 1008Wh High-Performance Power Battery
Using Segway battery solid-state heat flow cooling technology,even under intense track conditions,it can still ensure stable energy output.
Double Wishbone Front Suspension
The front suspension of the GT series is the first and adopts the same double wishbone structure as the top sports car,which greatly improves the handling of the vehicle while.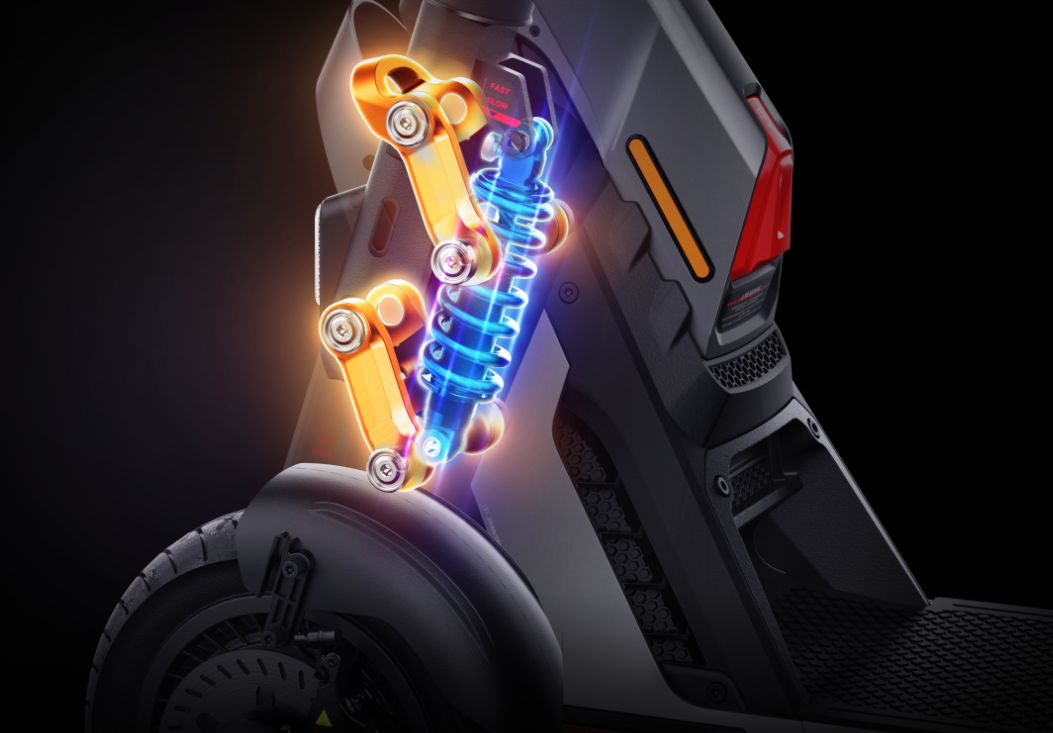 Trailing Arm Suspension
The rear suspension of the GT series adopts the same trailing arm structure as the top motorcycle which greatly improves the driving comfort while ensuring the sensitivity of the suspension.
Hydraulic Shock Absorber
The entire GT series comes standard with 15-level damping adjustable hydraulic shock absorbers at the front and rear, and users can personalize the vehicle according to their usage scenarios and preferences. Whether it's high-speed cruising on flat asphalt or off-road exploration on country lanes the GT will accompany you to the end in perfect condition.
Hydraulic Brake System
The entire GT series comes standard with a 20mm front and rear dual-piston hydraulic brake system, combined with a heavy-duty perforated ventilating disc with a diameter of 140mm and a thickness of 2.5mm,enabling the vehicle to have strong braking power even under severe track conditions.
Segway-Ninebot Super Scooter GT1 Self-healing Tires
All GT series are equipped with 11-inch tubeless tires with a width of 92mm as standard, so that the vehicle has excellent grip no matter on the road or country trails. Its unique "tire puncture self-healing coating" can fill the puncture by itself after the tire is accidentally punctured, greatly reducing the risk of puncture and the difficulty of tire maintenance.
All aluminum frame in Segway-Ninebot Super Scooter GT1
The entire GT series comes standard with a high-strength and lightweight all-aluminum frame,and uses aerospace-grade material processes such as "forging", "liquid die forging", and "high pressure extrusion" to create an ultra high body rigidity that can cope with"extreme sports".
LED digital screen
GT1 adopts LED digital screen,which can display various information such as"speed", "real-time power", "remaining battery", "remaining mileage", "driving mode" and "light status" in real time.
900 lumen LED lighting
The entire GT series comes standard with up to 900 lumens of LED lighting daytime running lights and front and rear turn signals.
Themed mood lights
The GT series is equipped withar atmosphere lights. and users can choose from 11 personalized themed lighting effects such as "fighter tail flame" and "Just Dane through the APP.
Double insurance quick folding mechanism
All GT series are standard equipped with double insurance quick folding mechanism. On the premise of ensuring safety and sturdiness, users can quickly fold the handle bar and store the scooter in a small space such as the trunk of the car.